Babur Restaurant: One of London's finest Indian Eateries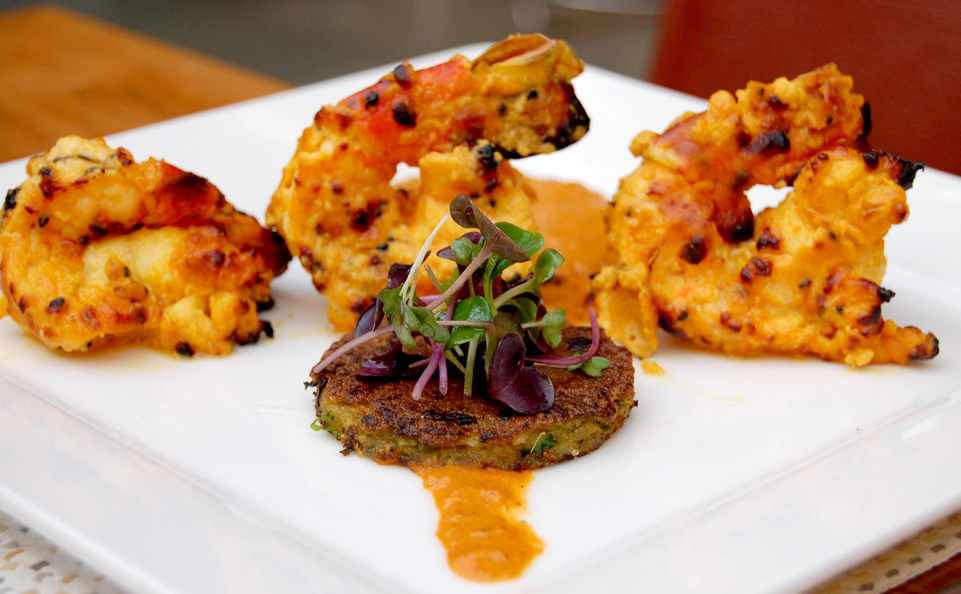 You know the food is good when you're reviewing a restaurant and cannot be bothered to take any notes on the experience lest it should distract you from contentedly devouring the entire lot. Cue Dulwich based Babur, it's not only a good Indian restaurant, it's one of London's finest. My colleague and I barely speak over our mains other than to share morsels of food amidst plenty of 'oohing' and 'ahhing.'
Zagat voted Babur London's best Indian Restaurant this year, it's in The Sunday Times top 200 restaurants and it's easy to see why. Decor is simple and fairly tasteful with walnut tables, brown banquettes and a modern minimalism often seen in fine dining venues. Staff are laidback, extremely hospitable and attentive, without being obtrusive.
There are predominantly south and north west inspired dishes, each with a precision and attention to detail that makes Babur Michelin star worthy. There's also something infectious about Babur's passion for carefully combining alcoholic beverages with the meals and ability to use an array of spices in a subtle, carefully constructed manner. Everything just seems to work and locals have been returning to this unassuming dining establishment for over 25 years. As Zagat rightly pronounced, it's worth travelling to Babur from anywhere. Don't let a few stops on the train put you off. This is one gourmet, upmarket Indian dining venue.
Everything transcends the ordinary while honouring tradition with unusual meats like ostrich and tamarind glazed quail breast nestling alongside dishes such as chicken lababdar – chicken tikkas former incarnation. It's inspiring and innovative.
Starters range from £6.75 – £8.50, mains £12.95-£16.95 and desserts £4.75 to £5.95. This is pretty reasonable for London and more than worth it for the quality of food on offer. On a Sunday a lunch buffet is served and priced at a very competitive £12.95. Expect deep fried chicken goujons, South Indian style chicken, marinated lamb and a variety of vegetarian options.
---
Starters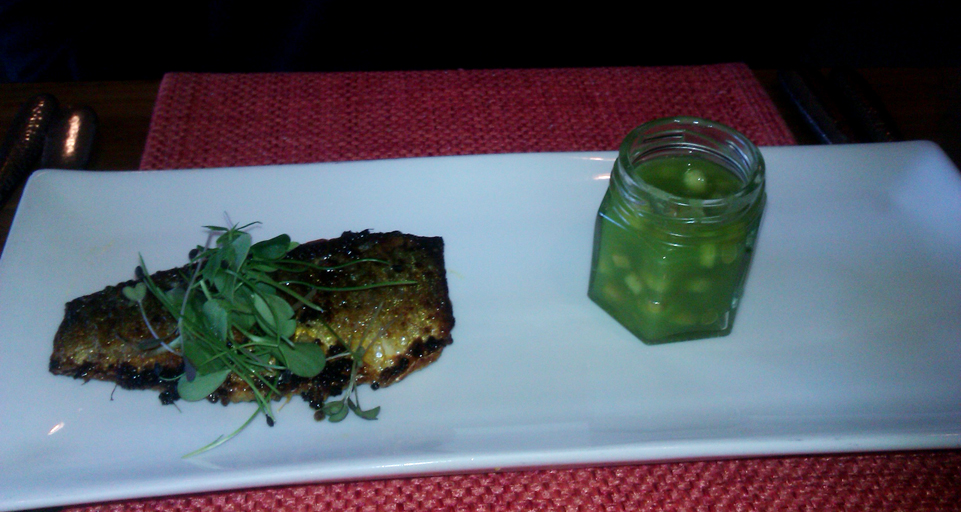 Pan-seared mackerel with green apple and coriander salsa featured a well-cooked and flavoursome mackerel spiced with fennel, mustard and black onion seeds. Any bitterness was compensated for by the apple salsa. The combination worked well together and made for a zingy, subtle starter. 17/20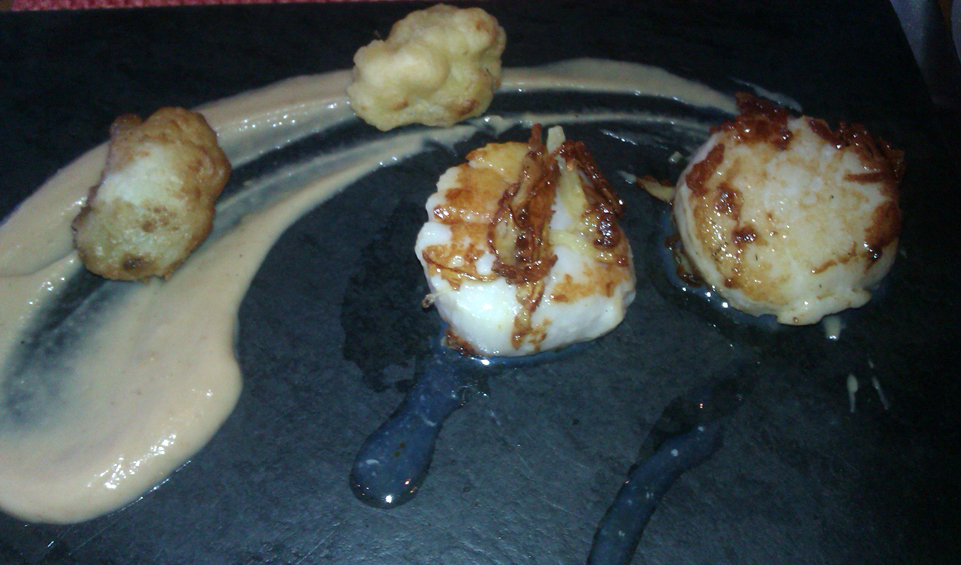 Griddled scallops with ginger, garlic and crushed spiced butter served with a roasted cumin and onion cauliflower puree was a meal highlight. The scallops were exquisitely succulent and juicy with a light, creamy, complementary puree that worked perfectly with the scallops. I was pleased throughout the meal that the food was well-presented, not overly spiced and salted correctly. 18/20
---
Mains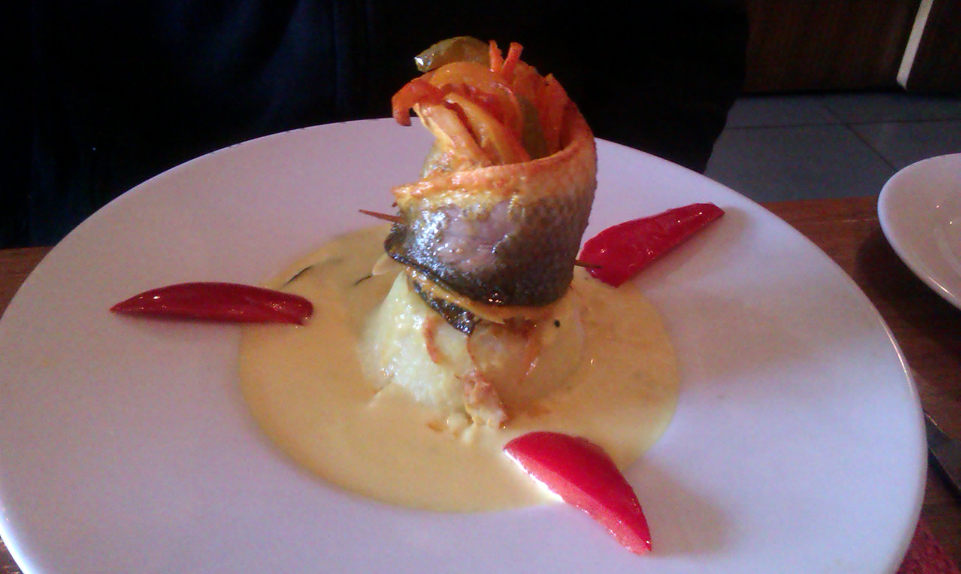 Seabass with pickled vegetables and moilee sauce was a visually interesting dish with a pleasant, sweet, mildly-spiced sauce and supremely soft, melting sea bass. Bored of seabass served with crushed potatoes and capers, this dish was a more innovative option that pays more than lip service to fine dining aesthetics and principles. It should arrive with a bit of a fanfare because it's so visually enticing I can barely focus on my own main before nabbing half of my colleague's sea bass. 18/20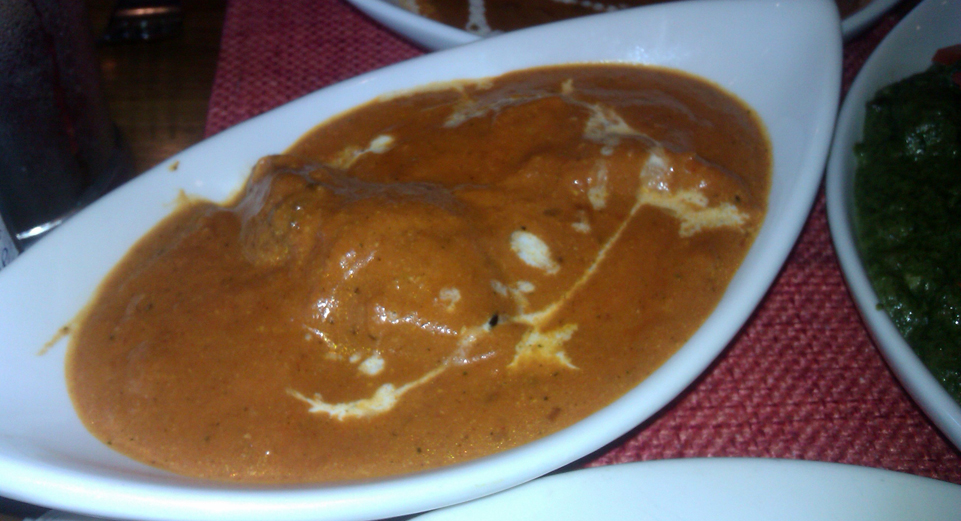 Chicken lababdar, the more commercial chicken tikka's former incarnation is a comforting, warming and highly addictive dish, with soft chicken and a creamy, tomato and fenugreek sauce that begs you to mop it up with a soft, folding naan. Rapidly consumed by both of us, we couldn't stop singing the dishes praises all  the way home. 18/20
---
Sides
Garlic and onion naan was another hit, extremely soft with chopped fresh onions and garlic creating a great texture/taste combination that made it hard to resist. 17/20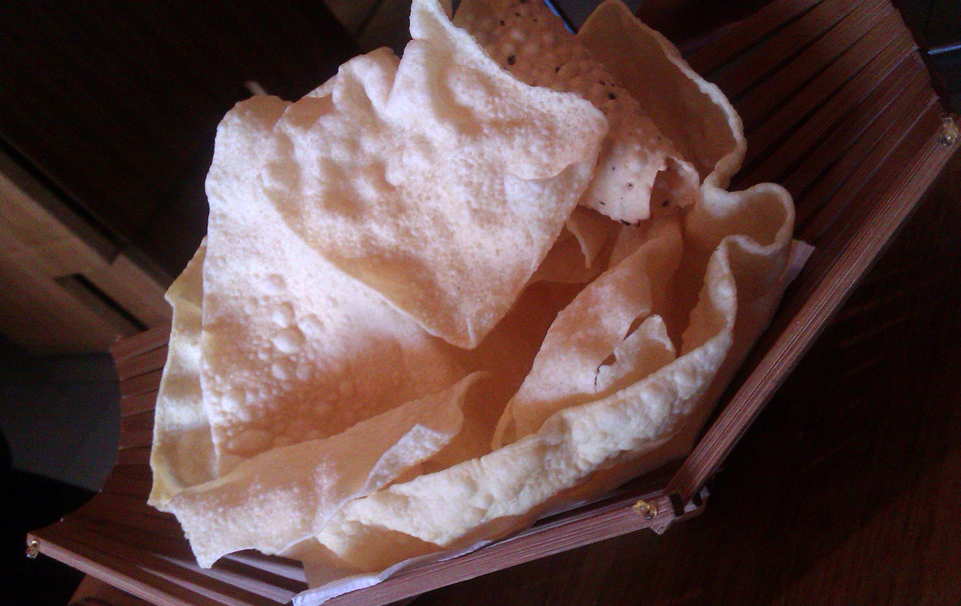 Poppadams were light and crisp served with a variety of chutneys that were slightly piquante, unique and a balance of sweet and savoury. 17/20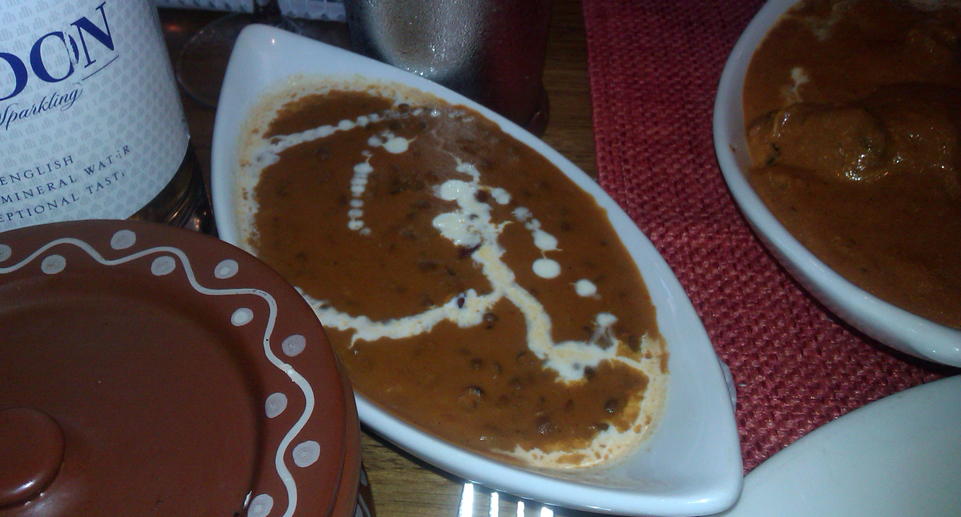 Dal makni with slowly cooked, creamy black lentils was a sweet and earthy dish and a subtle but welcome kick to it. Everything here is comforting and traditional but more upmarket, with a greater degree of refinement and fine dining sensibility that makes Babur impossible to resist. This delicious side would make a main in itself and is a great vegetarian option, soaked in the garlicky Naan and cascading over a soft pilau rice. Comfort food at its best. 18/20
Dhingri palak – garlicky spinach and mushroom – was another vote winner with a creamy, rich texture that takes spinach out of their mundane comfort zone and makes you wonder why vegetables aren't mains more often. 18/20
---
Desserts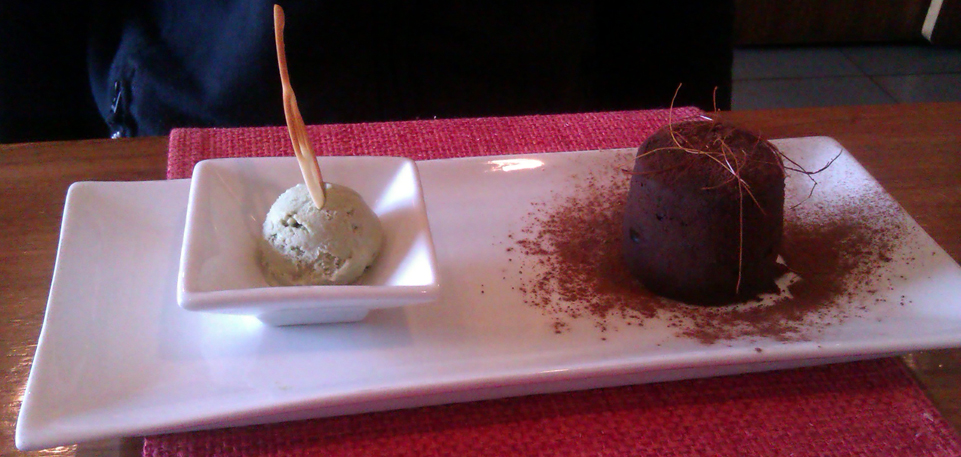 Spiced chocolate fondant with pistachio gelato was a light, chocolate dessert that makes a pleasing end to a meal where you're likely to over-indulge on the mains. It was neither too rich or dense and the subtle spice let you know that the Indian tradition hadn't been forgotten, since Babur blend East and West in their desserts. Many individuals, including myself, find Indian desserts to be quite hearty and filling for the end of a meal, so the European/Indian hybrids created at Babur are a refreshing complement to the overall meal. The pistachio gelato worked well with the fondant. 16/20
Mango brûlée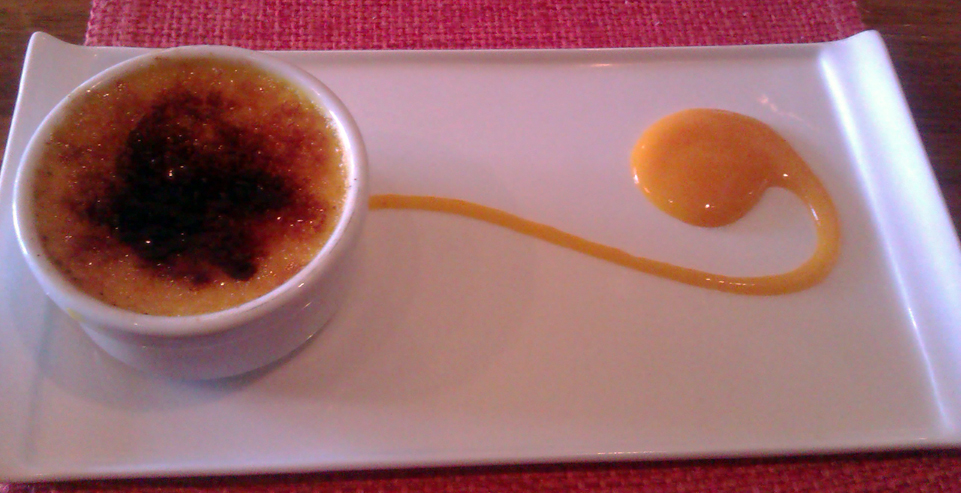 Fancying a light dessert I opted for the brûlée  although I usually find crème brûlée too eggy this dish was much lighter, more mousse-like in consistency and palate cleansing after a heavier, richer main. 17/20
---
Overall Rating
Joyful cuisine with just the right touch of creativity and flair that doesn't distract from the traditional elements of Indian cuisine. Staff are exceptionally warm and hospitable. Expect to be extremely full with a contented smile and newfound appreciation for Indian fine dining. It's truly worth going out of your way to frequent, I know I will be.
Rating: 18/20
Cost: Starters range from £6.75 – £8.50, mains £12.95-£16.95 and desserts £4.75 to £5.95. On a Sunday a lunch buffet is served and priced at a very competitive £12.95.
Telephone: 020 8291 2400.
Address: 119 Brockley Rise, Brockley, London, SE23 1JP.
Opening Hours: Open from noon until 2:30 (except Sunday: noon-4pm)and every evening from 6pm until 11:30pm.
For more information see www.babur.info.