Brasserie Zedel: An inexpensive slice of French cuisine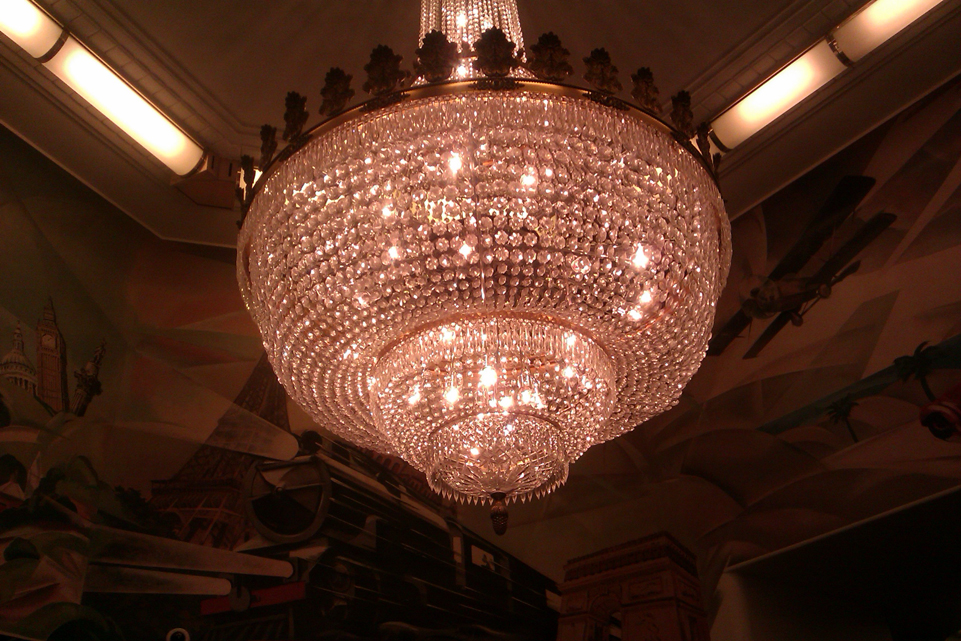 Brasserie Zedel is bustling with diners on a Thursday lunch-time and I am initially a touch overwhelmed by the clatter and ostentatious French decor. Tourists, business people, the odd celebrity (I spot Miriam Margoyles), tourists, families and everything but the kitchen sink is eating here, but it's easy to see why. The food is distinctly French, cheap as chips and really rather middling. It's not earth-shatteringly innovative, it's not supposed to be. My fish is cooked well, my egg mayonnaise is a pretty plate and desserts are delectable. It's clearly heaving with people for a reason. Is it ostensibly French? Perhaps, it's a tourist hot-spot and I feel like I've entered a scene in Moulin Rouge, but at £2.25 for a starter that's better than many I've consumed in more expensive restaurants, I'm not complaining.
Critics seem to love this art deco dining hot spot, with The Guardian's Jay Rayner calling it lover letter to the classic Parisian brasserie. It's certainly glamorous in one sense, inhabiting a space formerly occupied by a columned ballroom. A lavish chandelier, deep red hues, marble cladding and velvet banquettes characterise the haunt. The packed nature of the venue give it a distinctly touristy feel though that might not be to everyone's taste. I generally prefer a quieter more secluded meal.
It's runaway success has something to do with owners Chris Corbin and Jeremy King, successful proprietors of breakfast hotspots The Wolseley and Delaunay. These dining venues are regular haunts for top chefs and the food bourgeoisie, so it's no wonder that Brasserie Zedel has also received its share of favourable reviews.
Expect French classics such as céleri rémoulade, steak haché, bœuf bourguignon and andouillette de troyes grillée – that's celery root salad, chopped steak, braised beef in red wine and grilled tripe sausage, for those rusty on their French. The menu is presented in French and English, which could add an air of pretension, but none of the staff seem to mind me asking for the latter. The Slovakian waiter tells us not to apologise for mispronunciation, since he's not French either.
The food at Brasserie Zedel isn't going to set off any culinary fireworks but they can cook and season adequately, at a steal. You do have to wait for some time before being served, so you might not want to head here in a lunch hour, unless you have a few hours to spare. Still, they have to turn over 200 seats at an alarming pace, so I can forgive the gap between courses.
A la carte starters are generally a ridiculously inexpensive £2.50-£5 and a set course lunch is just shy of £12. Mains are around the £10-£17 mark and desserts £3.60-£6.75. Michelin it certainly isn't but for a cheap, fairly decent, French grub in a glammed up venue with a sense of entertainment and degree of homage to Parisian brasseries, head to Brasserie Zedel. It's worth a visit, at least once.
---
Starters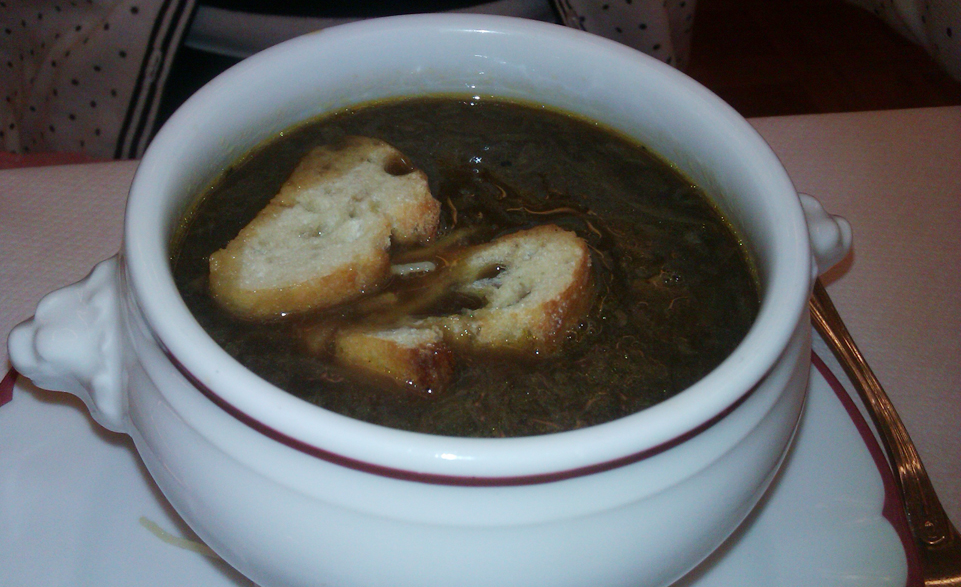 French onion soup is a light broth with a subtle onion flavour that doesn't overpower the palate. It contains tears of bread that absorb the broth nicely and make for a typically French starter that won't disappoint. I ask my colleague what she thinks and her response sums it up "It's French Onion Soup." There is nothing inadequate about it. 12/20
Egg mayonnaise has some fresh crisp salad, boiled eggs and pretty squirts of mayo on the plate. It's a pleasant and incredibly cheap starter. I've had many more insipid and wilting salads at three times the cost. It's blisteringly simple, but serves its purpose. 10/20
---
Mains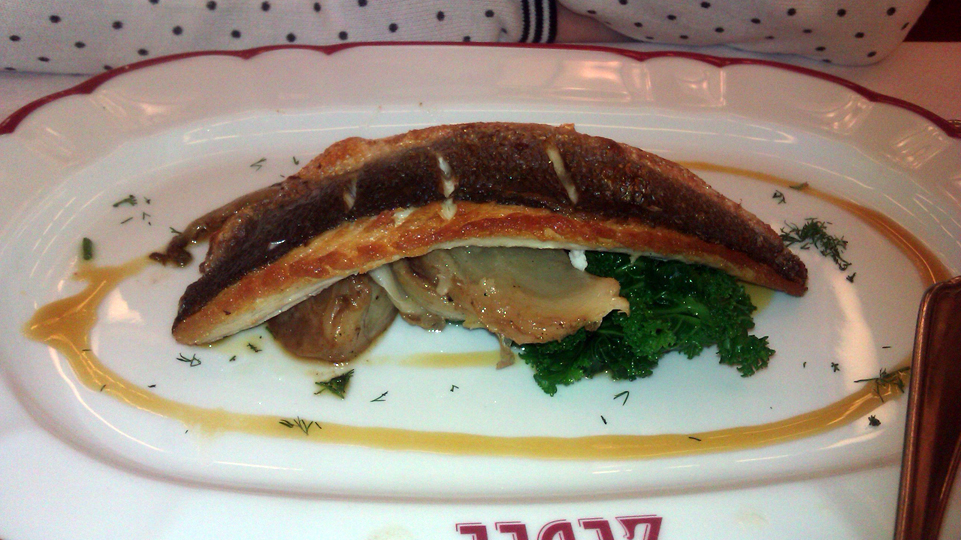 Sea bass with fennel and orange suffers the same fate of most fish dishes in restaurants and that's over-cooked fish. Apparently barely anyone can adequately cook fish, even if you ask, and my colleague keeps staring at my perfectly cooked sea bream. Aside from that discrepancy, the fennel and orange confers a lovely delicate flavour to the sea bass. 10/20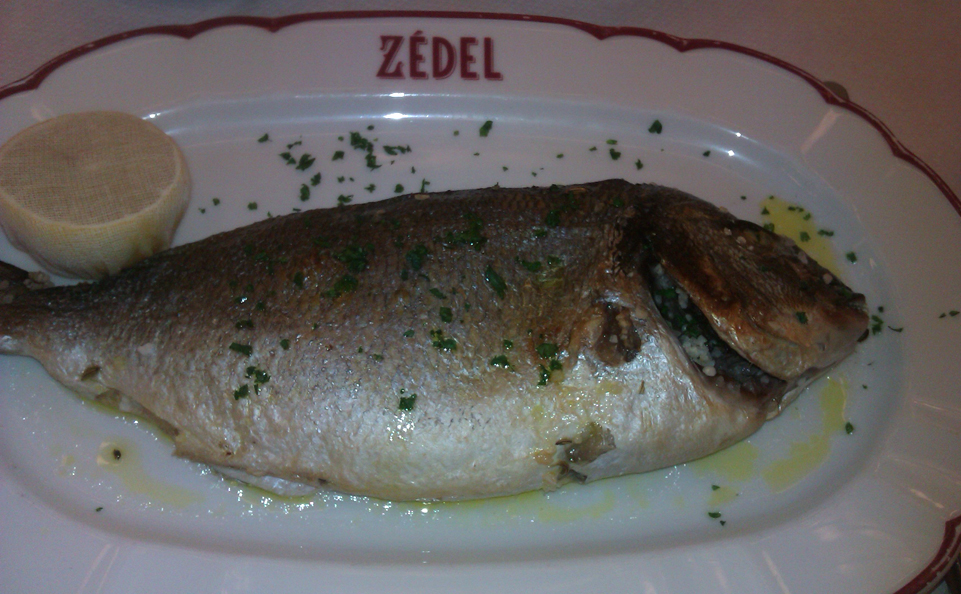 Salt baked sea bream with Lyonnaise potatoes is supremely soft and oily, with adequate seasoning. The sauteed potatoes are stuffed inside the fish and work well with the bream. Accompaniments of brussel sprouts and glazed carrots are all absolutely fine. Again, it's great value and nothing to really complain about. 12/20
---
Desserts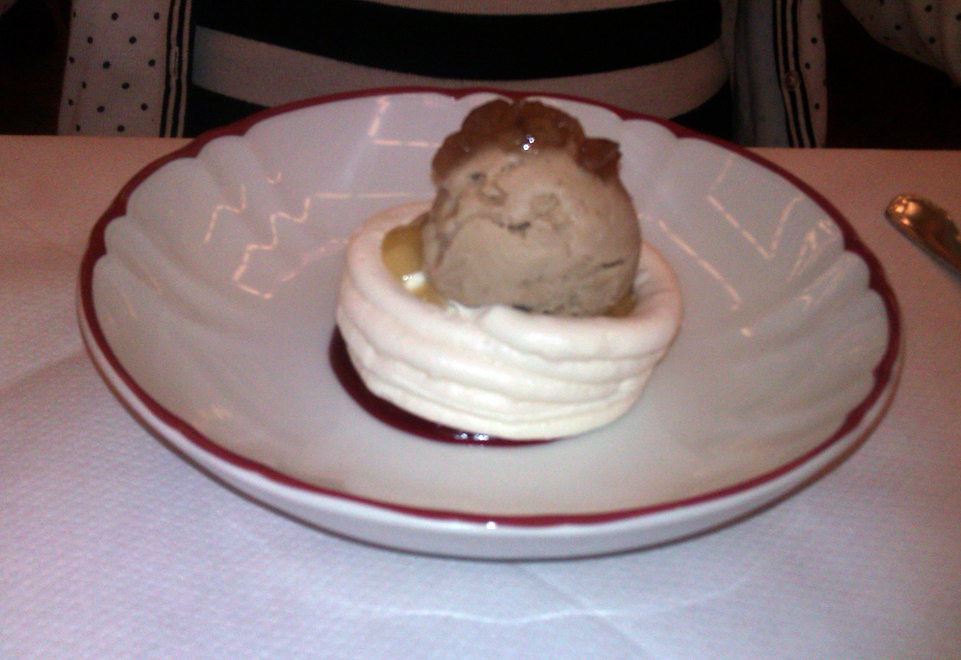 Meringue with chestnut ice-cream features a hard, crisp meringue based with a serving of well-flavoured, creamy chestnut ice-cream seated on top. I prefer a softer, more gooey meringue, but my colleague is in love with it. 13/20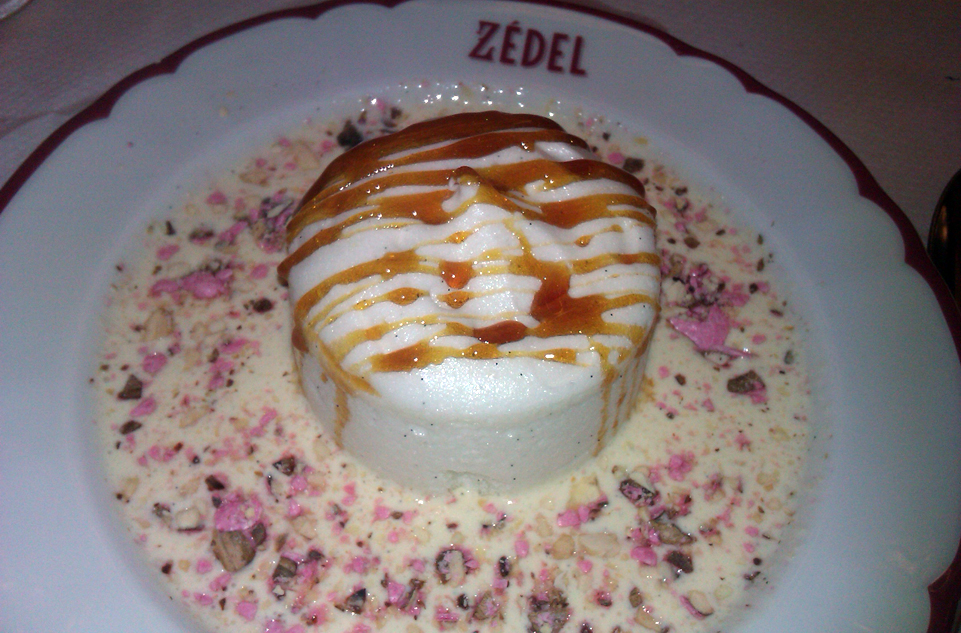 Il Flottante (floating island consisting of meringue perched on crème anglaise) has a light texture and a fabulous crème anglaise with a scattering of rose petals and nuts. It's airy and slightly decadent. My colleague cannot resist diving into my creamy custard and this sweet indulgent dessert has to be one of my all time favourites. Others have complained that it could do with more caramel, but for me the crisp sliver on top is suffice. Any more and it would be far too sweet. 16/20
---
Overall
A popular dining spot and tourist haunt it's a rather garish tribute to Parisian brasseries that attracts business people, tourists, celebrities, the general public and entertainment seekers. It's lively, service is slow and the food is cheap and fairly standard across the board. Serving portions are reasonable and food is pleasant. I could be more critical if the venue was charging more money, but rolling out decent French cuisine at that price for a set menu is a rather more impressive.
Rating: 12/20.
Cost: A la carte starters start from £2.50 and a set course lunch is around £12. Mains: £10-£17 mark and desserts: £3.60-£6.75.
Telephone: 020 7734 4888.
Address: 20 Sherwood Street, London, W1F 7ED.
Opening Hours: Bar Open 4.30pm-midnight daily. Café Open 8am-midnight Mon-Sat; 11.30am-midnight Sun. Brasserie Meals served noon-11.45 daily.
For more information see www.brasseriezedel.com.