Busaba Eathai: Affordable Thai food in Covent Garden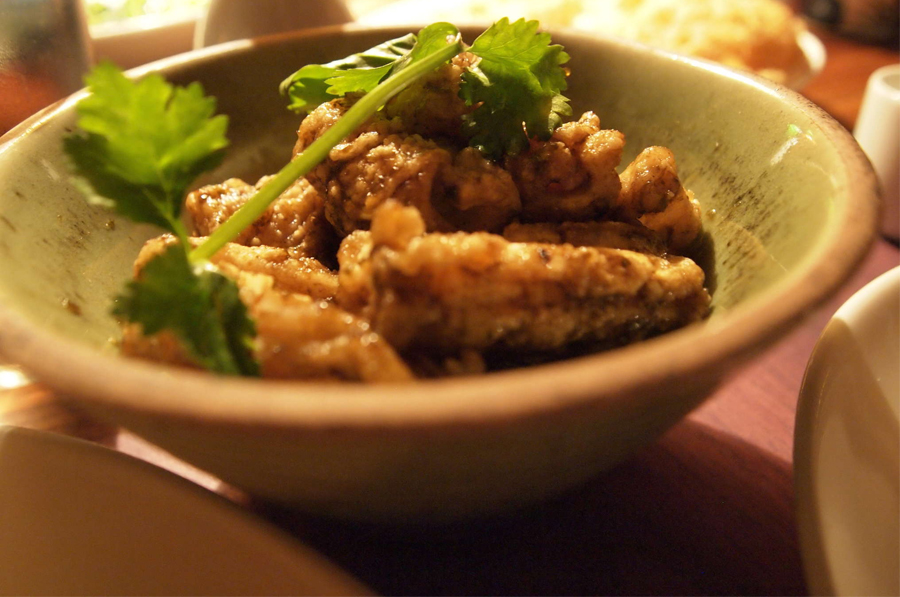 Busaba Eathai operates at various locations around the city and as a chain store Thai restaurant attracts a cosmopolitan crowd. It's decor is typically characterised by metres of shiny, polished surfaces, dark wood, ambient lighting and communal eating tables. Some standard Thai favourites and fusion Southeaster Asian food are included on the menu along with fresh juices and smoothies. Diners shouldn't expect the aromatic and taste levels of traditional Thai cooking, but it's a fun spot to dine out with friends or colleagues, staff are pleasant and the pre-theatre menu is a wallet saving £9.90 for one main and side, so it's not going to break the bank.
At lunch-time in the Covent Garden branch it was a relatively peaceful atmosphere actually and the food had that comfort element, with a sense of simplicity about the dishes. A jasmine smoothie with passionfruit is refreshingly sweet (11/20). Sam tam papaya salad with dried shrimp, cherry tomato and peanut is a serviceable salad option, plentiful and with a good degree of spiciness to the dish (12/20). Chicken butternut squash with cashew nut and dried chilli has a spicy kick and the squash could use a greater sense of sweetness and less of that piquant edge that detracts from the flavours in the food, but is overall an enjoyable offering. (12/20) Vegetable spring rolls could use a bit more bite and richer, bolder flavours overall but have a light, sweet centre and moreish dip (12/20).
As far as fast food chains you can expect reasonable, affordable food in a nice setting that surpasses the offerings in many chain style restaurant ventures. Service is swift and helpful to boot. There are some quirky flavour contrasts but a lot of comforting elements and a buzzy atmosphere once diners fill that venue that make it easy to see why Busaba Eathai remains a popular haunt for city dwellers and tourists alike.
Overall: 12/20
Venue details
Address: 44 Floral Street, London, WC2E 9DA.
Venue phone: 020 7759 0088.
Opening hours: Meals served noon-11pm Mon-Thur; noon-11.30pm Fri, Sat; noon-10pm Sun.
Transport: Covent Garden.
Price: Main courses £6.20-£10.90.