Chez Bruce: Effortlessly Palatable Classical Cuisine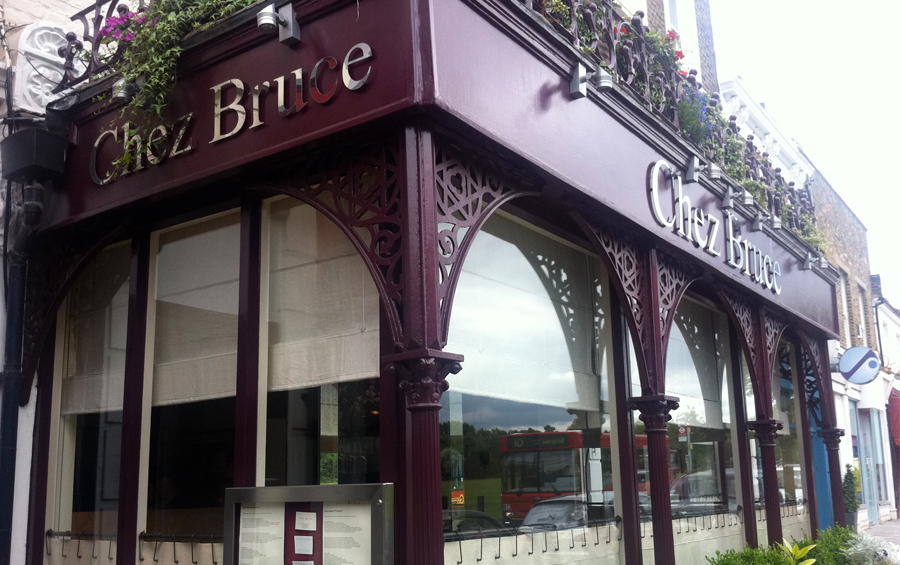 I am starting to get bored of foams and gharish colours adorning my plate lately. I'm slightly disturbed by the rise of fusion Asian cuisine that blends discordant flavours and Michelin level joints seem to be plying my desserts with too many components that clearly belong in a starter or main and never anywhere near my precious pudding. They also seem to be providing smaller portions at an alarming rate, and making food appear increasingly like a plate of garden soil, which is highly modernistic and often tastes quite nice, but still, I just love the classics. Leave them alone if you will, apart from the odd inspirational venue such as Chiltern Firehouse…perhaps, I don't know, I haven't been yet, but critics and celebs never stop showering it with praise, so I can forgive blending American, Scandinavian and French influences I guess.
Anyway, cue, Chez Bruce, Bruce Poole's award-winning Michelin restaurant still extolling the virtues of unpretentious but fastidiously presented and prepared cuisine. This charming dining venue is co-owned by Nigel Platts Martin the owner of the equally laudable La Trompette and Glasshouse in Kew.
The starters are sizeable and so are the mains and with this cuisine it's easier to find flaws because they don't dress anything with a sexy inventiveness I never asked for. Food is rather gallic in influence and rightly so. Never betray the classics, even if you want to stick beetroot in my cake. They don't and they're all the better for it. Chic, understated, helpful with an inexpensive lunch (£27.50 for 3 courses) and dinner menu (£45 for 3 courses) and homemade bread that quite frankly urinates over many other dining venues from a great height, even a number of Michelins. It's worthy of its star, food is packed with flavour (even cod, the most over-used and pedestrian fish in existence) and you will receive attentive service in an elegant dining venue.
As John Walsh said in the Independent, it's a jewel in the gastronomic wasteland of Wandsworth Common. I'd extend that sentiment to London as a whole for the most part, having dined in hundreds of restaurants across the city, most of them distinctly lacking bar Michelins and some other more prestigious venues.
---
Bread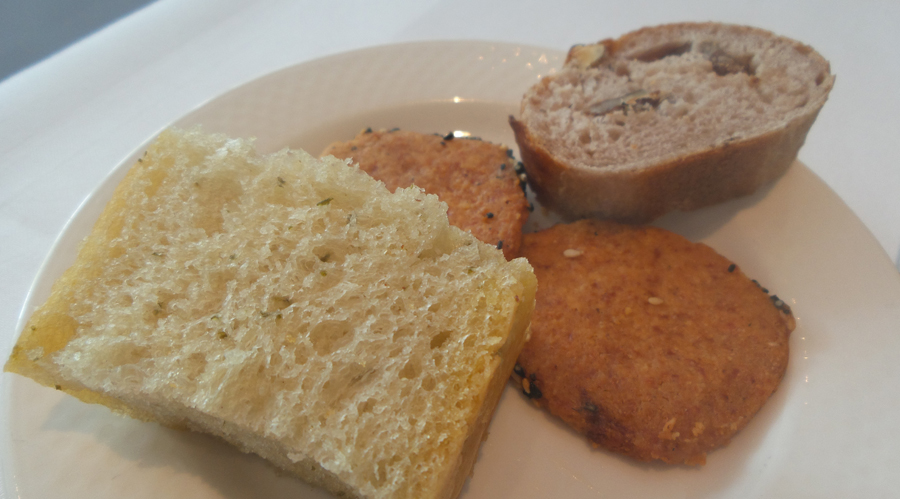 A very good soft and lightly oil foccacia made in house is presented, along with an equally applause worthy walnut bread that's earthy and lightly salted. It makes a pleasant change from the boring offerings served up across the city. 17/20
---
Starters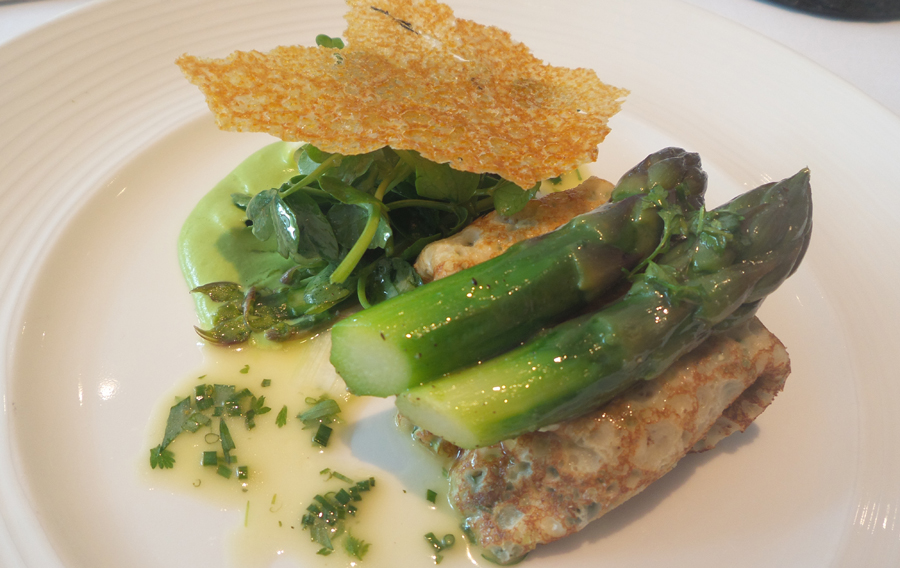 An asparagus and pea parcel with herb vinaigrette and mascarpone is a pleasant dish, with a slightly al dente asparagus (I prefer it cooked a touch more) and refreshing creamy filling lining soft crepes. 15/20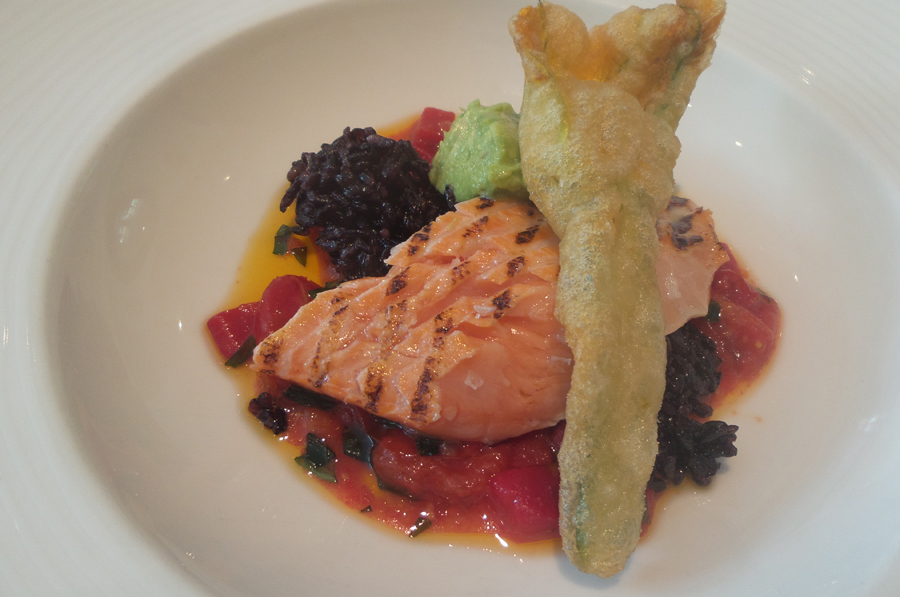 Rare grilled salmon with salsa rossa, black rice and courgette flower fritters is a hearty starter and of main size proportions with a wonderfully rare and oily portion of salmon seated aloft a light salsa base. A light guacamole works well with the salmon and the courgette fritter is delicately dressed in flour adding a crispness that makes the dish though simple, well balanced and exceptionally palatable. 16/20
---
Main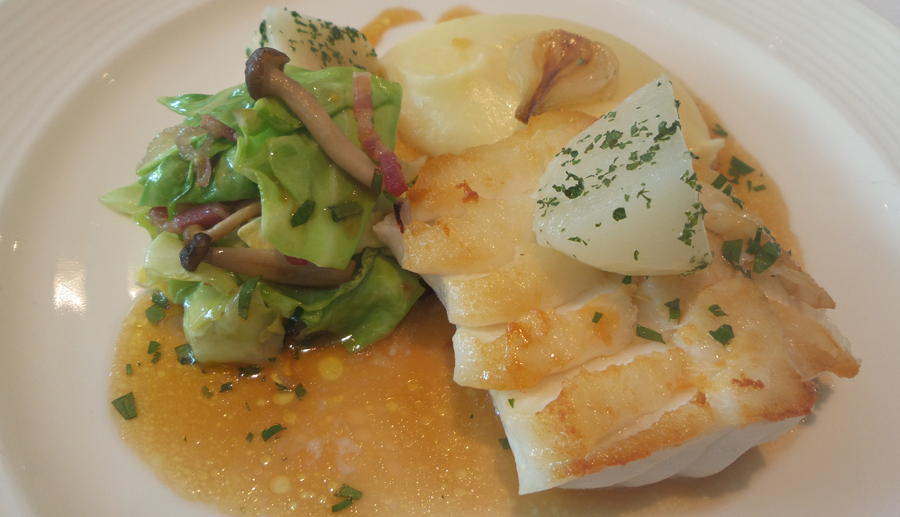 South coast coad with truffle mash, spring cabbage, mushrooms and bacon is another immaculately prepared classic. Cod is light with a subtly sweet flavour and crisp exterior. Cabbage is a tad too al dente, but the bacon is not chewy or overly salty, mushrooms are delicate and truffle mash is silky and moreish, conferring flavour to the cod and cabbage. It's balanced and palate pleasing again, without being ostentatious. 16/20
---
Desserts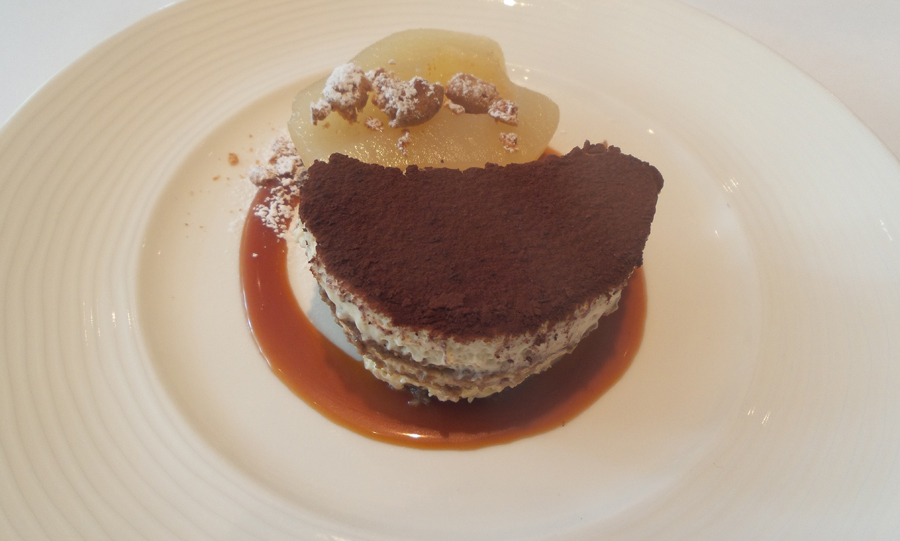 I always want dessert to knock my socks off but the tiramisu with poached pear and amaretti is simply a well rendered classic. I made it like this at home once, but I really don't mind. The poached pear works well with a whipped, light tiramisu that isn't overly doused in expresso. Salted caramel is light and a crushed amaretti adds a touch of sweetness. It's a rather virginal tiramisu in many ways, which is no bad thing and I'm grateful for not yet again over-indulging in a sugar rush or having to wonder why basil or balsamic is in my ice-cream. 15/20
---
Overall
Chez Bruce is refined and polished in every sense and the food is really very good by any standards. It's not rocket science and not going to win any inventiveness awards but why re-invent the wheel when such reliably timeless cuisine is being rolled out with immaculate presentation and a rather agreeable end product. Any minor incongruencies quickly pale into insignifance in comparison to the stellar cooking and service. Chez Bruce is not feted for nothing.
Rating: 16/20
Cost: Set lunch (Mon-Fri) £27.50 3 courses; (Sat, Sun) £35 3 courses. Set dinner £45 3 courses.
Telephone: 020 8672 0114.
Address: 2 Bellevue Road, London, SW17 7EG.
Opening Hours: Lunch served noon-2pm Mon-Fri; noon-2.30pm Sat, Sun. Dinner served 6.30-9.45pm Mon-Thur; 6.30-10pm Fri, Sat; 7-9pm Sun.
For more information see www.chezbruce.co.uk.