Counter Cafe: Simply scrumptious veggie breakfast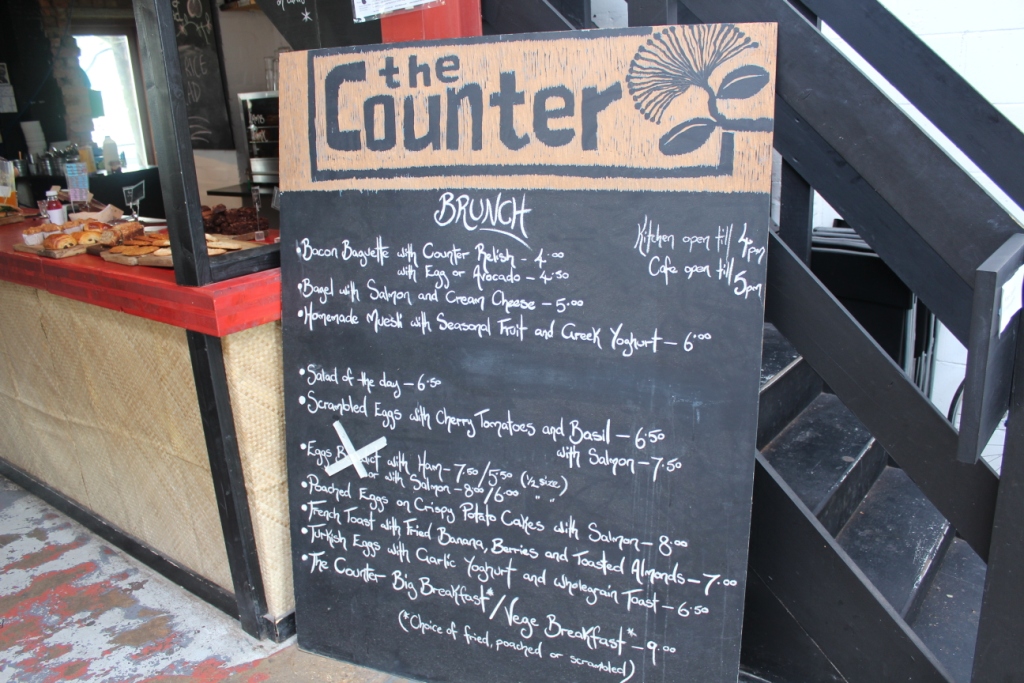 London has plenty of bohemian, stripped back cafe concepts and Counter Cafe in Hackney Wick is another one of these, with its wooden slightly shoddy furniture and trendy creative types working away on Macs. Marooned within a rough looking art studio (Stour Space) it's an absolute bugger to get to, so if you're anywhere else other than Hackney in London you might well end up settling for somewhere else. Still, it's also rather scrumptious, so despite my slightly irritating journey there and craving for something more aesthetically elegant I soon settle down into a creamy flat white and supremely satisfying vegetarian breakfast.
I have to queue for a bit to get in on a Sunday lunchtime but the staff are utterly effervescent, singing and dancing as if Saturday night never happened. It's somewhat infectious because I'm warming to the bald decor.
The vegetarian breakfast was far superior to ANY other breakfast I've consumed in London, including the staple Full English. I used to be vegetarian, it makes me want to adopt the lifestyle again. A light subtle bean mix substitutes boring and overly sweet baked beans. Bread is wholegrain, not overly toasted and flavoursome. Eggs are delightfully runny with sweet chilli sauce adding a subtle and complementary kick. Lashings of avocado on the side win my heart, as does the correct degree of seasoning. (14/20) Why it's one of London's finest breakfasts.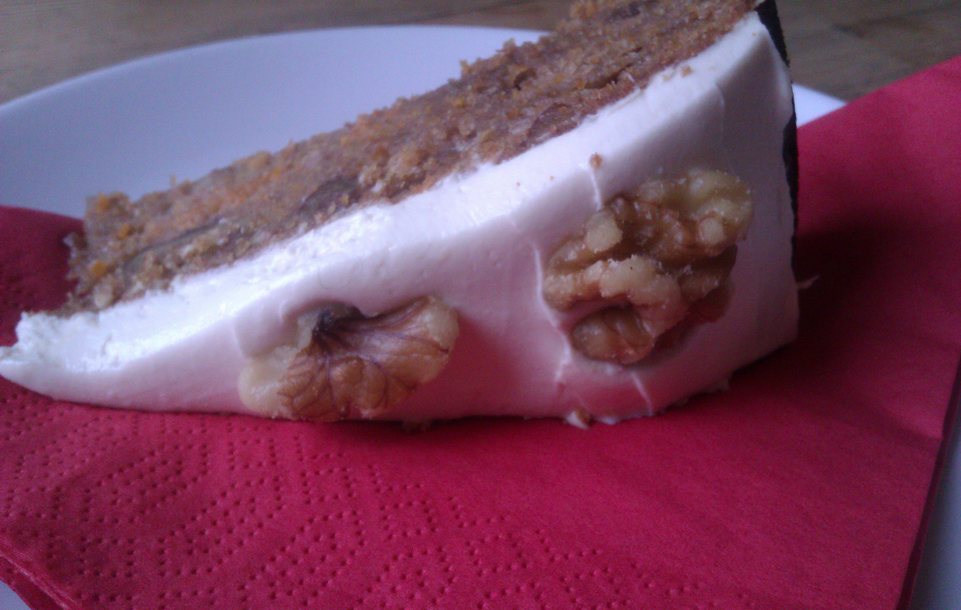 I couldn't resist choosing a slice of carrot cake to complete my meal and was pleasantly surprised. It had some qualities that make it preferable to other similar cakes I've consumed in London. It tasted more wholesome, had plenty of grated carrots and crunchy walnuts. The topping was smooth and not overly sweet. It even felt a tad virtuous. The thing is though, it was a tad too dense and perhaps under-cooked. A lighter texture and perhaps a kick of ginger or orange zest would have lifted this cake beyond the ordinary. A good basis for a carrot cake, but with a few flaws. (13/20)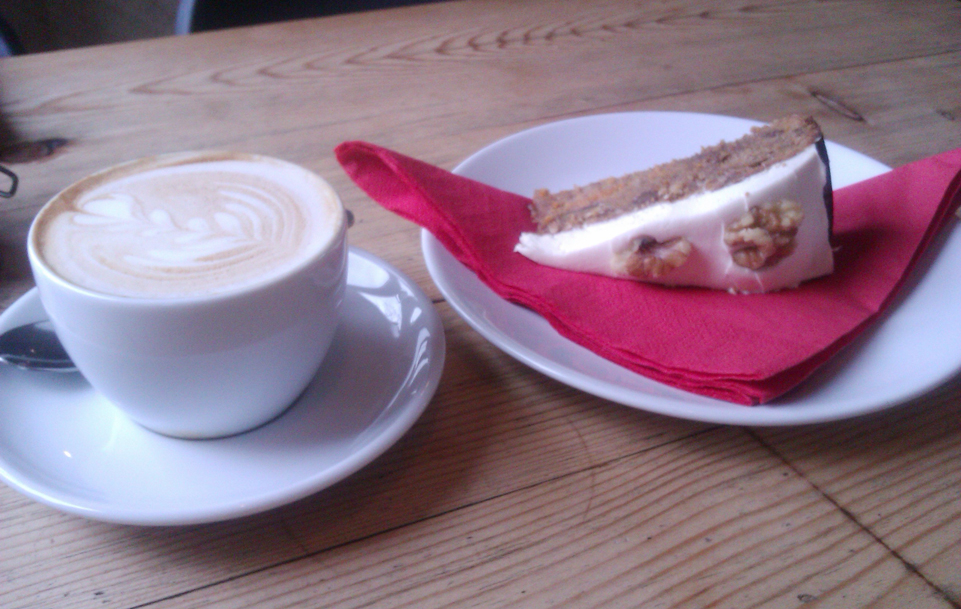 Coffee is roasted in-house and the barista is clearly doing a good job as it's one of the best flat whites I've consumed. I asked for extra hot and it actually was. I usually get a list of reasons why flat whites are inherently colder. I appreciated this approach much more. The coffee wasn't burnt, as it often is and there was a really creamy texture that coffee so often lacks. (14/20)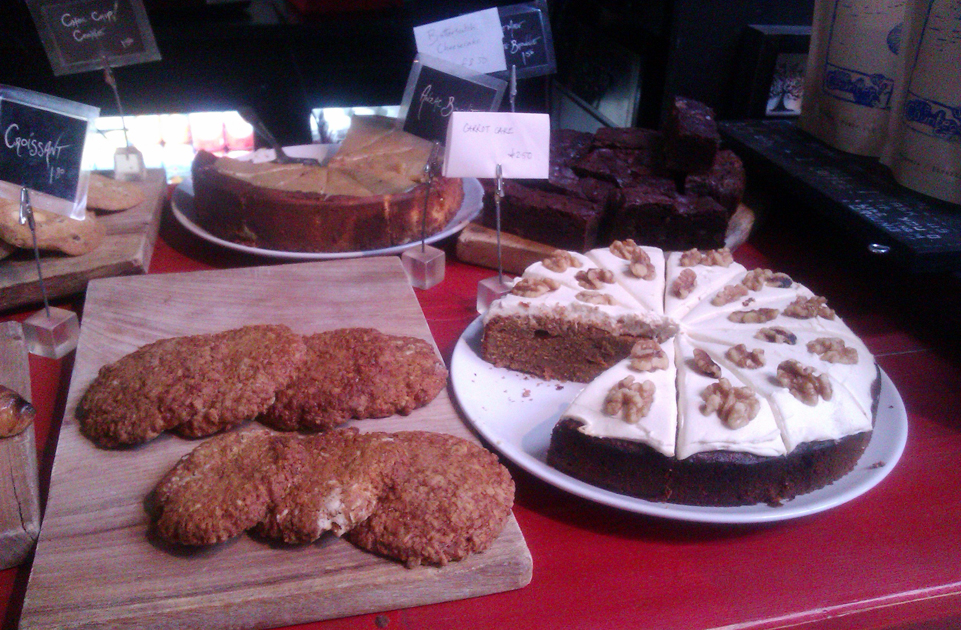 There are standard stock breakfast options on the menu. Think eggs benedict, English breakfast, muesli, french toast etc. They also offer pies, salads and a soup at lunch-times. Breakfast/brunch ranges from £4-£9. If you live in the area or happening to be stopping by Counter Cafe is definitely worth a visit.
Overall Rating: 14/20
Cost: £4 – £9.
Telephone: 0 7834 275920.
Address: Stour Space, 7 Roach Road, London, E3 2PA.
Opening Hours: Open 8am-5pm Mon-Fri; 9am-5pm Sat, Sun.
For more information see www.thecountercafe.co.uk.