Hispania: Homely Spanish Tapas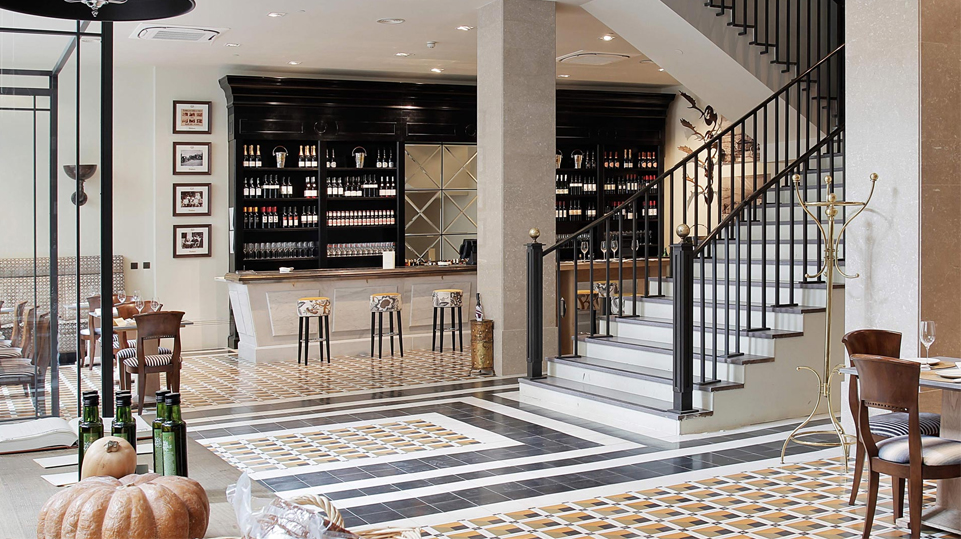 On a typically rainy afternoon in London I'm having Spanish tapas again. Tapas is de rigueur everywhere apparently, whatever the origins of the cuisine. Hispania's restaurant manager points out that the Spanish don't eat tapas at lunch-time, they have three set courses, that's why this Bank based eating establishment is broadening their menu. I quite agree with this ethos. I prefer a more holistic plate of food that has more complementary flavours. For now though I'm having tapas because Hispania still has a predominantly tapas lunch menu and I want to try a range of options, because I'm greedy. I had a particularly delightful tapas experience at Boqueria in Brixton and I'm on a mission to find some equally good Spanish food.
Hispania has an elegant and authentically inspired interior, featuring high ceilings, a huge sweeping staircase and a good deal of dramatic decor, much of which has been directly imported from Spain, including flooring from Seville and a Spanish marble bar. It's a reasonably promising start.
The project itself is the brainchild of Marcos Morán who runs the Michelin-starred restaurant Casa Gerardo in Asturias. Apparently the upstairs dining space is being converted into a 35-seat  fine dining restaurant, graced by a Michelin level chef, but for now the focus is small plates, although there are main course options on the menu, which look rather tasty as I peruse the plates of fellow diners. The dishes are not particularly original and so you can expect ham croquetas, patatas bravas with aioli and salsa, tuna tartare, fish fritters, Spanish hams and cheeses, paella and other typical stock Spanish fare.
Service is exceptionally friendly and portion sizes are generous. There is an authentic sentiment to both the food and the decor that I thoroughly appreciate. My colleague is impressed and points out that he doesn't always want a fine dining experience, just some good home-style cooking that satisfies a space and makes for a fun more laid-back experience. I think I'm a food snob because I always want to go to a three-star Michelin.
We are provided with a veritable banquet of dishes and I am verging on proclaiming mediocrity until I demolish the black rice with squid ink, cuttlefish and prawns. My colleague does the same. I think it's because it's so homely, comforting, sweet and starchy. Other dishes are equally rustic in presentation and substance, they are indeed pretty damn tasty, but I long for something more. Maybe I'm jaded because I see a chef in the upstairs open kitchen space scoop something out of a Heinz Mayonnaise tub and I hope so desperately that it wasn't the basis for my aioli. I really don't know. Either way, the food was good overall, if not spectacular and I would give it another try as the mains on other diners plates encouraged me to make another trip.
Tapas options range from £3-£15 and you can expect to pay around £13-£20 for a main. It's not particularly excessive for London. Neither is it particularly cheap, but I feel like Hispania is a work in progress that can be dramatically improved and hopefully will be.
---
Tapas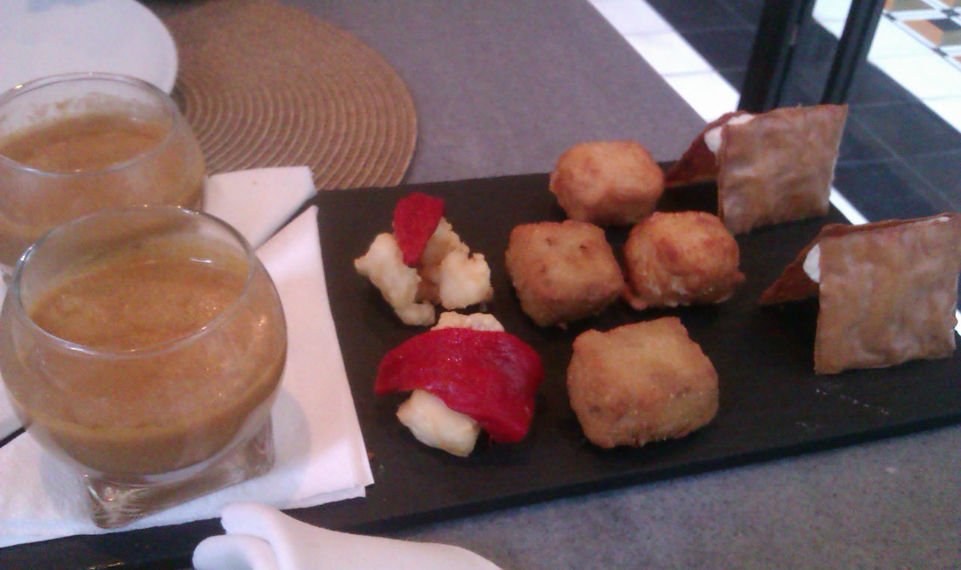 Fresh hake fritters with confit piquillo peppers had a subtle delicate flavour enhanced by the sweet piquillo peppers. 13/20
Ham croquetas were filled with a creamy sauce that melted on the tongue and delivered a burst of flavour. The ham flavour wasn't too overpowering. 13/20
Crunchy cheese bites, consisting of toffee flavoured filo pastry with a blend of Spanish cheeses were very light and the cheese worked well with the sweet toffee pastry. 12/20
Seafood bisque with king prawns, mussels and croutons was a pleasant and intensely fishy bisque that my colleague really enjoyed. I'm not a huge fan of mussels so found it a tad overwhelming, but this is a personal taste issue. 12/20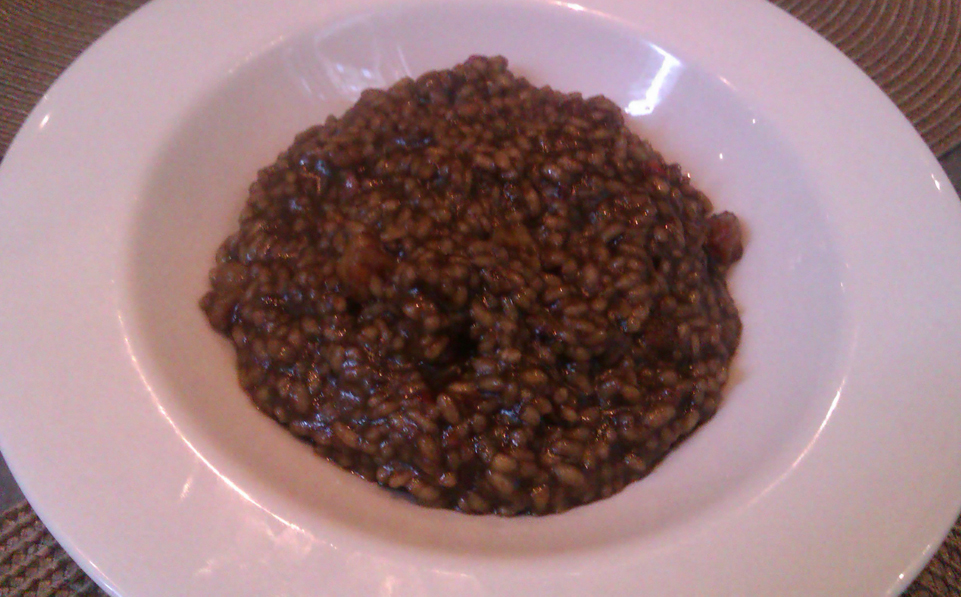 Black rice with squid ink, cuttlefish and prawns didn't look much in the bowl but it was intensely satisfying in a rustic, comforting manner, with plenty of flavour and a sticky/sweet moreish rice that made it impossible not to polish off the entire bowl. This was accompanied by an utterly addictive aioli that complemented the dish very well. 14/20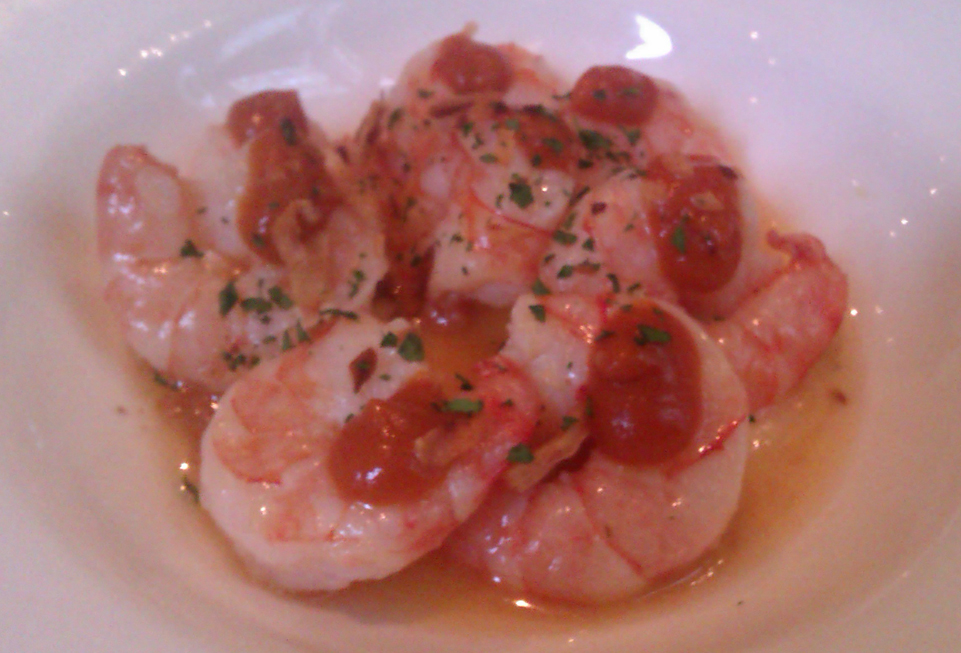 Garlic prawns were refreshingly light with a piquant dressing. This was a very simply executed dish. The prawns were a tad too chewy. 12/20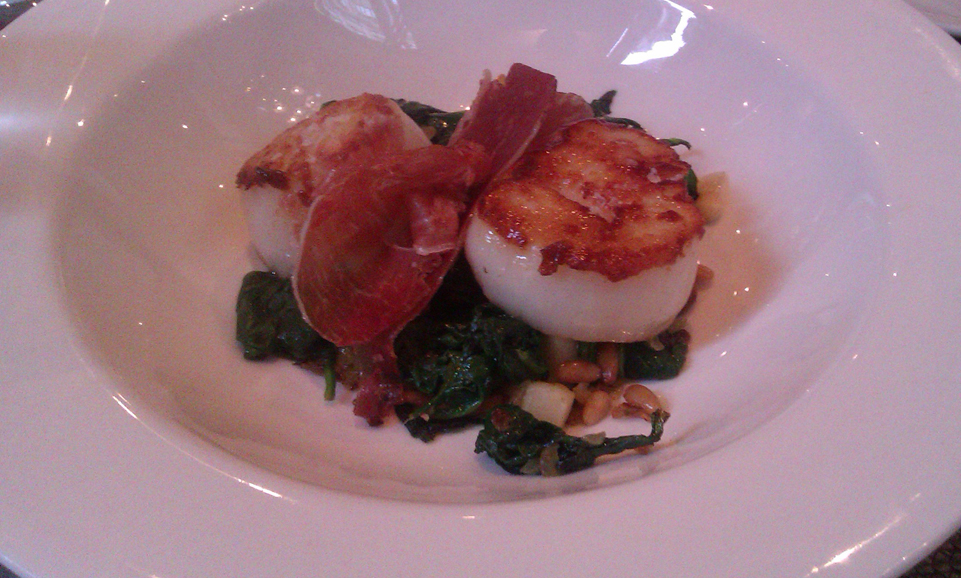 Scallops with Catalan style spinach had some nice flavours emanating from the pine nuts and dressing, but the scallops were a bit too tough. 12/20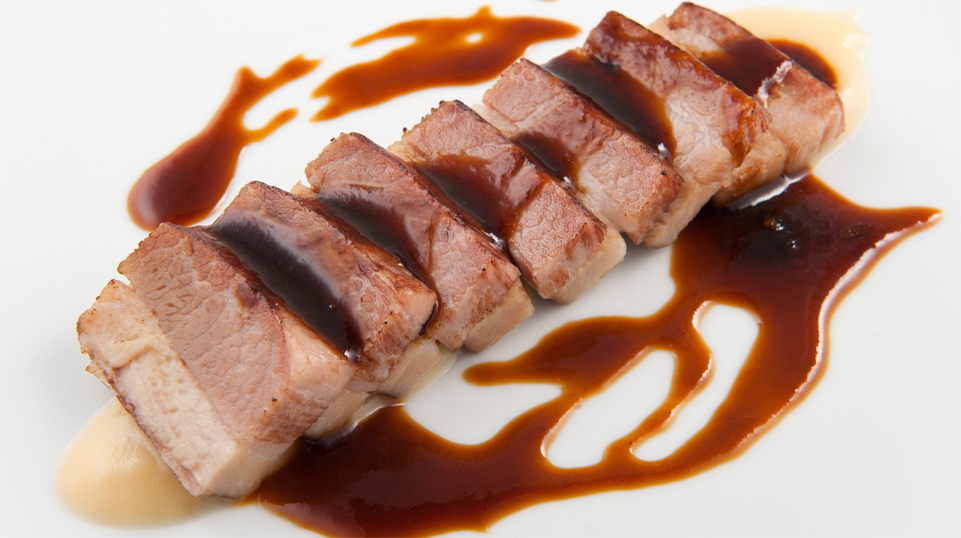 Iberian special pork loin with apple puree was cooked very well, with a soft and tender pork. The apple puree was a tad watery. 12/20
---
Desserts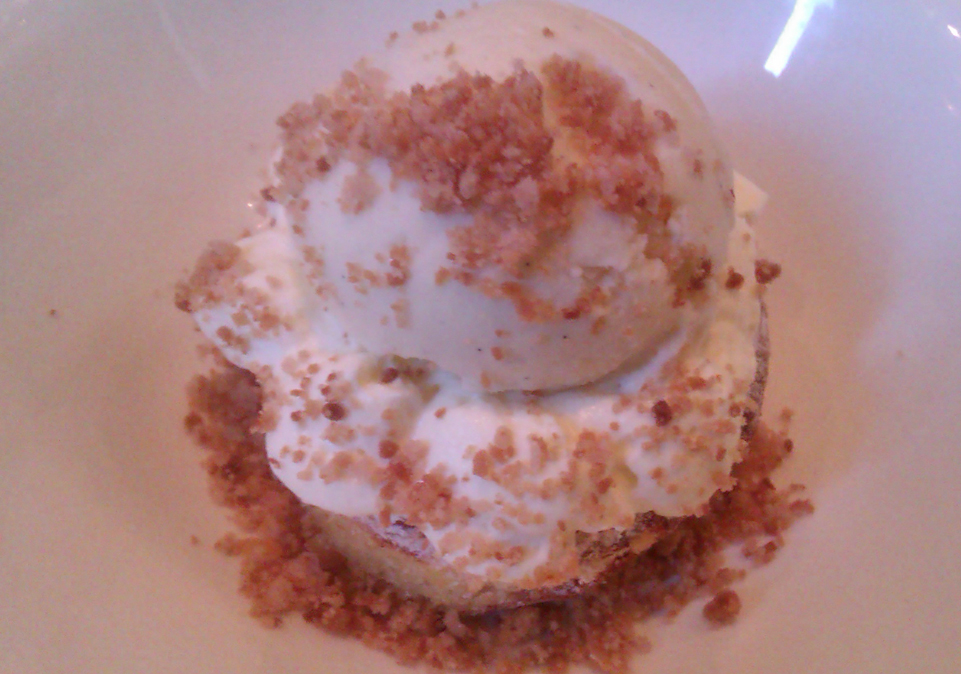 Tarta De Santiago – almond cake with vanilla ice cream and chantilly cream was a good dessert, with a light almond cake and pleasantly flavoured ice-cream/cream combination. 14/20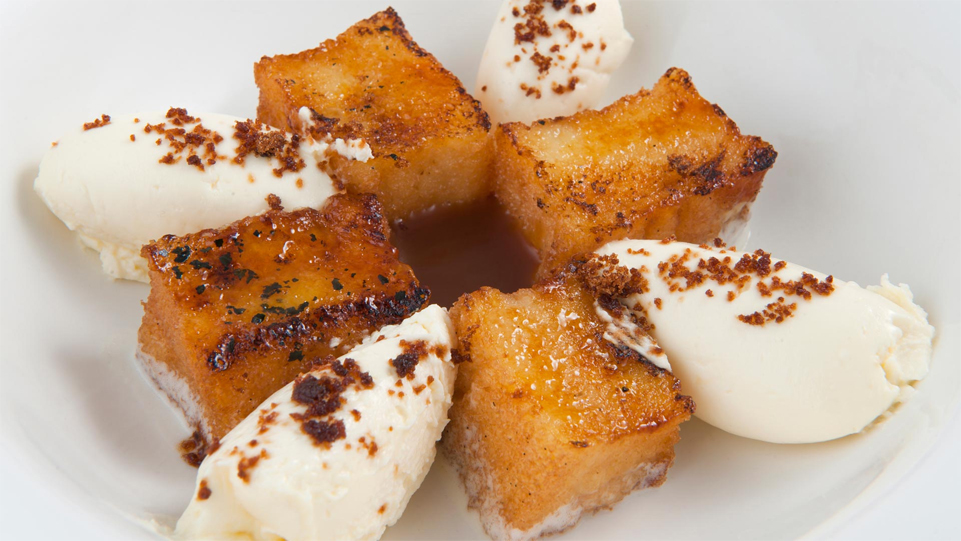 The classic Spanish caramelised toast dish (Torrija) with dairy ice-cream was dainty and delicate with a very soft yielding and beautifully sweet bread accompanied by a creamy, simple ice cream. 15/20
Cheese cake with passion fruit bavarois and berries crumble was another really impressive dessert. The passion fruit bavarois was fruity, soft and creamy and balanced really well by a supremely light and sweet cheese cake. Desserts seem to be where Hispania leave a greater impression. 15/20
---
Overall
Hispania is a fun little dining spot for authentic, homely style Spanish tapas in an elegant rather refined venue that cares about the craft of Spanish cuisine and pays homage to the Spanish culture. I look forward to seeing the restaurant open upstairs so a more fine dining experience is there to be had.
Rating: 13/20
Cost: Tapas options range from £3-£15 and you can expect to pay around £13-£20 for a main.
Telephone: 020 7621 0338.
Address: 72-74 Lombard Street, London, EC3V 9AY.
For more information see www.hispanialondon.com.