Indian Essence: Indian cuisine worth travelling for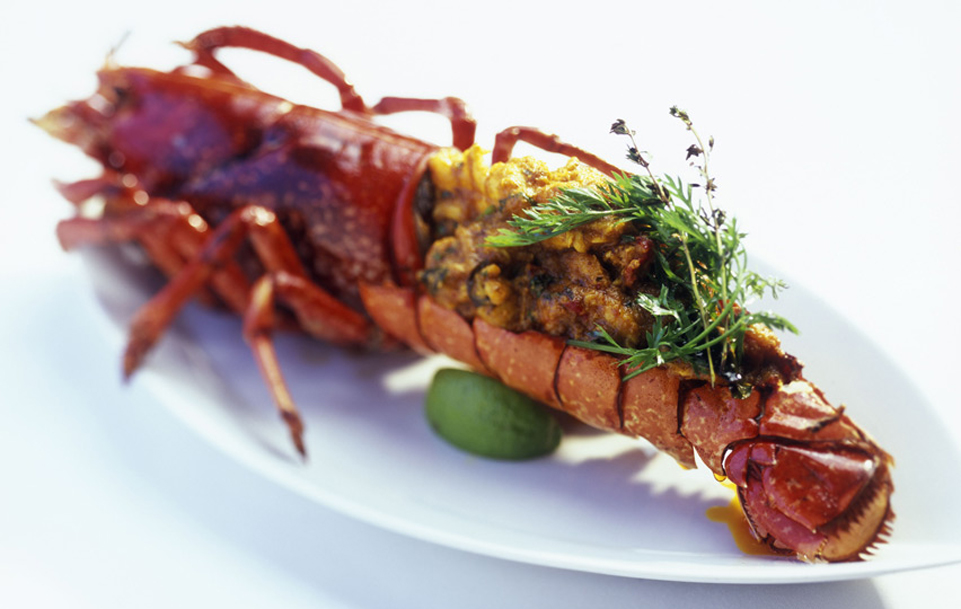 Michelin starred chef Atul Kochhar has already made a huge success of the Mayfair based Benares, which takes Indian cuisine to a fine dining audience with a good deal of style, enough tradition to sate spice devotees and innovation to delight some of the gastronomic intelligentsia. Fusion is most definitely the theme and I wondered if this extended to his lesser known Petts Wood Indian Essence restaurant, which seems to play greater homage to more traditional dishes than it's centrally located sister.
You wouldn't necessarily know about it unless you'd scoured the web but it's worth highlighting for numerous reasons. Kochhar was the first Indian restaurateur to gain a Michelin star, the restaurant is slick and pretty easy to get to from Victoria, the food is fabulous and it successfully showcases good Indian cuisine. You won't find spicing for bragging rights here, it's a more upmarket Indian dining experience.
The decor is minimalist, chic and typical of modern Indian dining establishments. Petts Wood feels like a bit of a retreat from the big city, with hospitable staff and a relaxed atmosphere.
My initial reaction to eating in the outskirts of London is that I cannot be bothered to venture their, but Indian Essence is one restaurant worth frequenting, even if it means an extra train journey. Everything is consistently good and I suspect it's not much, if any less better than its Michelin big sister.
On the A la Carte menu starters range from £5.85-£9.95, mains from £11.95-£16.95 and sides from £3.25-£8.95 (for a whole bread basket). It's fairly similar to other venues in pricing. A tasting menu is available for only £39.95 per person and set lunch is a very reasonable £14.50 for two courses or £18.50 for three.
Bread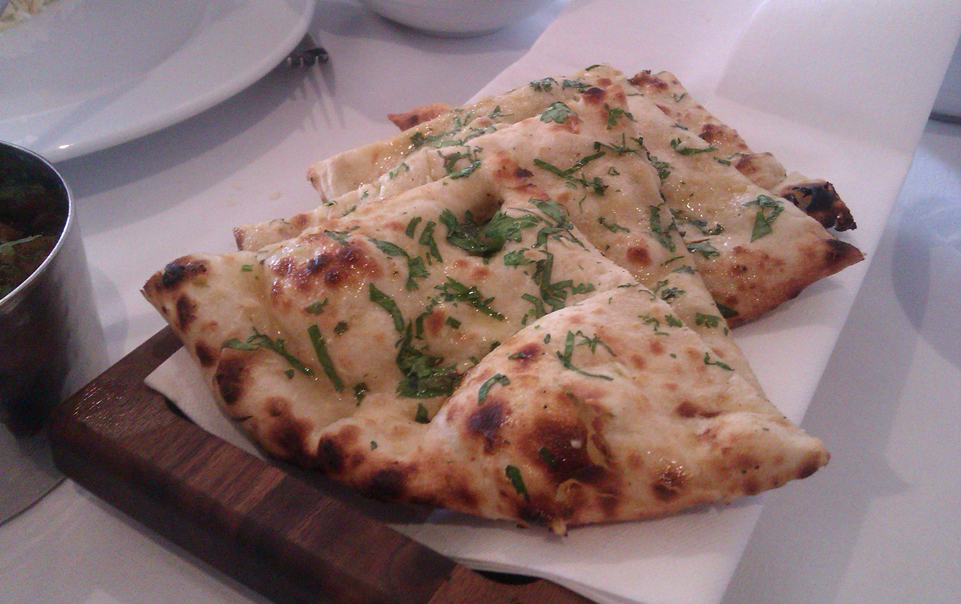 Garlic and onion naan is soft, yielding, slightly oily and scattered with plenty of onions and garlic fragments. It's utterly addictive and some of the finest naan bread I've sampled in my dining ventures. 18/20
Starters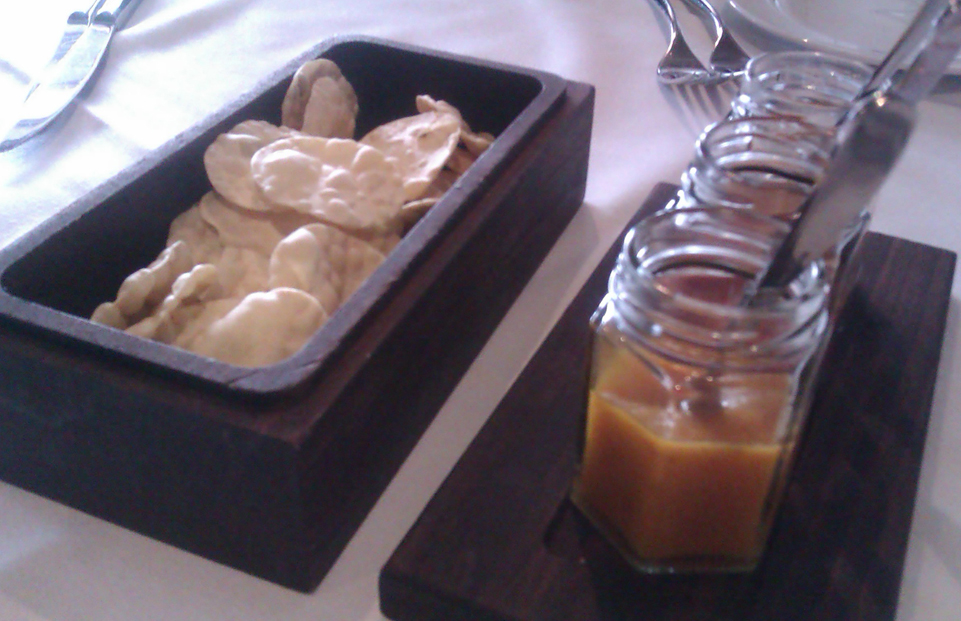 Poppadoms with tomato, apple and peach chutney are perfectly pleasant. The poppadoms are crisp and less oily than those I've consumed elsewhere and the chutneys are mildly sweet and not too spicy. My colleague virtually polishes off the entire basket before the starters arrive, so it's clear he's a fan. 13/20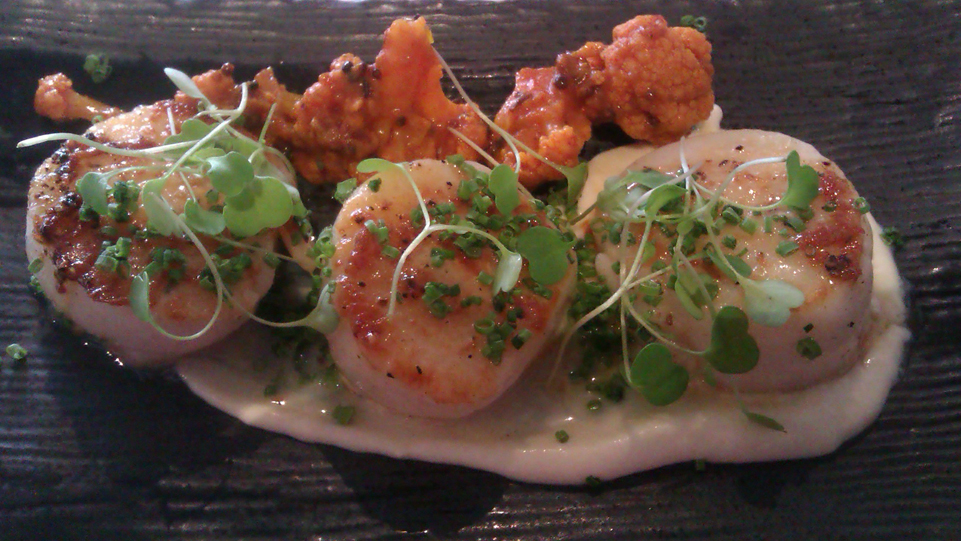 Pan seared scallops with cauliflower puree and cauliflower pickle are well-presented, cooked very well, juicy and succulent and complemented by a slightly rich cauliflower puree and piquant pickle. Flavours work well and it's a successful starter that my colleague greedily eyeballs throughout his pancake starter. 17/20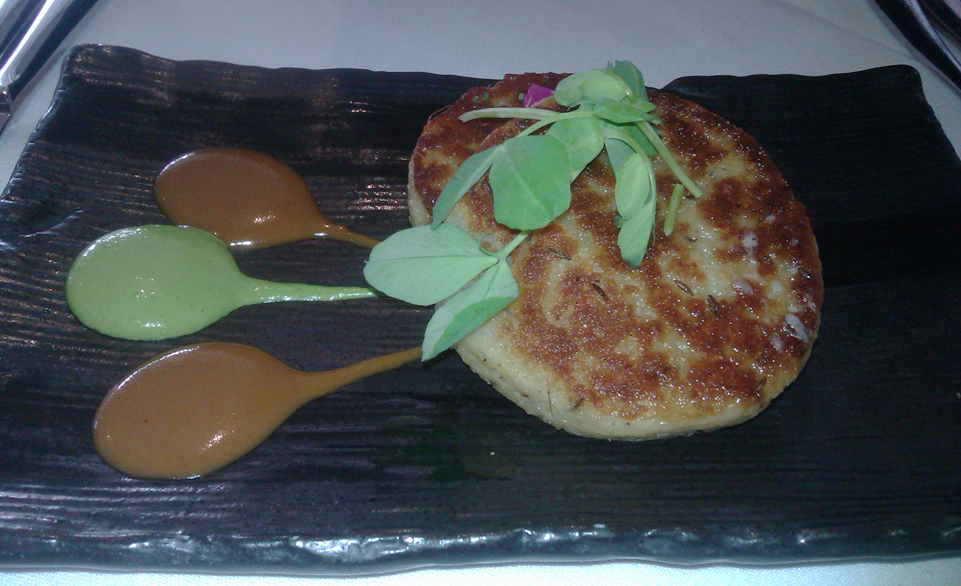 Crisp-friend potato pancakes with mint and tamarind chutney are lightly spiced and have enough flavour to lift them out of mediocrity. So many potato cakes are dry and bland, but these have adequate moisture and the tamarind chutney adds a kick for spice lovers. 16/20
Mains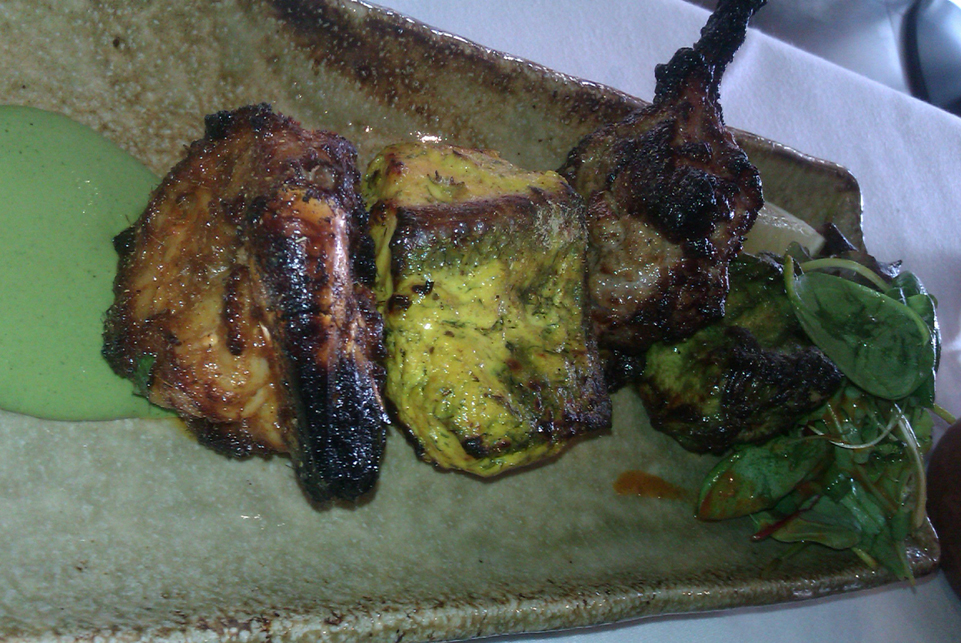 A selection of king prawn, chicken tikka, organic salmon and lamb chop kebabs are utterly delectable with melting chicken, superbly cooked salmon (a rare find) and a tender lamb chop. I rarely eat lamb but cannot help but devour the tandoori grilled offerings from Indian Essence. Clearly marinated, full of flavour and utterly addictive. 17/20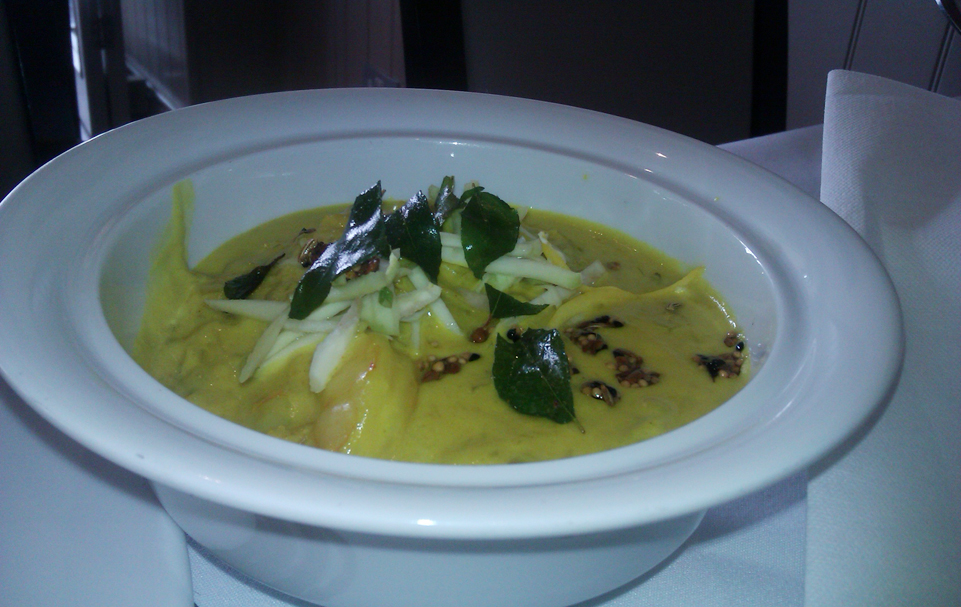 Prawns in mango and coconut sauce are slightly sweet but not cloying and the sauce is not too heavy or overpowering, so the natural texture and taste of the prawns comes through. It's comfort food at its best. 17/20
Sides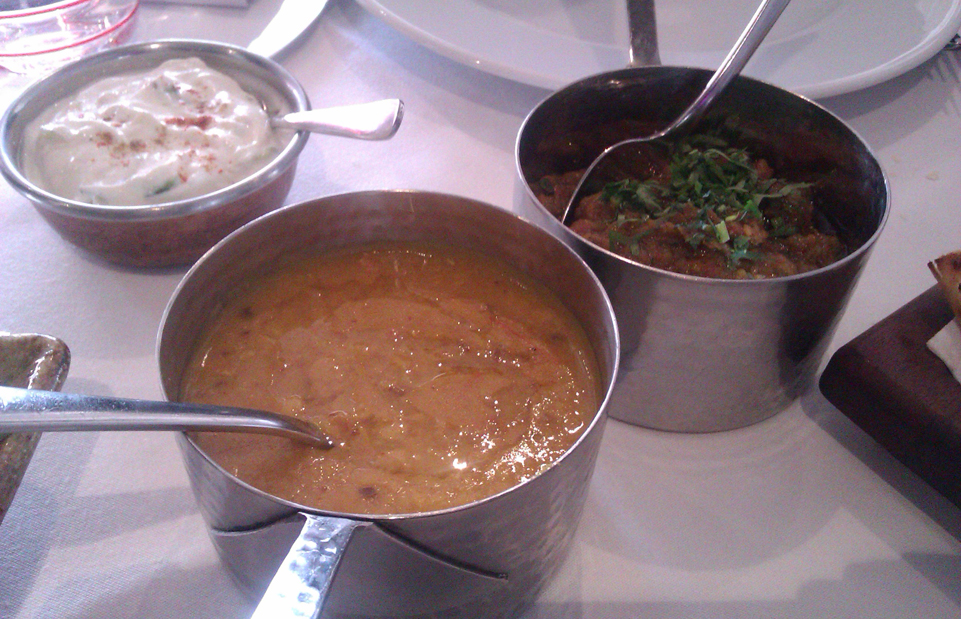 Smoked aubergine pulp with onions and tomatoes is subtly zingy and best combined with a plate of raita and yellow lentils and mopped up by the spongy, moreish naan bread. It could easily make a hearty main in itself. 17/20
Yellow lentils have a lighter taste and texture than black lentils, and feel a tad less indulgent, but none-the-less there is plenty of flavour there and it's still a staple favourite of mine. 16/20
Raita with cucumber is creamy and full of flavour. Every time I get a hit of spice that is slightly overwhelming I cannot resist gorging on raita, but I'm not complaining, this wasn't the insipid and lacklustre raita I've consumed at so many other restaurants. 17/20
Saffron Rice was fluffy, correctly cooked and had a subtle hint of saffron. I couldn't really ask for any more. 17/20
Desserts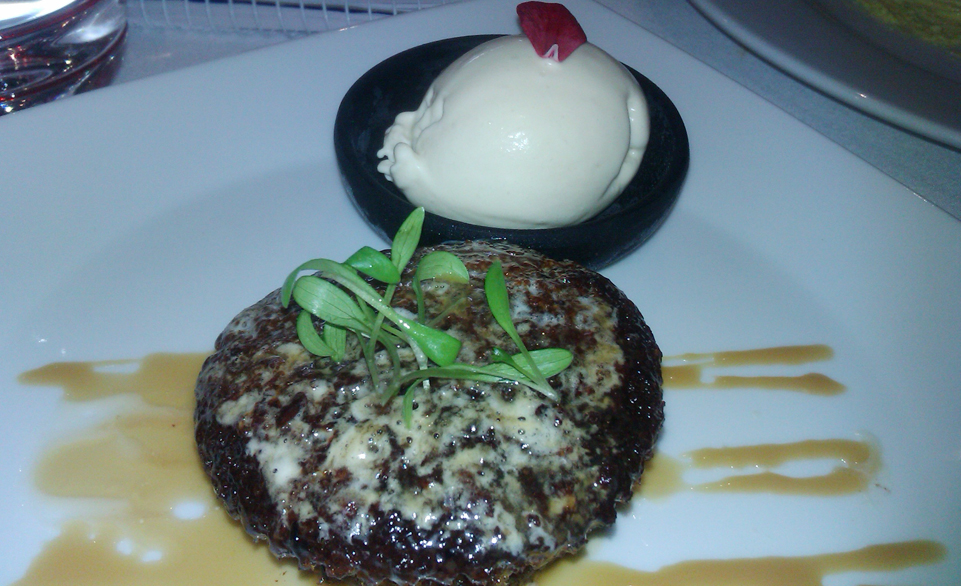 Sticky toffee pudding with vanilla ice-cream is a good, more refined spin on the British classic. The pudding has a very soft, spongy texture with a light toffee sauce and the ice-cream has a good, creamy texture isn't cloyingly sweet. It's a simple crowd-pleaser and not too heavy. 16/20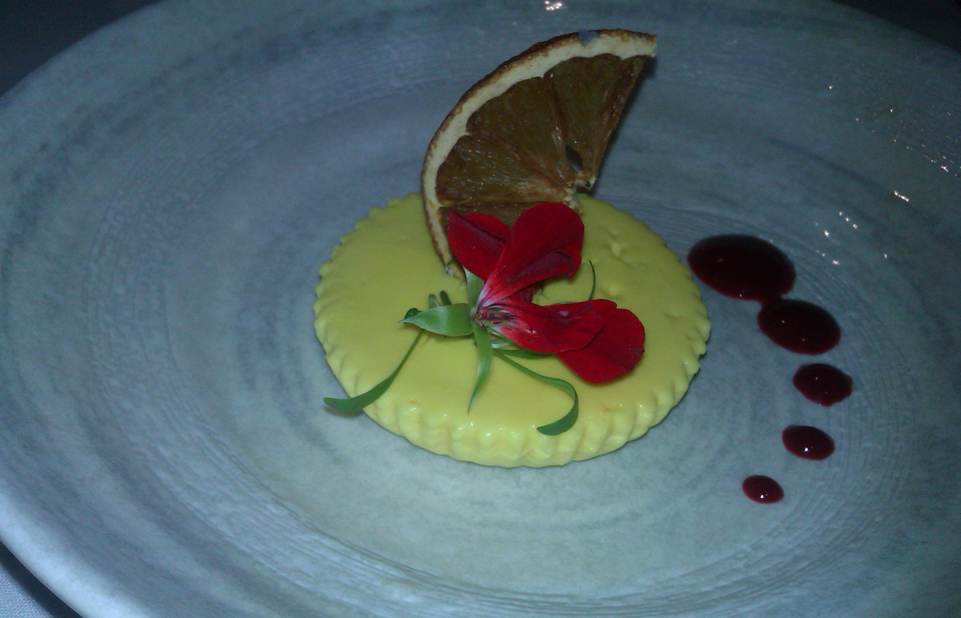 Orange-scented Calcutta cheesecake has a whipped mousse-like consistency and, we are informed, a Greek yoghurt base that makes it an incredibly light and refreshing dessert. Indeed I prefer it to conventional cheesecakes because it's such an airy, simple, zesty dessert that is wonderfully palate-cleansing after a large meal. The orange flavour is not over-powering and the texture is perfectly creamy and melting. 16/20
Overall
Indian Essence is a slick, modern Indian restaurant which features traditional Indian cuisine remodelled to a fine dining audience, without sacrificing the elements that an English audience are familiar with. Food is cooked well, tasty and full of flavour. It was said about Indian restaurant Babur that it's worth travelling from anywhere to sample the fabulous Indian cuisine and this sentiment could easily be extended to Indian Essence. Without question one of Greater London's finest Indian eateries.
Rating: 17/20
Cost:  Starters range from £5.85-£9.95, mains from £11.95-£16.95 and sides from £3.25-£8.95. A tasting menu is £39.95 per person and set lunch is £14.50 for two courses or £18.50 for three.
Telephone: 01689 838 700.
Address: 176-178 Petts Wood Road, Petts Wood, Kent, BR5 1LG.
Opening Hours: Mon-Sun 12N-2.45pm (Sun -4.30pm) Mon-Sun 5.30-10.45pm (Fri-Sat -11.15pm) (Sun -10.30pm).
For more information see  www.indianessence.co.uk.