Kitchen W8: Standout Michelin dining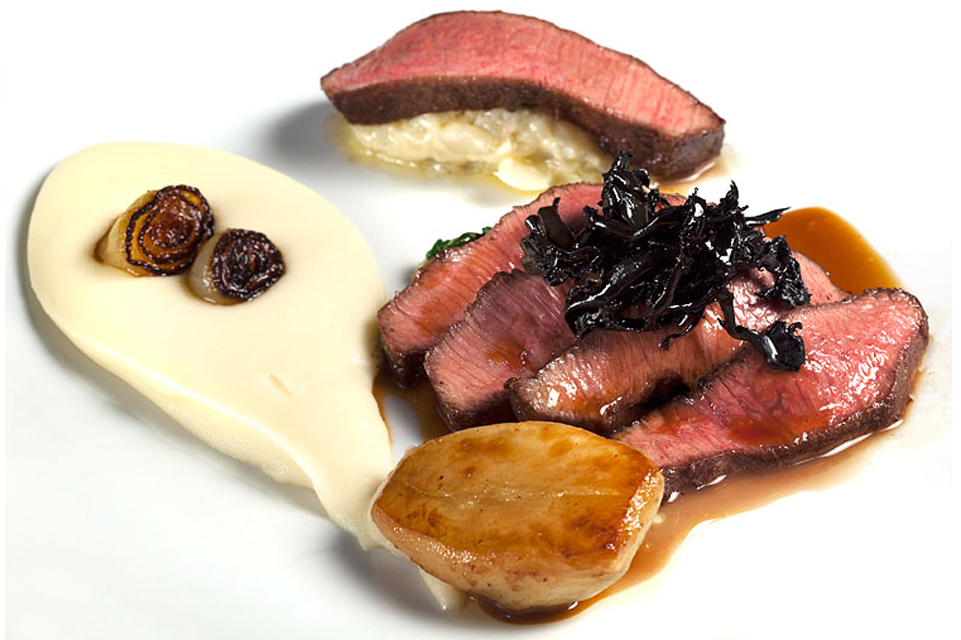 Sometimes I venture into a Michelin restaurant and worry that the food will be nothing more than mildly agreeable and I start to wonder if other dining establishments without a star are unnecessarily falling below the radar. Then I invariably dine at a venue without a prestigious award of some kind and I'm reminded that Michelin restaurants do in fact outshine the competition. I was more than reminded of this at Kitchen W8, which offers high quality Michelin food.
The High Street Kensington based restaurant is owned by Phil Howard, chef of the Square in Mayfair which holds two Michelin stars and the chef Mark Kempson has worked alongside Howard and clearly has a knack for exactness in both presentation, flavours and textures.
Decor is very much like The Square, formal, neutral, minimalist, contemporary and spacious. It's a common and slightly tedious theme among Michelin restaurants and the formality tends to extend to the atmosphere, but doesn't especially hamper it. Staff are wonderfully helpful, attentive and happy to split portion sizes where possible so more menu items can be sampled. It's far more laidback than Restaurant Gordon Ramsay, which I appreciate. I do like to be served quickly, but find it rather intrusive if an employee is virtually an additional dining partner. This was agreeably not the case.
Every dish was absolutely delicious, with balanced seasoning, precise presentation, harmonious tastes and textures and depth of flavour. Nothing really lacked at all and this was the case for all courses, so consistency is clearly paramount. I've seen other diners complain about portion sizing, but I couldn't see anything to gripe about, the portions were substantial enough and everything was well articulated and delicious. Definitely a fine dining establishment worth frequenting and one of my favourite Michelins.
The set lunch menu is an exceptionally reasonable £21 for two courses and £23 for three courses. You would struggle to find another set menu in London that delivers such exacting and delectable cuisine at such a low cost. A la Carte starters range from £10-14, mains £20-26 and desserts £6-8.
---
Bread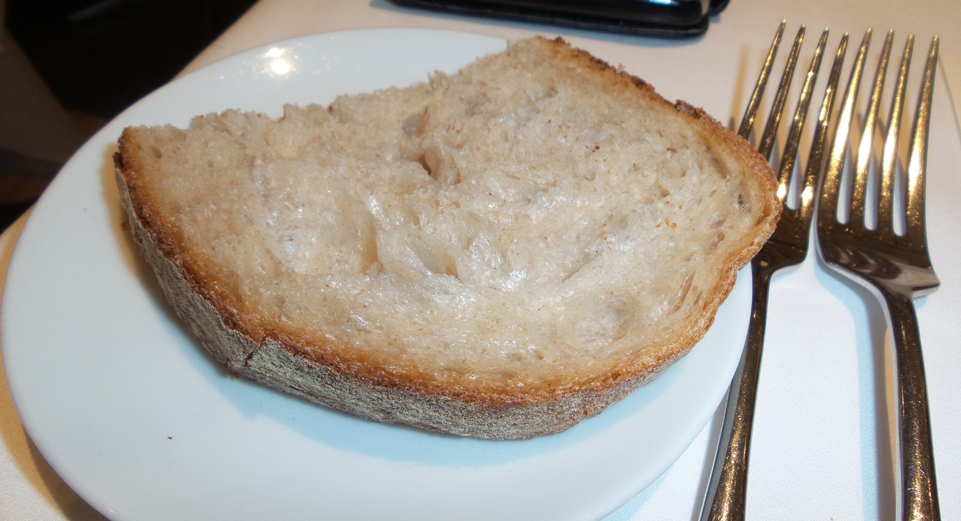 A cold but pleasant and softly textured sourdough is presented with a firm, lightly creamy butter. I believe it's brought it by an external supplier and is fairly typical for these sorts of establishments. 13/20
---
Starters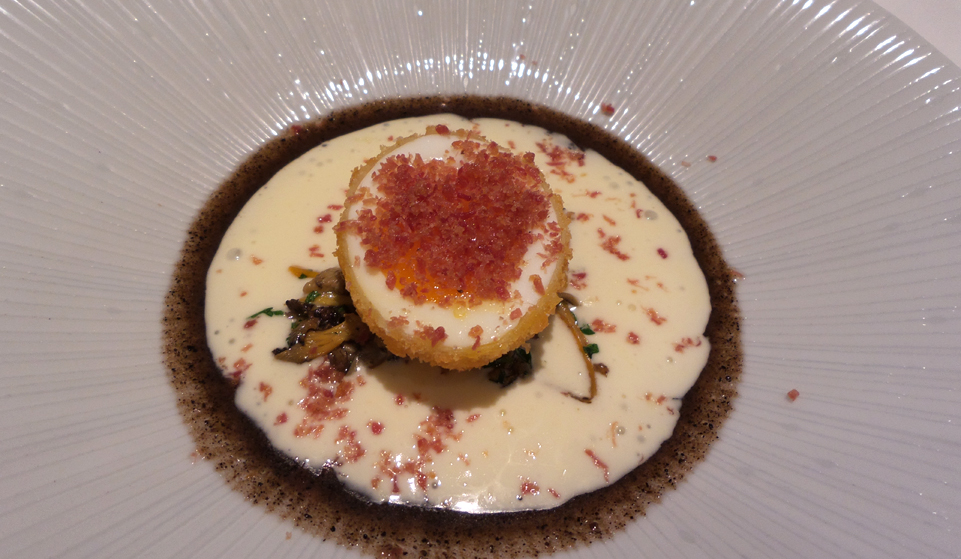 Crispy hen's egg with whipped parmesan polenta, bacon crumbs and truffle features a well cooked egg with a delicate crispy coating and lightly truffled polenta that carries depth without overwhelming. Flavours are well balanced and slightly rich. It doesn't feel overly salted or indulgent. It's a well conceived vegetarian option. 17/20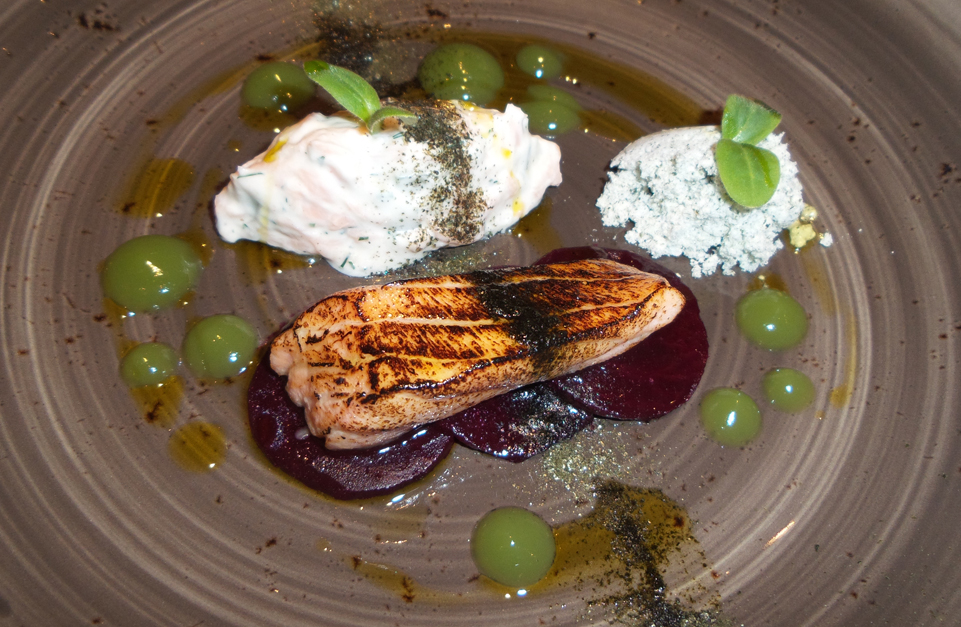 Rillettes of Loch Duart salmon with charred belly, cucumber, beetroot and seaweed are from the set menu and don't lack in any sense for being a cheaper option. The salmon is near flawlessly prepared with delicate, subtle, but not bland tastes and textures. The dressing is creamy and slightly acidic but not overly so. I've seen a reputed food critic comment that the food lacks acidity but I have rather more sensitive taste buds so appreciate the sense of discernment and restraint in seasoning and charring. I really don't need to taste a bonfire on a plate. 17/20
---
Main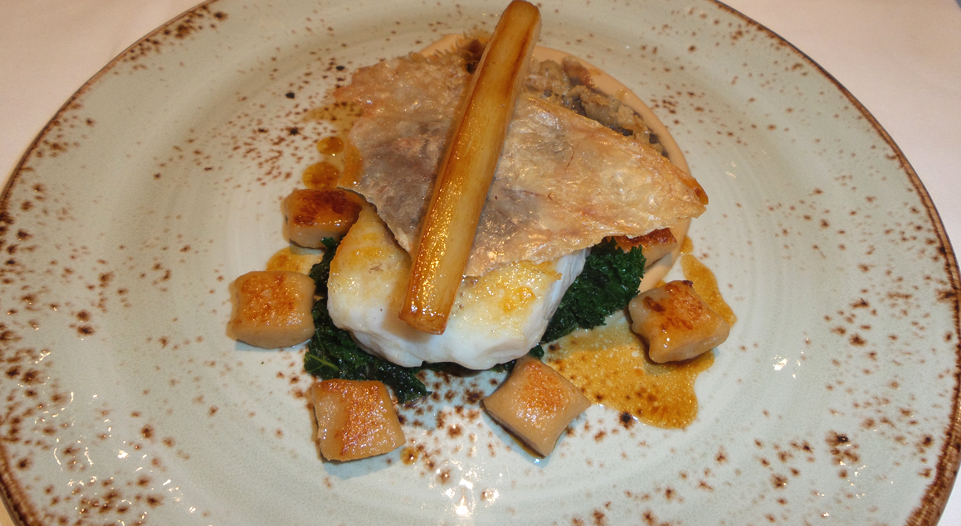 Cornish cod with caramelised cauliflower, hazelnut gnocchi, crisp chicken skin, salsify and truffle is excellently executed and a rather rich and indulgent fish dish. Depth of flavour is good with a perfectly crisped chicken skin. The puree is earthy and robust, reminiscent of hearty French classics. Vegetables are adequately and appropriately cooked and seasoned. My only personal criticism, which others may find fault with, is that cod is a rather bland fish that doesn't carry flavours well and I feel these robust, rich flavours would work better with chicken, game or beef. Still it was a fantastic dish, gnocchi was firm with the correct degree of hazelnut flavour and again the truffles were not overwhelming. 17/20
---
Dessert
Warm treacle tart with toffee apples, vanilla and medjool dates is the finest treacle tart I've consumed anywhere. I love sweet desserts that have been well de-constructed to be lighter on the senses and less dense and overly indulgent. Nothing on the plate feels extraneous. The base is light and crisp, the treacle tart is sticky but not cloying. Ice cream is sweet and creamy with a hint of vanilla that perfectly compliments the tart. Delicate apples and date slices add an extra dimension to the dish without a sense of heaviness. For me, dessert heaven. 18/20
---
Petit fours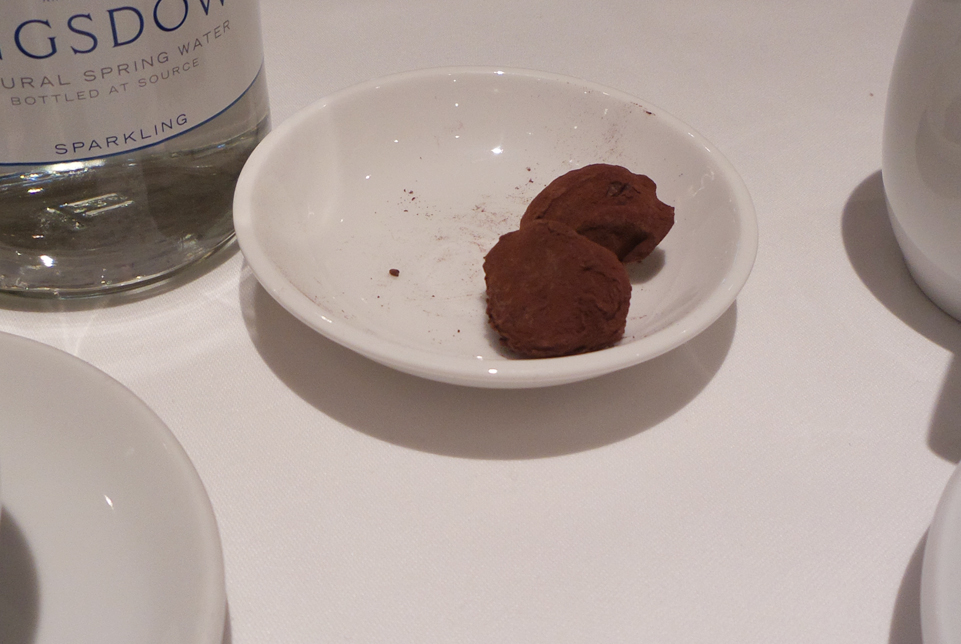 A few chocolate truffles were presented which were not extravagant or overly lavish, but using a good quality dark chocolate with a wonderfully sweet, creamy ganache centre. Simple but effective. 16/20
---
Overall
A very formal environment might put some diners off but Kitchen W8 is rather a foodie haven, with plenty of delicious, if not seminal cuisine. It doesn't need to be exceptionally innovative because everything is appetising as it stands. A delicate touch and attention to detail is present in every element. Kitchen W8 offers good, flavoursome and well structured cuisine, with attentive service to boot. Highly recommended.
Rating: 17/20
Cost: Main courses £19.95-£29.50. Set lunch (Mon-Sat) £21 2 courses, £23 3 courses. Set dinner (Mon-Fri) £21 2 courses, £23 3 courses.
Telephone: 020 7937 0120.
Address: 11-13 Abingdon Road, London, W8 6AH.
Opening Hours: Lunch served noon-2.30pm Mon-Sat; 12.30-3pm Sun. Dinner served 6-10.30pm Mon-Sat; 6.30-9.30pm Sun.
For more information see www.kitchenw8.com.