L'Atelier De Joel Robuchon London: Punchy and precise Michelin food
With a dimly lit dining area and very subdued vibe at lunch time, L'Atelier De Joel Robuchon is an intimating spot for lunch or dinner. It has been criticised by some critics for a drab inhospitable black and red interior, but as I sit absorbing the meticulous delivery of clearly Michelin level food from the counter service kitchen, I am already very impressed and  rapidly warm to the darkened decor. Outpost of the French chefs dining empire, the Leicester Square based restaurant is big on flavour and punchy dishes delivered and presented with an easy flair that is rarely matched at other dining venues.
There are a few floors. A top floor plays host to a sit-down restaurant called La Cuisine with a wood-fired oven and L'Atelier occupies the ground floor.
Portion sizes are pretty generous and there are plenty of options for vegetarians and meat-eaters alike. There are a number of menu options, from small tasting plates to tasting menus and a very reasonably priced set lunch menu. A five course tasting menu is £95, eight courses are £129. Lunch starts at £29 for a two course meal. Starters and mains on the A la Carte begin at £16 and there is a small tasting dishes menu, so you can sample more of the food on offer at L'Atelier.
---
Bread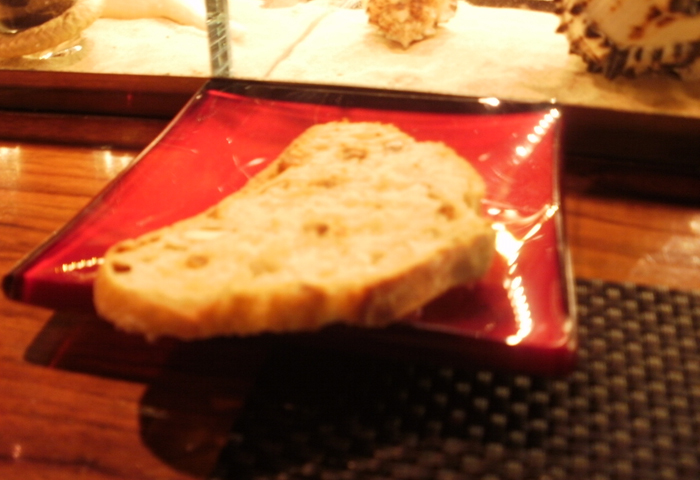 Beautiful soft, warm bread was presented, of different varieties, most notable was the nut-based bread with dried fruit. Butter was perfectly soft and with a hint of salt. Indeed this bread had some of the finest texture and taste of those I've ever had the fortune to sample.  I rarely praise butter but L'Atelier de Joel Robuchon offer smooth, creamy yet light and flavourful butter that deserves nothing but merit. 18/20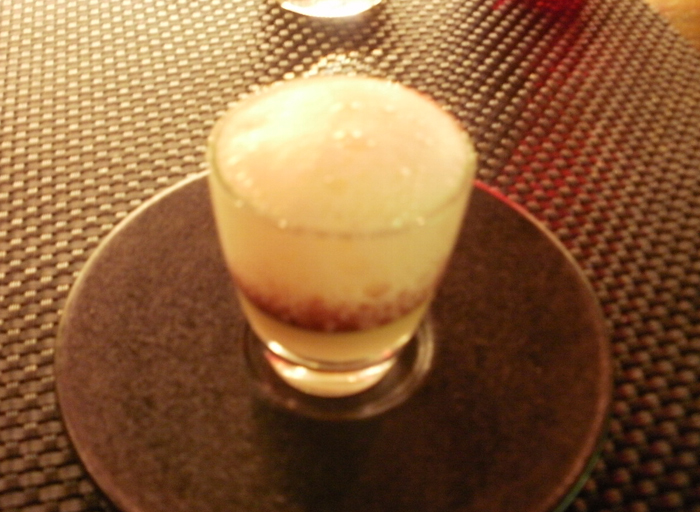 A foie gras amuse bouche was bursting with an intensely rich flavour that seemed to dance upon the tongue and tantalise the taste buds in preparation for the starter. It's again, one of the finest amuse bouches I've sampled. 18/20
---
Starter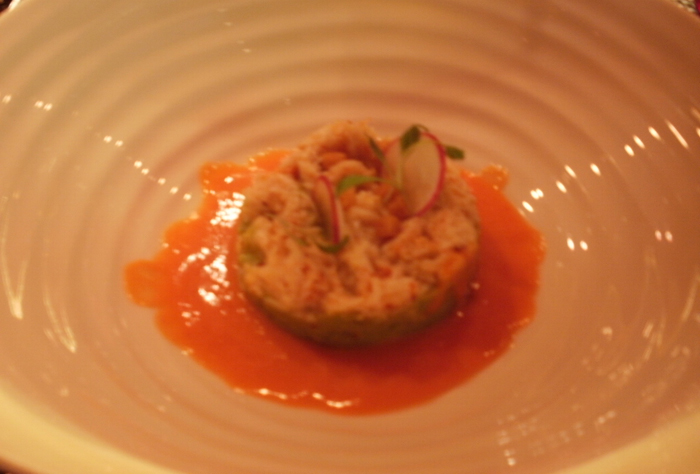 The simple, refreshing avocado and crab starter was absolutely delicious, bursting with flavour and the crab meat was supremely soft. Such a simple dish but so well executed and a popular starter for good reason.  17/20
Salad with semolina a green curry sauce was a fantastic vegetarian option with a very light flavour and vibrance. It was lightly spiced and again with wonderful balancing of flavours that demonstrates the kitchen savvy permeating from every corner of L'Atelier.  16/20
The daikon soup was another absolute triumph, extremely refreshing with fantastic texture and taste, absolutely to be applauded. 17/20
---
Main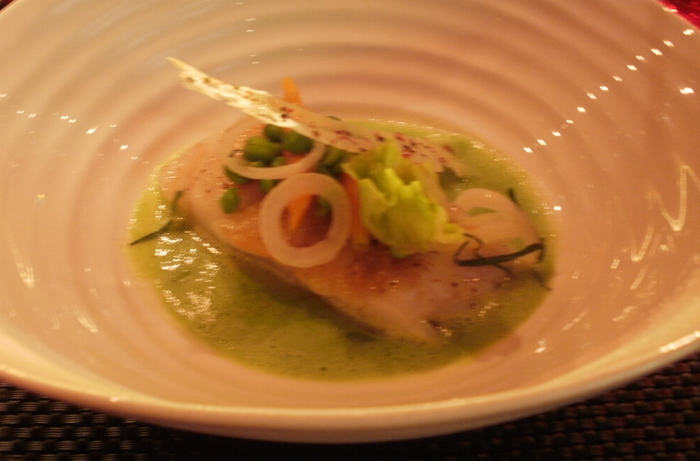 As usual I opted for a fish dish of pollock and perfectly soft fish was served with the restaurant's signature mashed potato dish, which was exquisitely smooth and creamy. A member of staff commented that he could no longer bring himself to consume any other form of mashed potato and I'm inclined to agree. The natural flavour of the fish was present as should always be the case and nothing over-whelmed and nor did it under-whelm in any way.  The sublime combination of fish, a simple but flavourful pea veloute and vegetables cooked to perfection made for a fantastic main that perfectly complimented a light and delectable starter.17/20
---
Dessert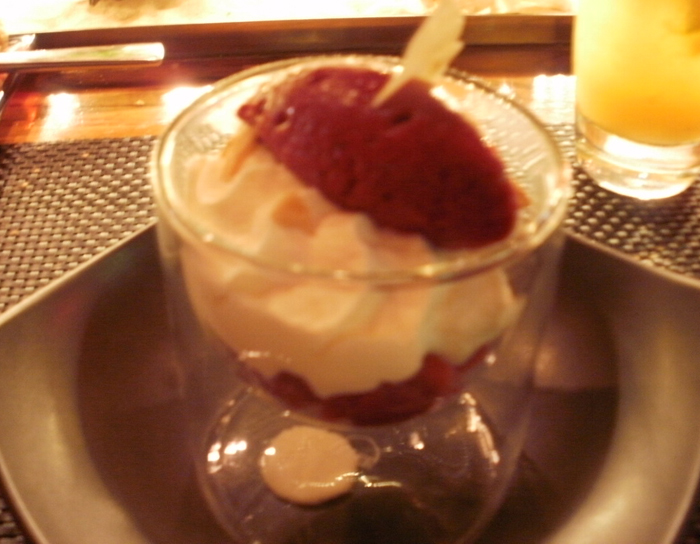 The strawberry trifle was pleasant and had a beautiful creamy texture and smoothness that worked well with the sweeter taste of the strawberries. It may have been a bog standard dessert but was most definitely executed with more flair and style, as should be expected of a Michelin restaurant. 14/20
---
Overall
L'Atelier de Joel Robuchon is a wonderful restaurant with a dark, but chic decor and an array of flavoursome and precisely executed cuisine, that seems effortless but tastes phenomenal. Being able to watch the chef and staff work so meticulously should you eat at the bar is a thoroughly enjoyable experience. Dark it may be inside but the intensity of this venue is aptly translated into intensely flavoured, aromatic cuisine that make the interior a sensuous rather than oppressive atmosphere. This restaurant doesn't often get the attention it deserves but it's something of a find, even among London's best restaurants and I wouldn't hesitate to recommend any of the dishes here.
Rating: 17/20
Cost: A five course tasting menu is £95, eight courses are £129. Lunch starts at £29 for a two course meal. Starters and mains on the A la Carte begin at £16.
Telephone: 0207 010 8600
Address: 13-15 West Street,, London, WC2H 9NE
Opening Hours: Monday – Saturday, Lunch: 12pm-2.30pm, Dinner: 5.30-10.30pm
For more information see www.joelrobuchon.co.uk