Lima Floral: Interesting and innovative Peruvian style fine dining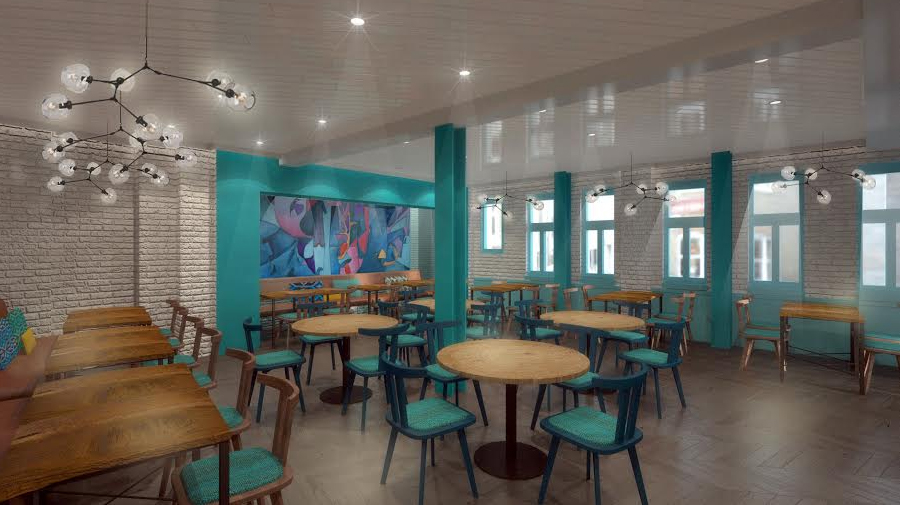 Second venture of Virgilio Martinez, Lima Floral Street in the food hub of Garrick Street off Leicester Square is a Peruvian style of cooking with a focus on texture and taste rather than over elaborate food wizardry. The successful sister venture bears a Michelin star and Lima Floral also turns out more elegant food in a spacious, wooden interiored, open kitchened, contemporary South American style venue that on a busy lunch-time has a relaxed and welcoming ambience.
The menu focuses on ceviche style starters by and large with a smattering of vegetarian options across the menu and heartier lamb rump with "eco dried potato" and classic fish and meat dishes with a Peruvian twist.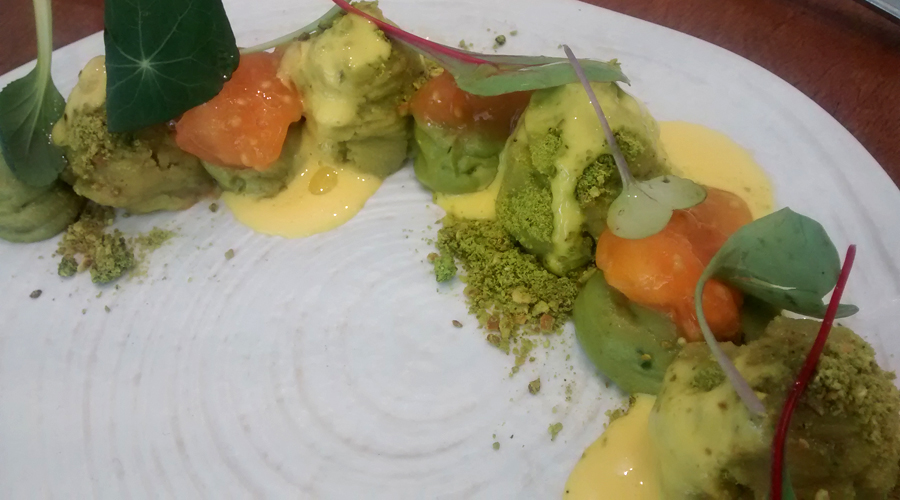 Avocado mousse with tomato seeds and yellow tigers milk is a very likeable vegetarian option with whipped mousse, potato and dash of sweet seeds and slightly sour and spicy tiger's milk. It's an attractive and laudable plate of food and has very pleasant flavours. (14.5/20)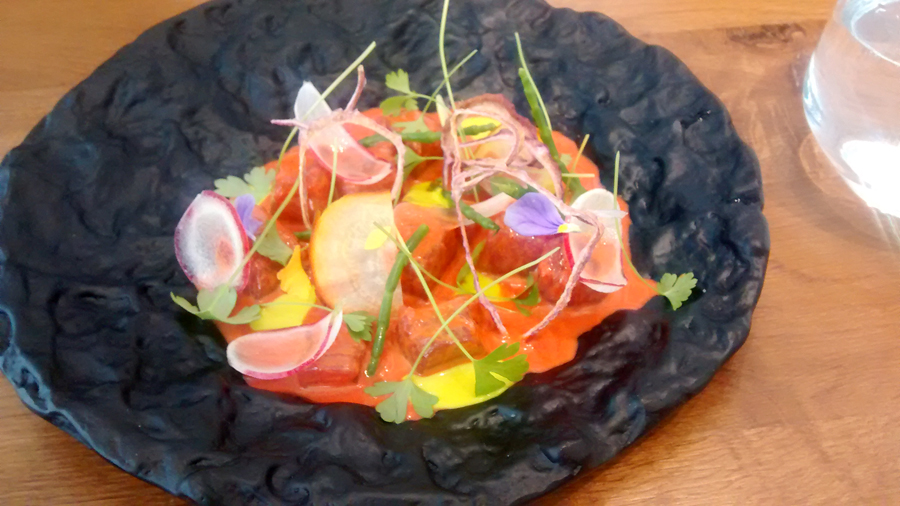 Seared tuna with green tiger's milk, organic radish and sea asparagus is fresh light with delicate squares of tuna and again a slightly piquant dressing. It's a very serviceable and simple ceviche as are the other options on the menu. (13.5/20)
Organic passionfruit yoghurt is refreshing, sweet, light and wonderfully summery with a delicate scattering of flowers. It's actually one of my favourite dessert options because of the freshness of the flavours and this is something I do like about Lima, the focus on more vegetarian options and fresher, lighter tastes (15/20). Lima Fitrovia the other venture do tend to veer more on heartier Peruvian style dishes. It's a healthy and innovative style of cuisine that Lima Floral Street deliver and I would definitely return to try the excellent value set menu at £19.95 for three courses and other ceviche style starters and more robust mains with interesting ingredients such as huacatay herb and aji panca juice. It's definitely at the least a must visit for foodies and quite an effortlessly cool dining space.
Overall rating: 14/20
LIMA FLORAL
14 Garrick Street
London
WC2E 9BJ