Notting Hill Kitchen: A noteworthy tapas lunch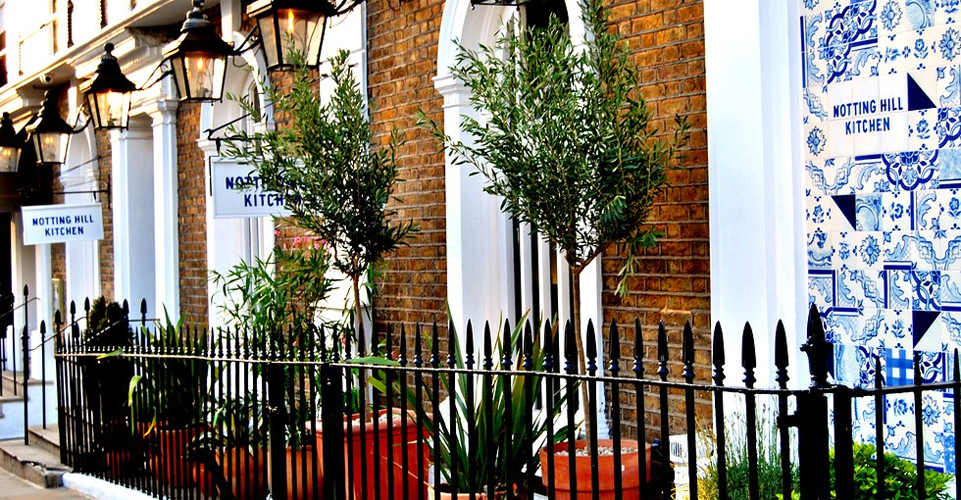 The food critics don't like Portuguese inspired restaurant Notting Hill Kitchen much, and it makes me nervous. There aren't that many great Spanish and Portuguese restaurants lining London's streets and I am apprehensive of another dismal or below average dining episode.
Head Chef Luis Baena is clearly passionate about his craft and using high quality ingredients, as he describes the more sustainable rearing of Iberian pigs and his focus on ethical produce. Pata Negra ham tasting fabulous is testament to this process. His passion is slightly infectious and I consume far too many tapas sharing plates for one small individual. It all leaves me rather overwhelmed.
Baena produces primarily Portuguese and Spanish dishes, but there seems to be an Asian influence infusing a number of them. It's not unpleasant but sometimes odd. There is clearly an intent to innovate and modernise without losing traditional tapas items such as ham croquetas, ham and chorizo.
Baena formerly trained with Paul Bocuse and acclaimed Michelin chef Joel Robuchon. The trio behind the establishment include James Paget who also has a stake in the fast-food chain, Pod. Current General Manager, David Chatain has formerly worked as a wine buyer under Gordon Ramsay and has also worked with Jamie Oliver and various other notorious chefs and establishments. While I am there two chefs from Scott's Mayfair restaurant happily sing Notting Hill Kitchen's praises.
Staff are very friendly and helpful throughout but there is a bit of confusion over my booking, which is quickly corrected and translates into a litany of extra plates. Still, I am not complaining.
Portuguese food doesn't have a great reputation but Luis has attempted to modernise the menu to interesting effect. Indeed, I am rather enamoured with a squid burger and the sea-weed salad. An Asian hot smoked sword fish was also worthy of appreciation, but it did all get a bit baffling. I think I might have a personal issue that needs addressing with regards to fusion cuisine.
The space used to play host to Leith's and more recently Notting Hill Brasserie. It's chic and clearly pays homage to Portuguese and Spanish decor. Everything is refined and there are various cloistered areas that other reviewers found disconcerting but I actually preferred the sense of inhabiting a separate space to other diners. I like the white, clean lines and sense of being on sunnier shores. The interior designer Sandra Taruella also designed El Celler de Can Roca, which features in the World's 50 Best Restaurants list.
At dinner time a more traditional A la Carte menu is served and I kind of wish they would offer this at lunch-time or at least a set menu offering as tapas can involved consuming an array of foods that don't particularly complement each other in sequence. It's also quite a short menu, but there is enough to stimulate and whet the appetite over several dishes and it's pretty inexpensive for London. Tapas plates range from £2.50 – £17.50 and main courses from £17 – £23.
---
Bread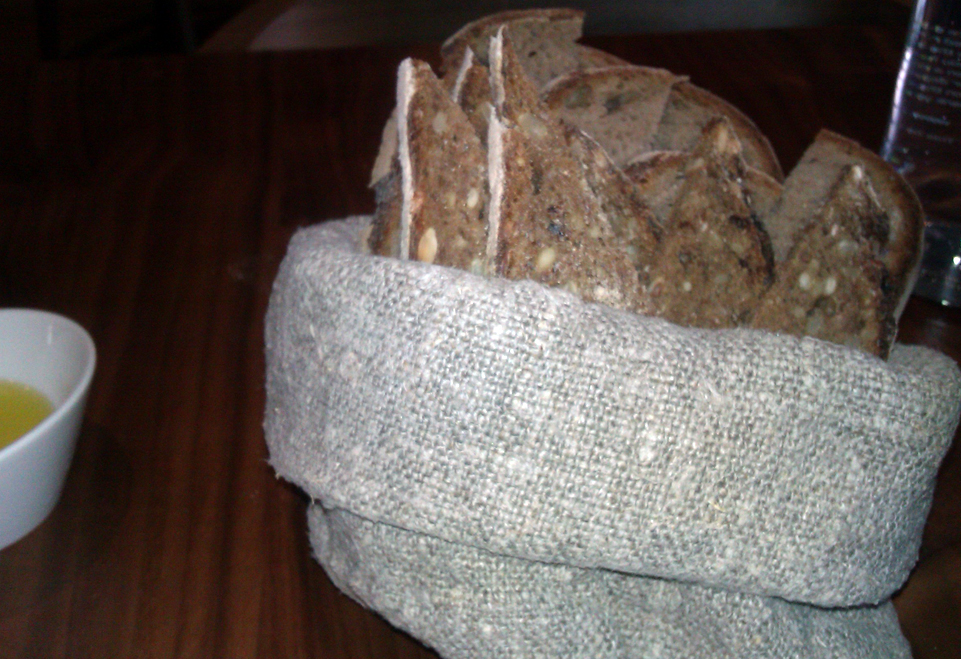 Baskets of sourdough and rye are from Bread Bread, Bridget Bugo's award-winning bakery in Brixton and are really pretty good. The sourdough and rye have a dense, chewy, rustic texture and taste that I love (although I appreciate not everyone favours this style of bread). The Portuguese olive oil is light and complements the bread well. 14/20
---
Tapas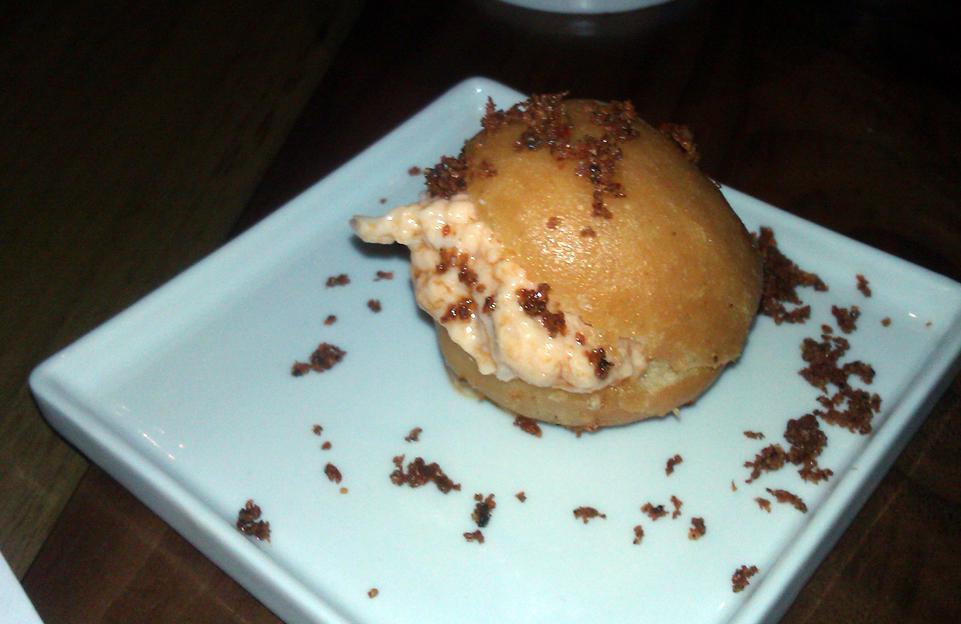 Spider cream mousse in brioche is very sweet and satisfying. The brioche is a very light doughnut that actually seems to work with the crab. It's slightly unusual but rather moreish. 13/20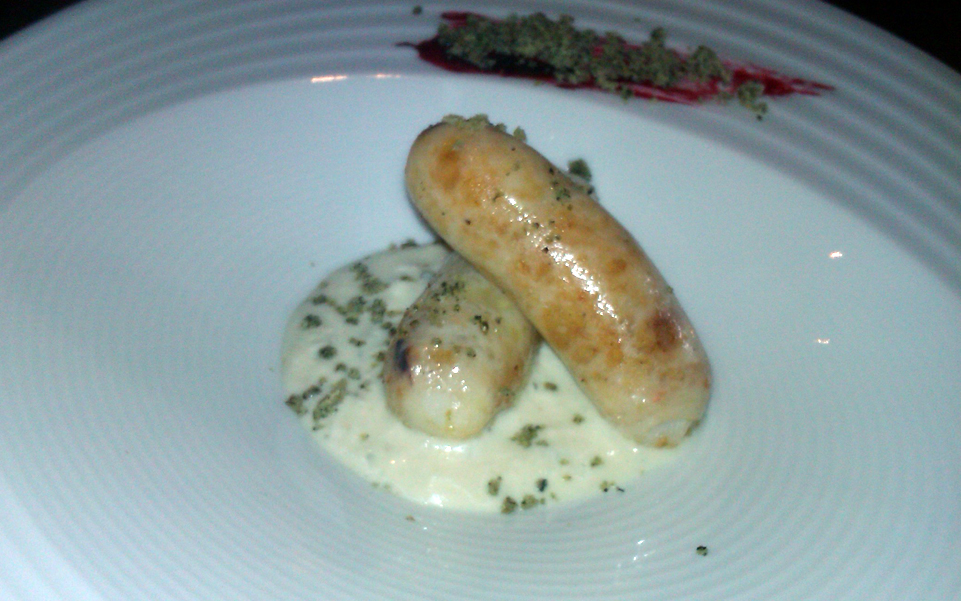 Home-made prawn sausage with horseradish and apple is another interesting dish. The prawn has a very subtle flavour that's elevated somewhat by the horseradish dressing. The flavours are delicate and may not be to everyone's taste. 12/20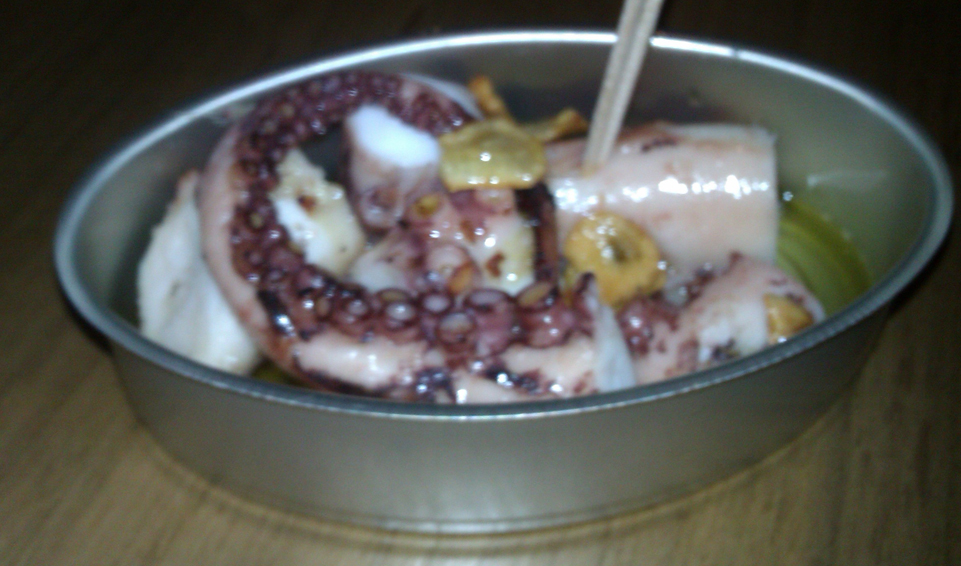 Octopus confit features some diced pieces of octopus dressed with oil and garlic. It's an incredibly simple dish and the octopus is adequately cooked. 10/20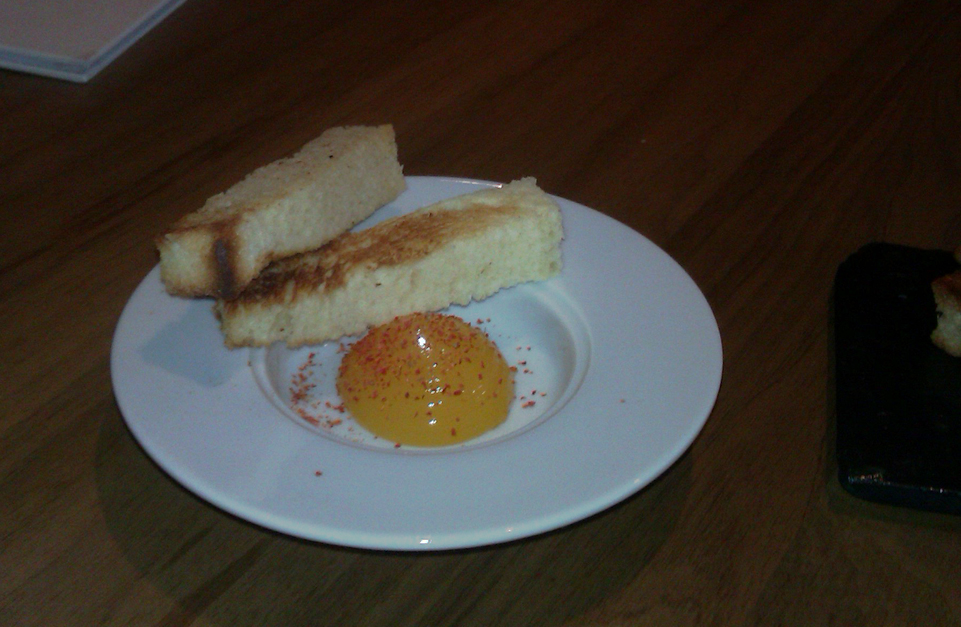 Soft egg yolk and white truffle emulsion is gooey, sticky, creamy and fairly pleasant. Bread soldiers are provided to dip into the mixture. It's quite unusual but has a delicate flavour again and will be appreciated by egg-yolk lovers. 11/20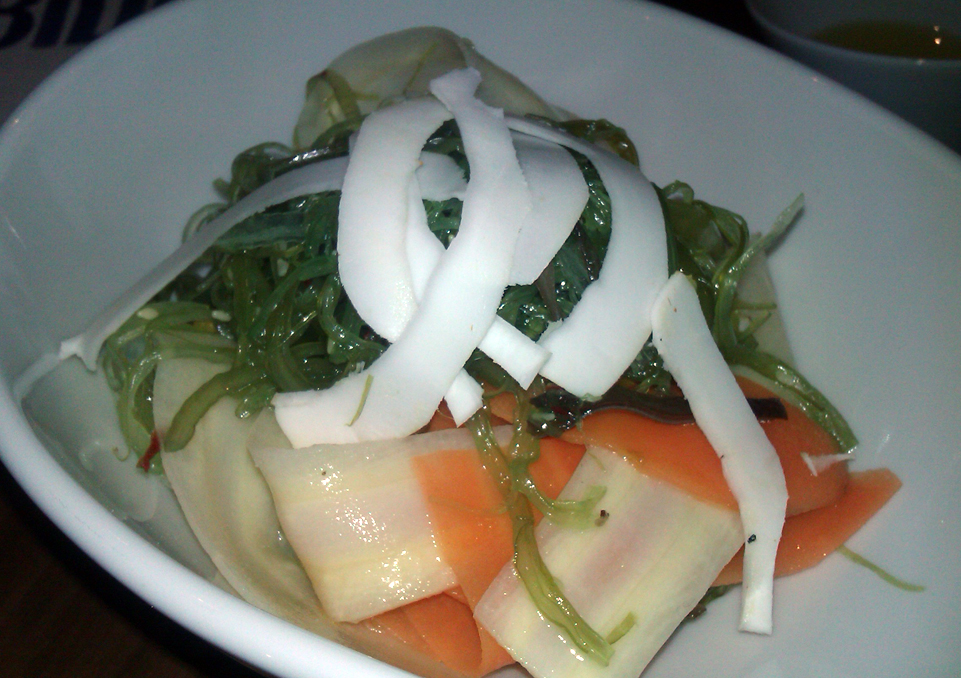 Wakame seaweed and salsify salad with pepperoncino is refreshing, crisp and complemented by a not too intense wakame, which seems to have been pickled or dressed. It's a nice salad for seaweed lovers such as myself and is clearly Asian influenced rather than Portuguese. 11/20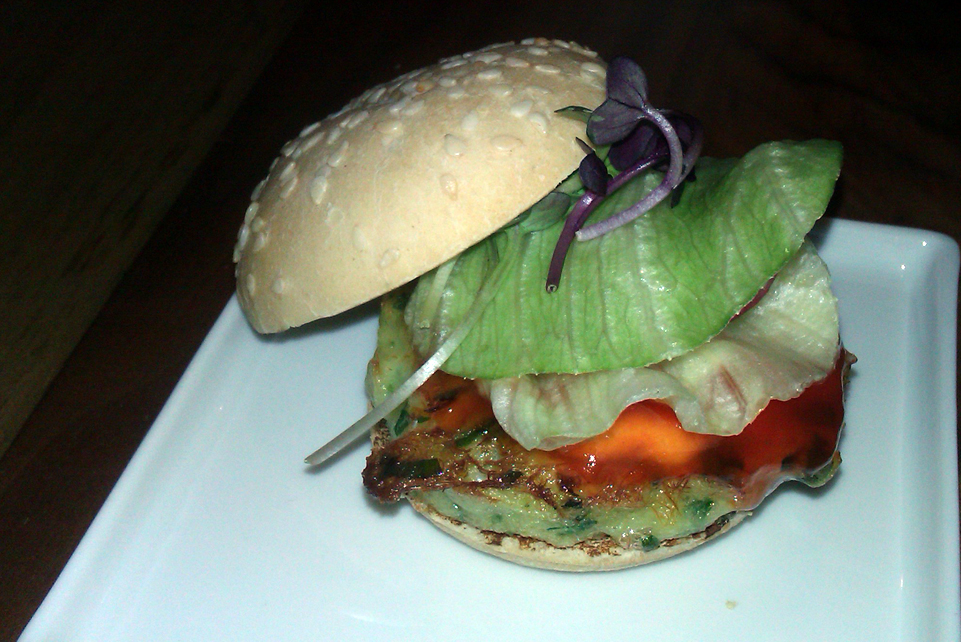 Dried cod fish and squid burgers in little buns are rather tasty. The patties are not too bland and one has a slightly thai influence that seems to work. The sauces confer flavour and it makes a refreshing change from a conventional burger. 13/20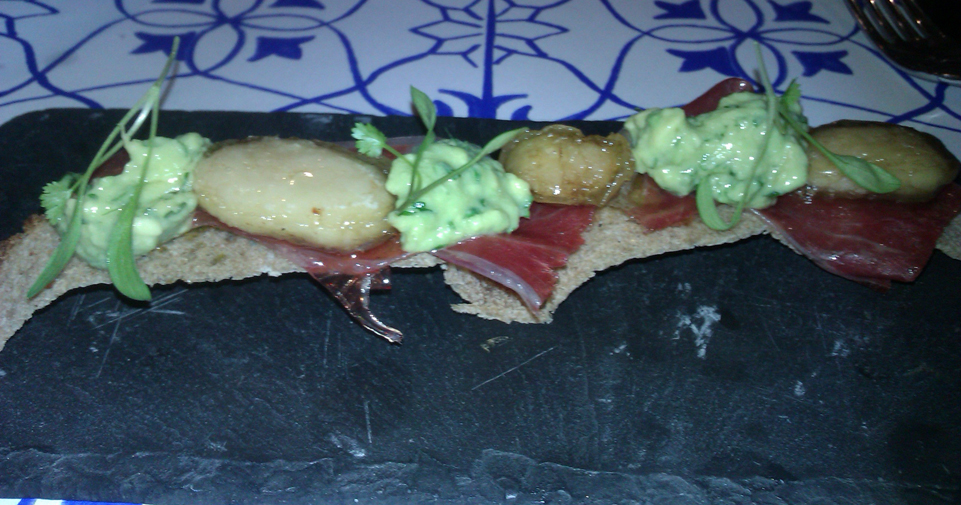 Sourdough with black truffle, pata negra, guacamole and fava beans features a wisp of crisp sourdough with a delicate and sweet pata negra ham and pleasant guacamole. It's a nice, subtle tapas dish. 13/20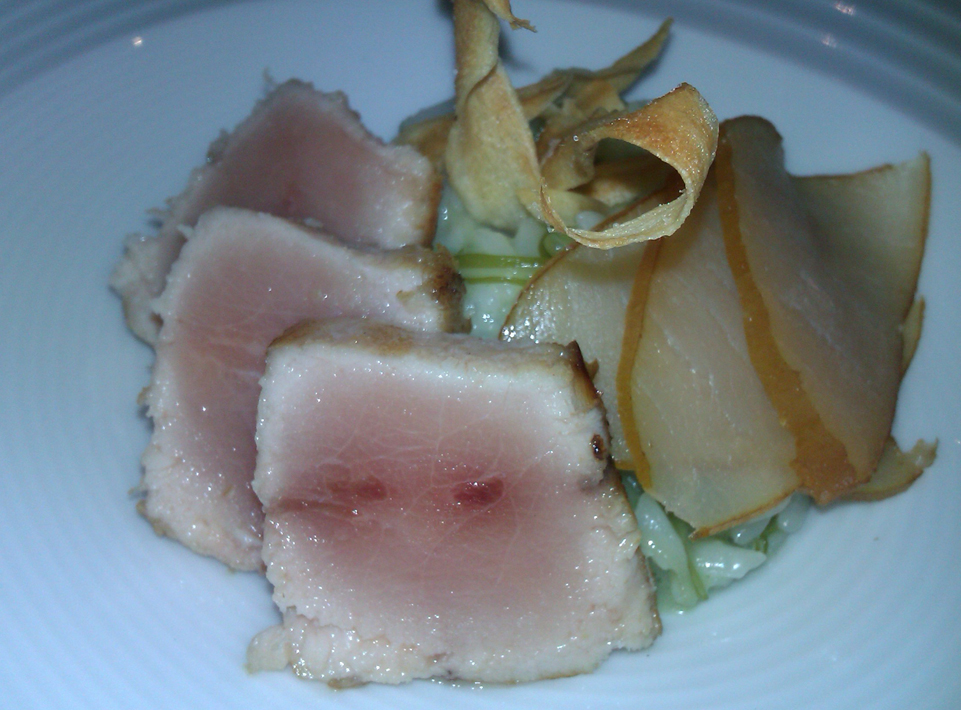 Hot smoked and cold smoked swordfish with Carolino rice is a good dish, with delicious smoked fish being balanced by a denser and comforting rice that has been adequately seasoned. The contrast of the hot and cold smoked swordfish adds a different dimension. 14/20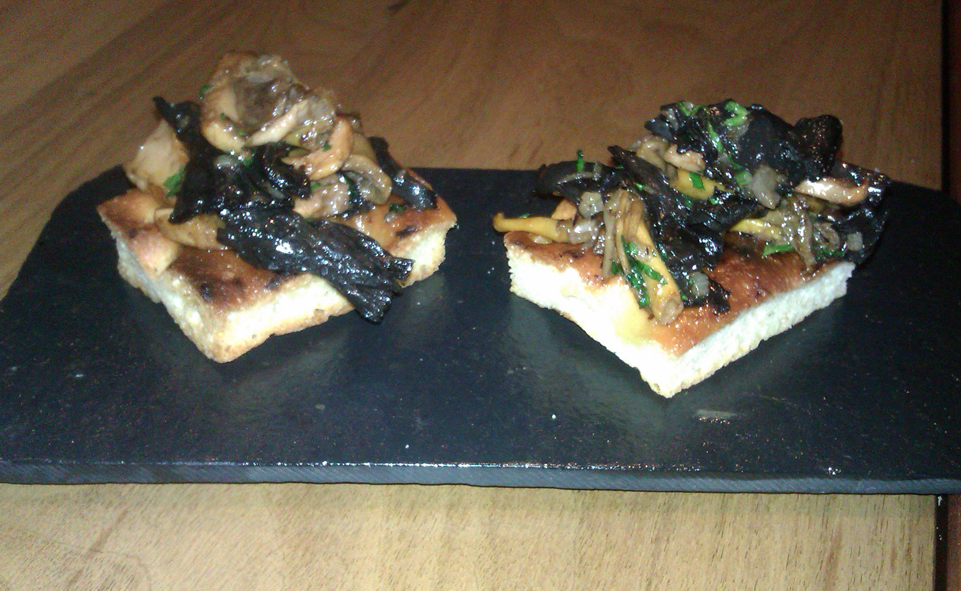 Mushrooms on brioche are a very simple dish with a light flavour and the brioche is a bit bland, so could do with being softer, as the heavy toasting makes it rather dry. 10/20
---
Dessert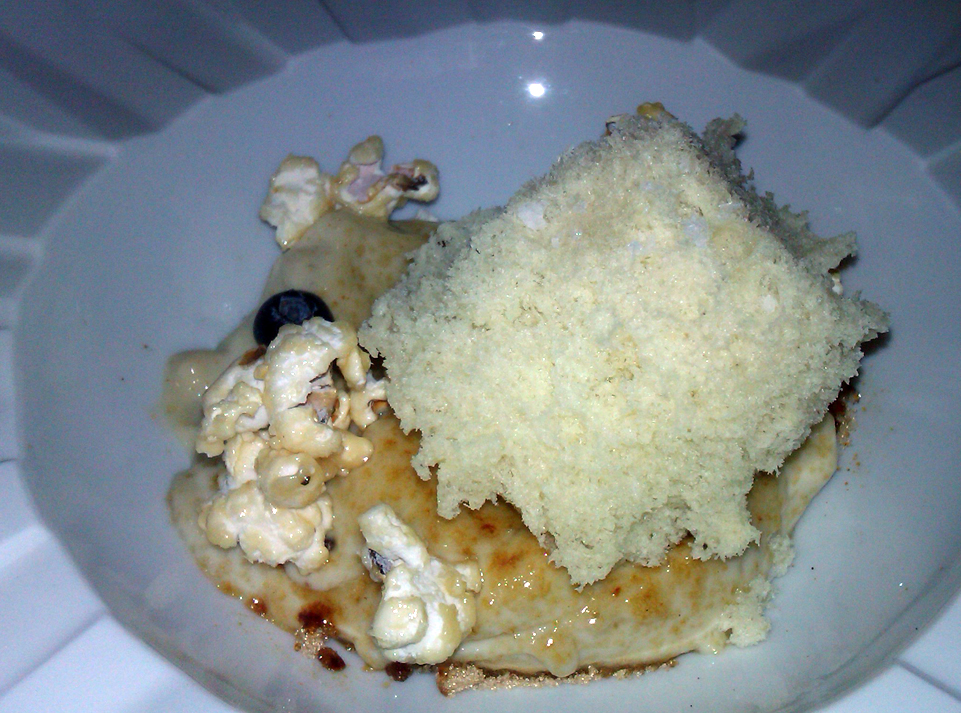 Crema Catalana or Azores tea brulee with Serra da Estrela sponge cake is an intriguing dessert. The brulee is more like whipped porridge in texture and does have a very nice, sweet taste. It is accompanied by popcorn pieces, blueberries and a light sponge seats aloft the mixture. I think a more workable presentation of the dish could be established with relative ease. It has some nice flavours but doesn't really need the popcorn or blueberries. 10/20
---
Overall
Experimental Portuguese inspired cuisine is on offer at Notting Hill Kitchen, with dishes of merit and others floundering a tad more. It's a glamorous venue that makes for an inconsistent dining experience, but one worth venturing to Notting Hill for if you're a fan of Spanish and Portuguese cooking. Hopefully any kinks will be sorted as there definite potential there, effort has clearly gone into the culinary creations and I thoroughly savoured some of the food offerings.
Rating: 12/20.
Cost: Main courses £17-£23. Tapas £2.50-£17.50.
Telephone: 020 7313 9526.
Address: 92 Kensington Park Road, London, W11 2PN.
For more information see www.nottinghillkitchen.co.uk.