Quince at the Mayfair: Chic Dining and Knockout Desserts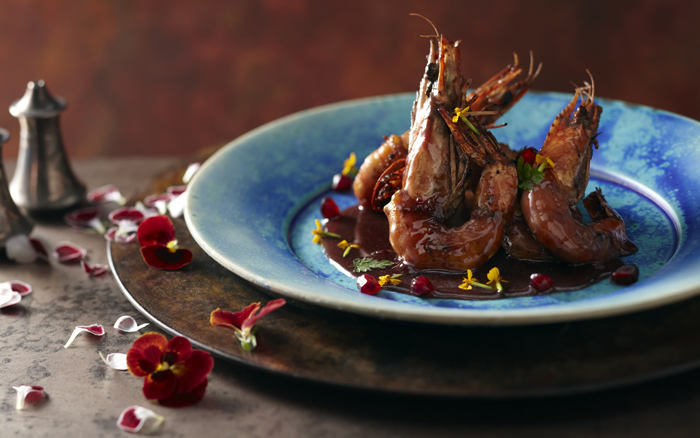 Effortless sophistication oozes from every corner of The Mayfair Hotel and creates an implicitly chic but ultra relaxed ambience. I'm certainly impressed with extremely polite and unobtrusive staff and an easy elegance that not every five-star hotel manages to maintain. The restaurant Quince is a more low-key affair. Low ceilings, soothing music and refined clientele make for an understated ambience. A blend of ancient Ottoman Empire and contemporary colourful London, stylish but not ostentatious interiors were designed by Martin Brudnizki, whose other London projects include Dean Street Townhouse, the Club at the Ivy and St Pancras Grand.
Chef-patron Silvena Rowe is a Bulgarian-born chef with a following from the likes of Heston Blumenthal. Silvena has penned the cookery book "Purple Citrus & Sweet Perfume" and graced our television screens on Saturday Kitchen, among other cookery programmes. Quince is her first restaurant venture and the theme is an Eastern Mediterranean hybrid. If you expect grand opulence in your dining experience, this is not what you'll receive, but you will receive well-cooked, aesthetically pleasing and generally delicious food. Expect modern European dishes such as pistachio rack of lamb with Jerusalem Artichoke dauphinoise, baby squid with shizo leaf salad and Asian caramelised salmon.
The sharing concept is key and portions are more than generous for the price. Mains at lunch and dinner start from £16 and sides come in around £4. A pre-theatre menu is offered in the evening with a two-course meal setting you back £20 or you can add in a cocktail for an extra £5. Sharing may be the restaurant's ethos but if you head there alone a single dish is enough to sate the appetite over lunch.
---
Mains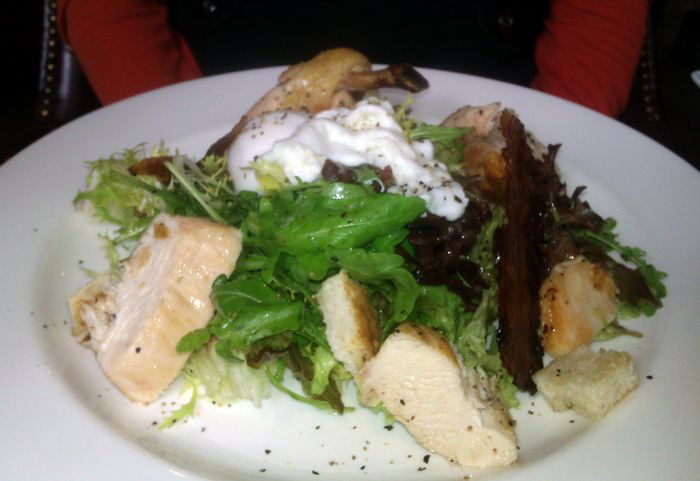 Chargrilled chicken salad with poached egg and bacon was a light, healthy option. Bacon was a tad salty but the chicken was cooked well. It was in essence a very simply prepared salad that my colleague enjoyed. 16/20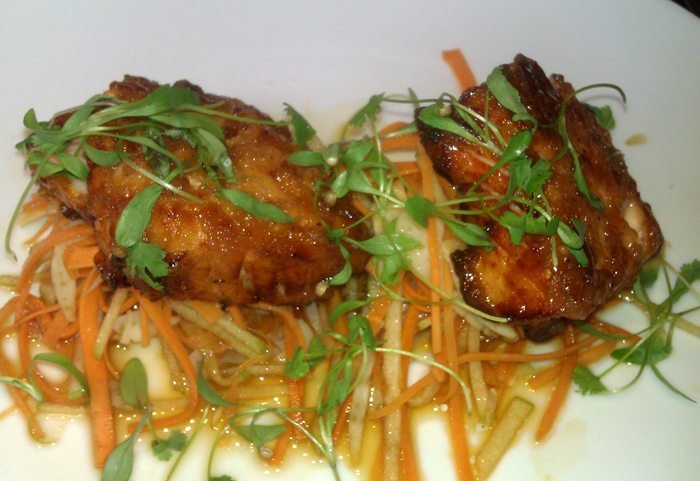 Asian salmon was understandably sweet since the fish was caramelised with palm sugar. The salmon was pretty much perfectly cooked, but I am not a huge fan of the ultra-sweetness of this dish, which is more of a personal quibble than anything. The Quince slaw does have a sour edge that cuts the sweetness wonderfully and I like the combination of fresh raw carrots and cabbage with the salmon. So few places cook salmon well, barely any in fact, so I appreciated the oiliness and softness of well prepared salmon.17/20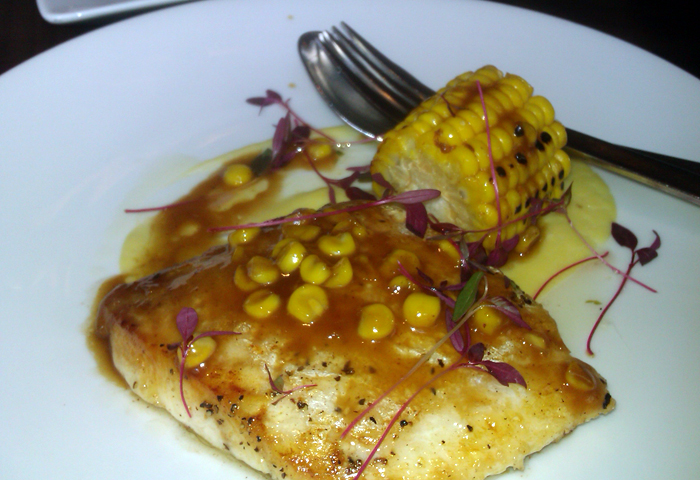 Halibut with corn on the cob was an interesting dish. The halibut had a great, strong flavour that spoke for itself and was again cooked extremely well. The flavour combinations were evocative of American rather than Eastern or Mediterranean cuisine but the food certainly didn't disappoint. 17/20
---
Sides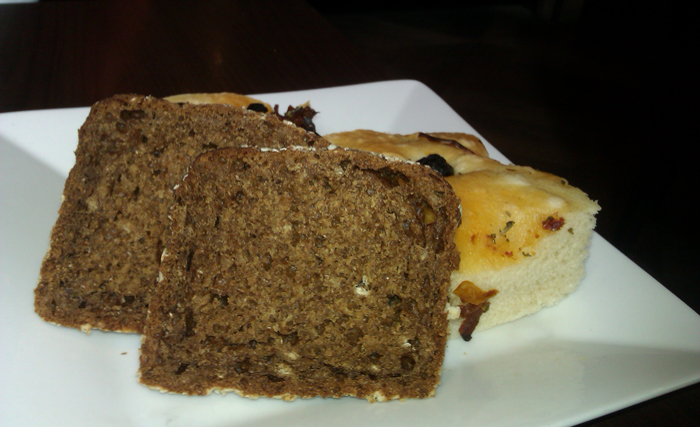 Home-made and utterly delicious focaccia and treacle soda breads were presented. The former was supremely soft and light with a subtle but addictive quality. Some of the finest focaccia I've tasted, without a doubt. The soda bread possessed a rich, earthy texture and taste that was entirely different to the focaccia but no less delicious. Roasted sesame seeds, rosemary salt and almonds were the perfect accompaniment. The staff had to bring another serving after my colleague and I swiftly devoured the first. 18/20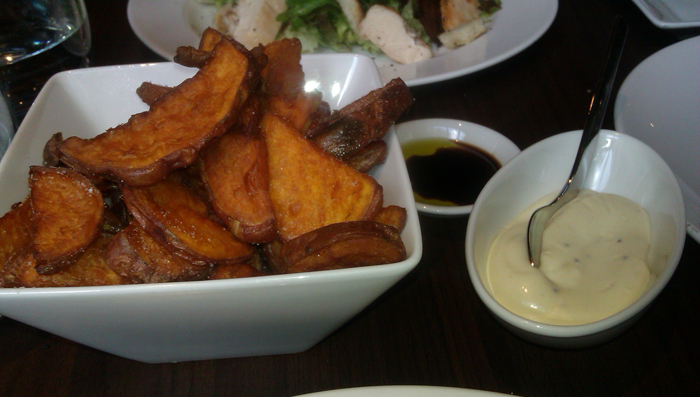 Sweet potato chips with aioli had a pleasant flavour and I always enjoy having butternut squash or sweet potato with a fish main, as opposed to the potatoes usually provided at almost all restaurants. 15/20
---
Desserts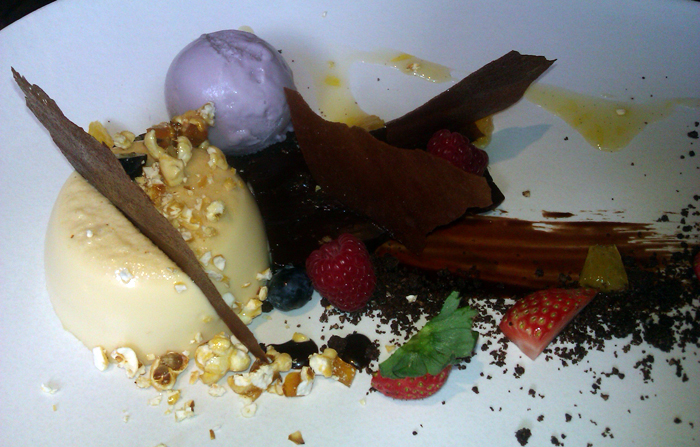 Quince don't have a specific dessert menu but offer you a selection of desserts, which on this occasion happened to be a lavender ice-cream, popcorn caramel panna cotta and cherry chocolate terrine. These were outstanding compared to all restaurants I've dined in, leading my colleague to proclaim "this is better than sex!" I'm somewhat inclined to agree. The panna cotta was decadent but not too rich, creamy and smooth with a beautiful caramel flavour and undertone. The lavender ice-cream sounded like it shouldn't work, particularly with the other desserts but it was exceptional. The cherry chocolate terrine was almost entirely devoured by my enthusiastic colleague, but it was utter luxury without the sickly qualities usually associated with chocolate desserts. Everything combined so well and made a wonderful end to overall, an impressive meal. 20/20
---
Overall
A chic, gleaming venue with a relaxed and hospitable vibe, Quince's cuisine is an interesting concept and definitely worth venturing into for a spot of lunch or dinner. The prices are reasonable, the ambience is warm and inviting without being overly obtrusive and the dishes are cooked well with exquisite desserts on offer.
Rating: 18/20
Cost: Mains at lunch and dinner start from £16 and sides come in around £4. A pre-theatre menu is offered in the evening with a two-course meal setting you back £20 or you can add in a cocktail for an extra £5.
Telephone:  020 7915 3892.
Address: May Fair Hotel, Stratton Street, London, W1J 8LT.
Open: Breakfast served 7-10.30am Mon-Fri; 7.30-11am Sat, Sun. Lunch served 12.30-3pm Mon-Fri; 1-4pm Sat, Sun. Afternoon tea served 2.30-5pm, dinner served 6-10.30pm daily.
For more information see www.quincelondon.com.