Sauterelle: Fantastic Michelin standard classic French cuisine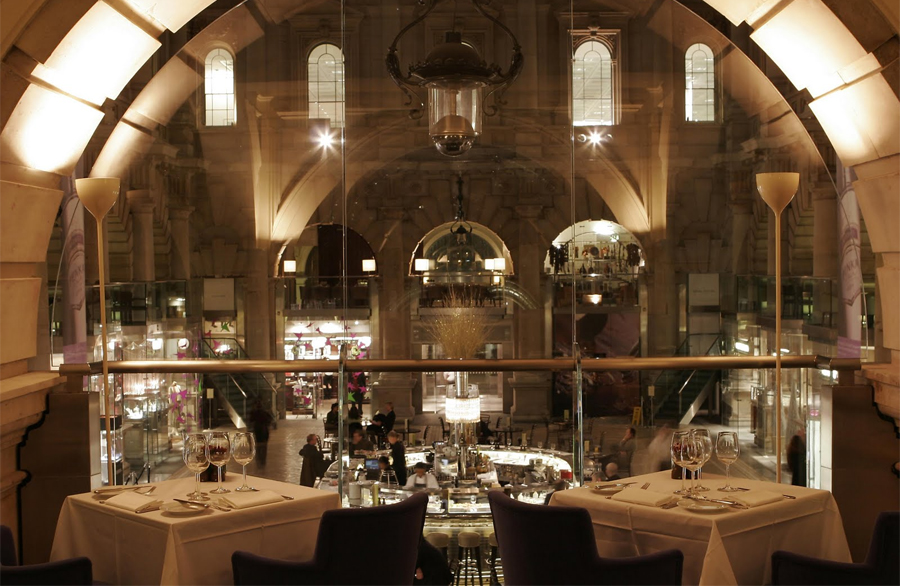 This Bank based D&D outlet is located in the impressive Royal Exchange Building in the heart of the commercial trading centre which also hosts another D&D cafe venue downstairs. Head chef Arnaud Delanney has been in place since 2012 having formerly graced the kitchen at Plateau, The Square and Galvin Bistrot de Luxe. His prowess is apparent in all the seasonal menu offerings.
Situated on the south mezzanine the dining room is classically chic and food flavours are rich, robust and effortlessly flavoursome. There's something rather spectacular in many ways about the food here which is meticulous in presentation and this carries through to careful flavour balancing and seasoning in every dish.
The menu is a combination of modern British and French with a reasonably priced £23.50 set lunch menu for three courses or £20 for two. Based on my dining experience it's no less worthy of praise than the A la Carte menu, which is also not stratospherically high. Service is attentive but not intrusive and perfectly pleasant at all times. Sauterelle is definitely one of the City's best kept secrets for Michelin quality cuisine and service.
---
Canape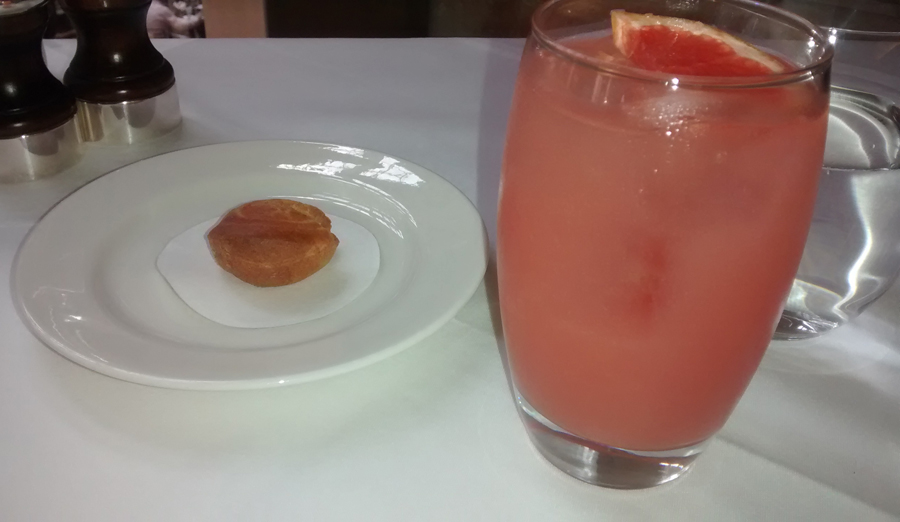 A pillowy soft brioche is presented with a delectable goats cheese centre, which makes a refreshing change from the usual heavier and more sour parmesan brioche creations offered in most modern fine dining venues. The addition of honey makes it all the more moreish. 16/20
---
Bread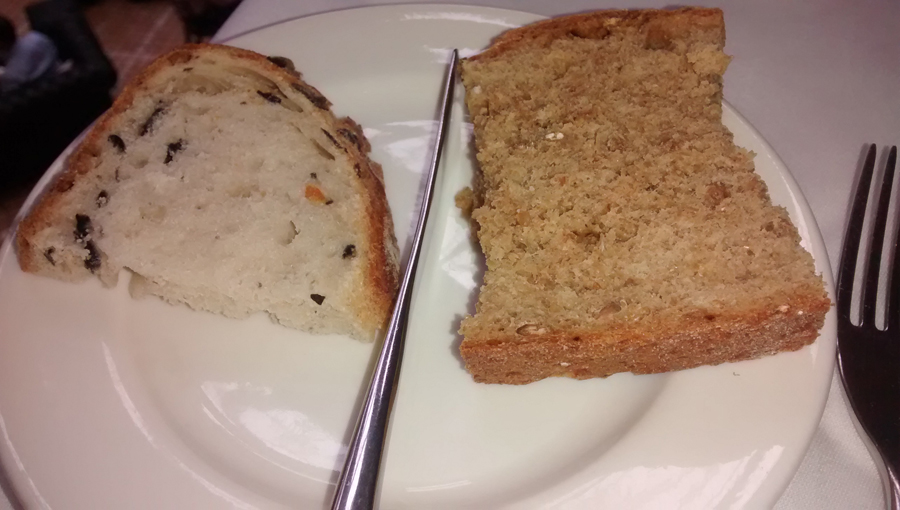 Beautiful homemade warm brown bread is presented, doughy but soft with an earthy texture and a pleasant olive bread made from scratch is also one of the better bread offerings I've sampled in the London periphery. 15/20
---
Starter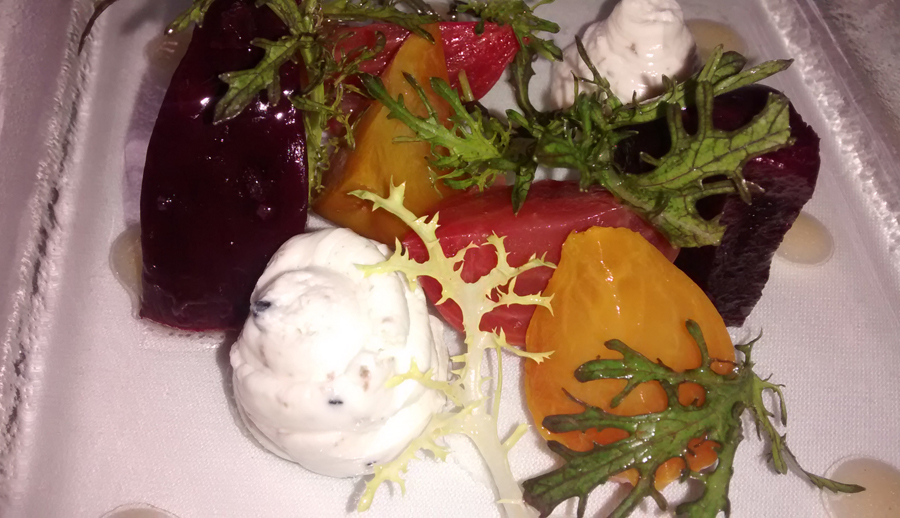 Truffle infused goats cheese with beetroot is a solid classic starter with a polished and more classic presentation style, creamy goat's cheese and fairly delicate beetroot, softly sweet beetroot. It's simple in essence but very well prepared. 15/20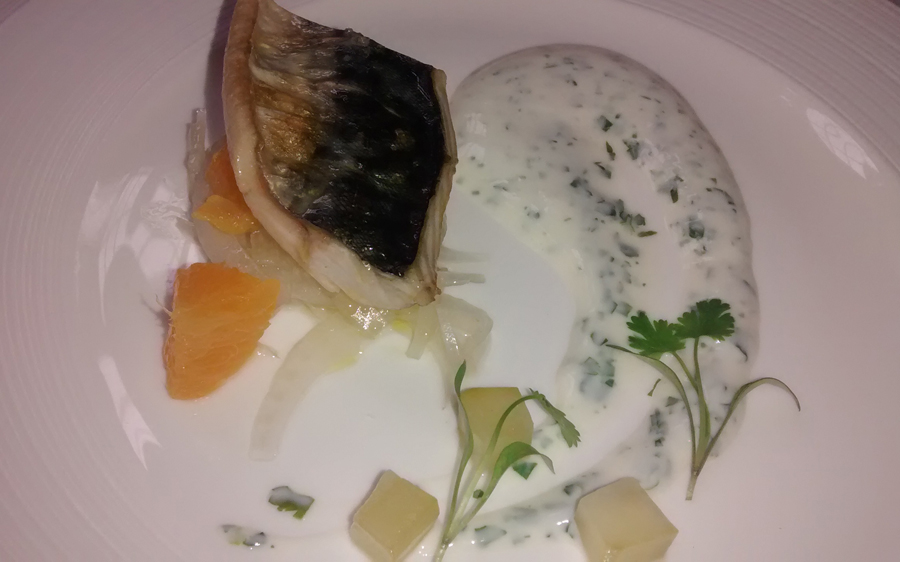 Mackerel with fennel and orange salad is also extremely well executed with a soft, lightly oily mackerel, sweet fennel and orange and careful and delicate flavour balancing overall. It's clear the chef has Michelin credentials. 15/20
---
Main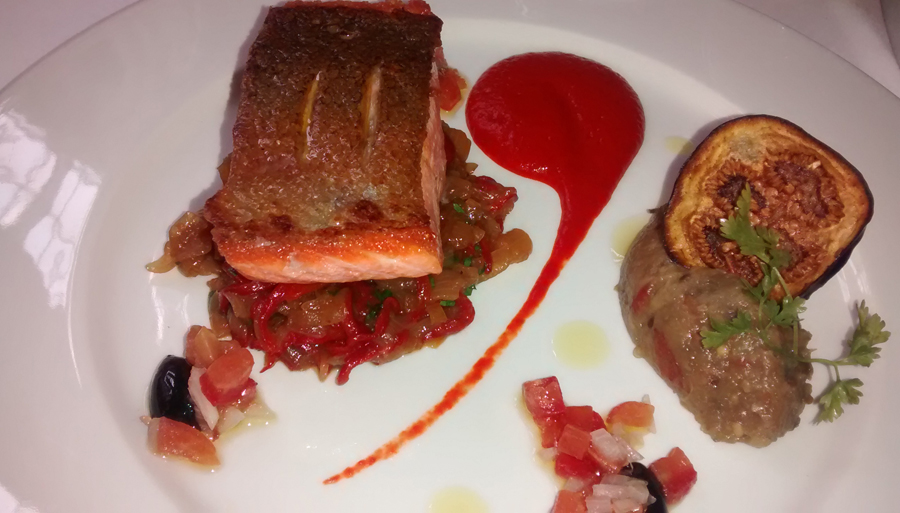 Sea trout with piperade, aubergine caviar, piquillo pepper and sauce vierge is rather a triumph in terms of its clean presentation, sweet flavours and wonderfully oily, soft trout, which happens to be one of my favourite fish options. The sweet pepper and onions and aubergine puree work perfectly with the richer, oilier flavour of the trout. 16/20
---
Dessert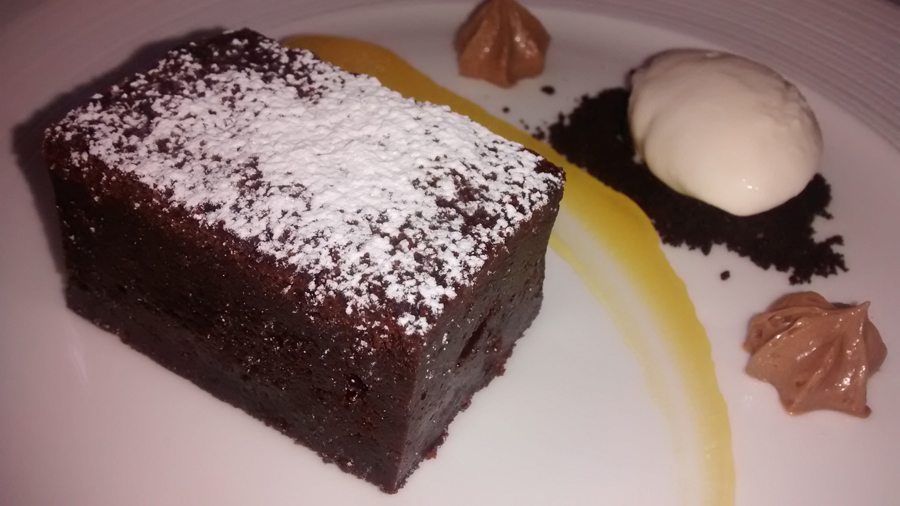 Desserts continue the theme of excellent quality Michelin level cuisine with a rather stunningly soft 70% chocolate brownie with orange curd and contrasting sweet white chocolate sorbet. It's wonderfully decadent and addictive without being overly sweet or heavy and again the chef demonstrates a meticulous refinement to his work that clearly demonstrates the homage he is paying to classic French cooking at its best. (17/20)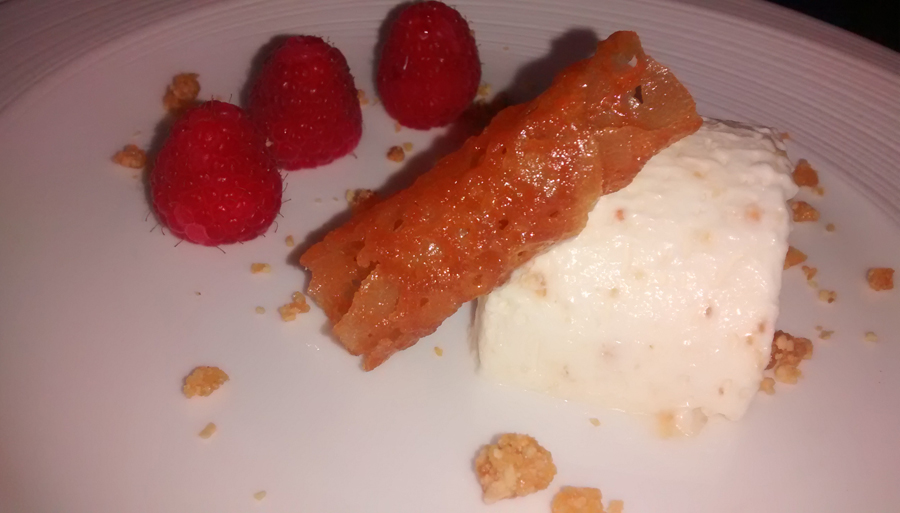 Hazelnut parfait with raspberries, praline and brandy snap biscuit is another show-stopper in many ways as the parfait has a creamy and not overly dense texture which contrasts well with the sweet brandy snap and slighty sour raspberries. It's a more refreshing and lighter dessert option. 17/20
---
Petit fours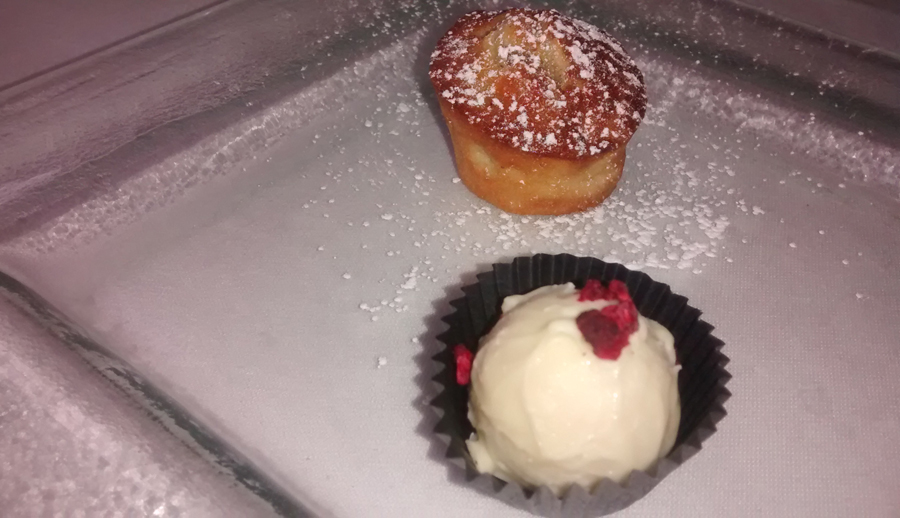 A delicate little sponge madeleine and white chocolate coated ice-cream are another classic finish to an excellent meal which is consistently good all the way through with no room for complaint. 17/20
---
Overall
Sauterelle is an elegant dining spot in the heart of the city occupying an attractive space that's perfect for lunch, dinner or colleague meetings. It's full of city workers at lunch-time and has a more lively, but still refined evening atmosphere. Attention to detail is paramount throughout, staff are wonderfully hospitable and the food is fairly inexpensive for the excellent cuisine on offer. Indeed it's a D&D venture that warrants a Michelin.
Rating: 16.5/20
Venue details
Address: Royal Exchange, London, EC3V 3LR.
Venue phone: 020 7618 2483.
 Opening hours: Lunch served noon-2.30pm, dinner served 6-9.30pm Mon-Fri.
 Price: Main courses £17.50-£31. Set meal £20 2 courses, £23.50 3 courses, £45 tasting menu (£80 incl wine)