Searcy's Champagne Bar: A solid performance for lunch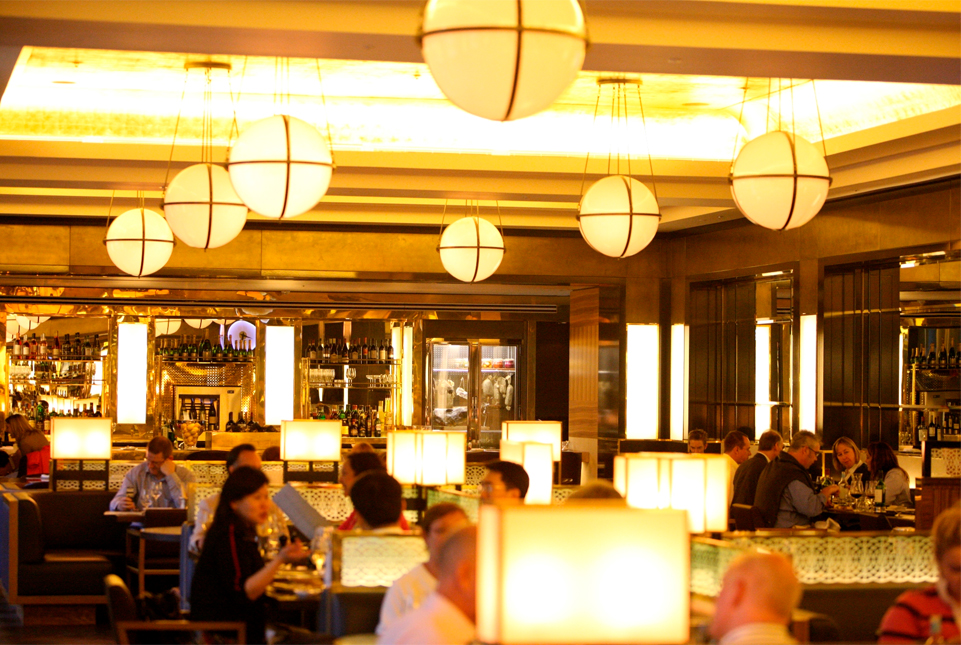 As I enter King's Cross St. Pancras International Station I am immediately reminded that travelling isn't the most enjoyable of experiences, and as much as a station is given a glossy re-working it's still not the most desirable venue for a spot of lunch or dinner. Still, Searcy's Champagne Bar and Restaurant is somewhat of a haven taking pride of place on the Upper Concourse at the station and boasting the country's longest champagne bar. Five years since it's initial opening the bar has undergone a dramatic transformation and you can indulge in heated leather seating to keep out the winter chill or simply press a button to get more champagne brought to your table! A stiff, austere attitude is soon soothed by hospitable treatment and a luxe hotel vibe.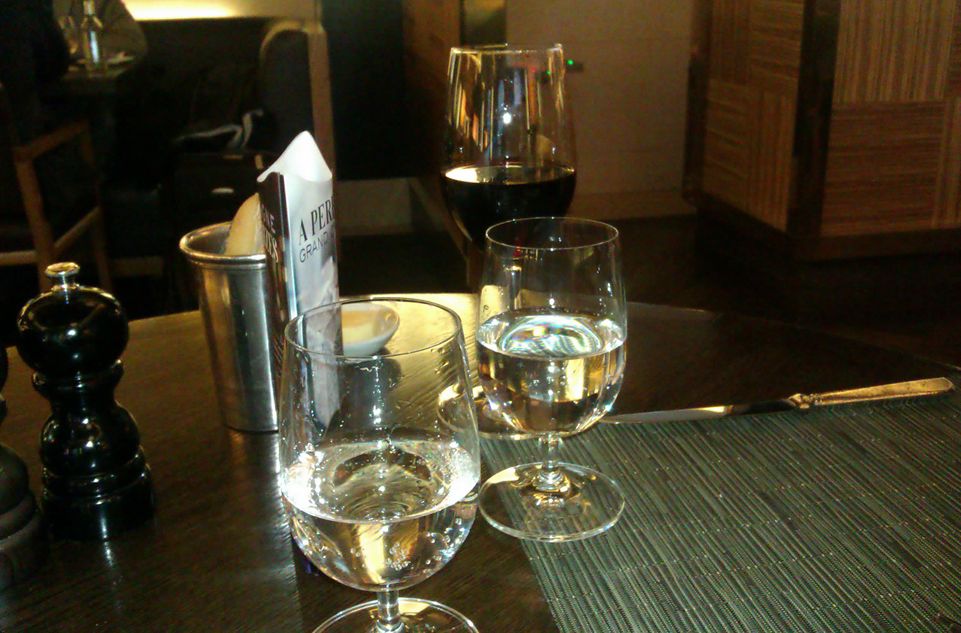 The champagne list is extensive, accommodating the largest selection of Grand Marque houses in the UK. As a tea-totaller I avoid any alcohol, but my colleague was impressed with a very full-bodied fruity Shiraz.
Searcy's is essentially a stylish continental brasserie with leather banquettes, oyster bar. Complete with a contemporary British menu developed by chef Chris Dines you will find classics such as Smoked haddock, poached egg and crushed potatoes with mustard sauce, Monkfish scampi with fries, pork ribs with fries and steakburger and fries. If you fancy something lighter think Poached salmon with Jersey Royals or Herb crusted cod with watercress pesto. It's not an innovative menu, but it is a comforting and fairly varied one. Though we experienced a disappointing starter, overall the food was pretty good. Perhaps as many other restaurants, Searcy's suffers from inconsistency issues, but I'd certainly rather dine here than many of the other dining establishments occupying the station, or indeed, restaurant's I've frequented in London.
A la Carte starters are around £5-£10.50, mains £8-£19.50 and desserts £5-£7. The set menu offers two courses for £20 or three for £25.
---
Bread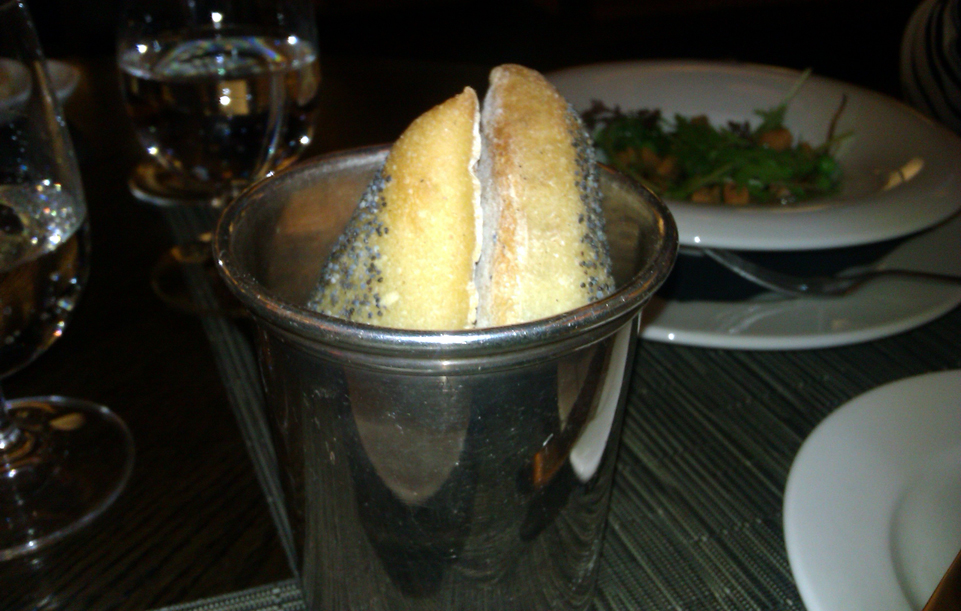 The seeded roll provided had a pleasant enough flavour and butter was creamy and soft, but the texture was very difficult to break, dry and chewy. 13/20
---
Starter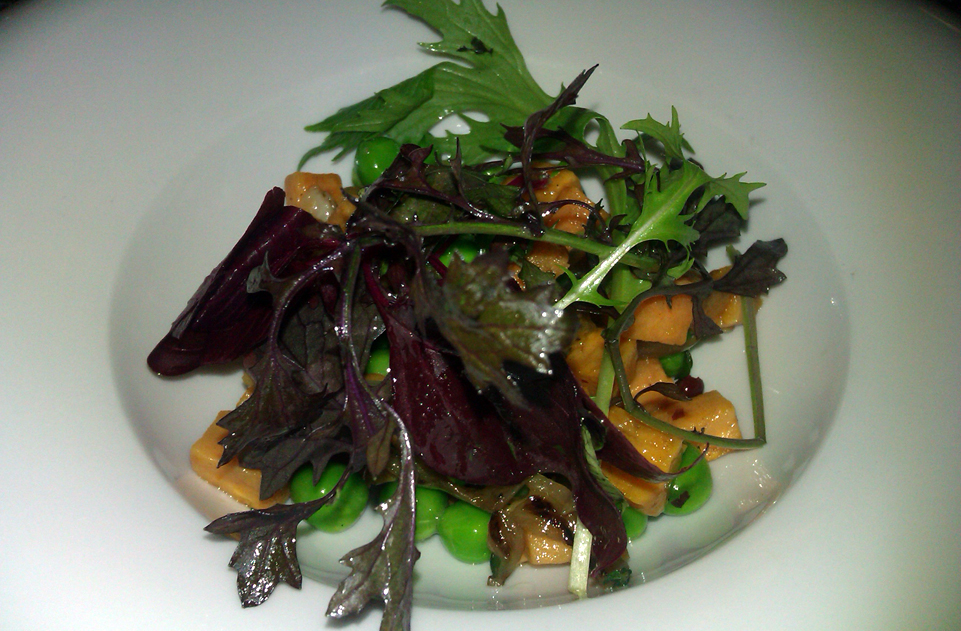 Sweet potato salad was a very lacklustre dish and a woefully small portion. Simply peas with small cubes of sweet potato that so easily could have been poured out of an M&S pre-prepared vegetable packet. My colleague commented that is was simply bland and I couldn't agree more. It wasn't offensive but for the price was a poor starter. Later dishes were a vast improvement so perhaps we opted for the wrong meal. 6/20
---
Mains
Free-range roast chicken with sage and garlic butter and sage salted fries was a vastly superior dish in terms of flavour. The chicken was succulent and had a light seasoning, accompanied by thin, crispy chips that weren't spectacular but delicious enough for my colleague and I to polish off the entire serving. My colleague was impressed by the portion size but couldn't finish an entire half a chicken so opted to take the rest home. 15/20
Herb crusted cod with watercress pesto and baby carrots was a more aesthetically pleasing meal, with lightly cooked cod and a very subtle balance of flavours from the pesto, layer of herbs and pistachio encrusting the fish and fresh-tasting, carrots. The carrot and walnut and potato sides were well cooked, the carrots still retaining a fresh crunch. Nothing was over-whelming, overly-seasoned or badly presented. It was a good, solid performance in terms of both mains, which was a distinct departure from the starter. 15/20
---
Dessert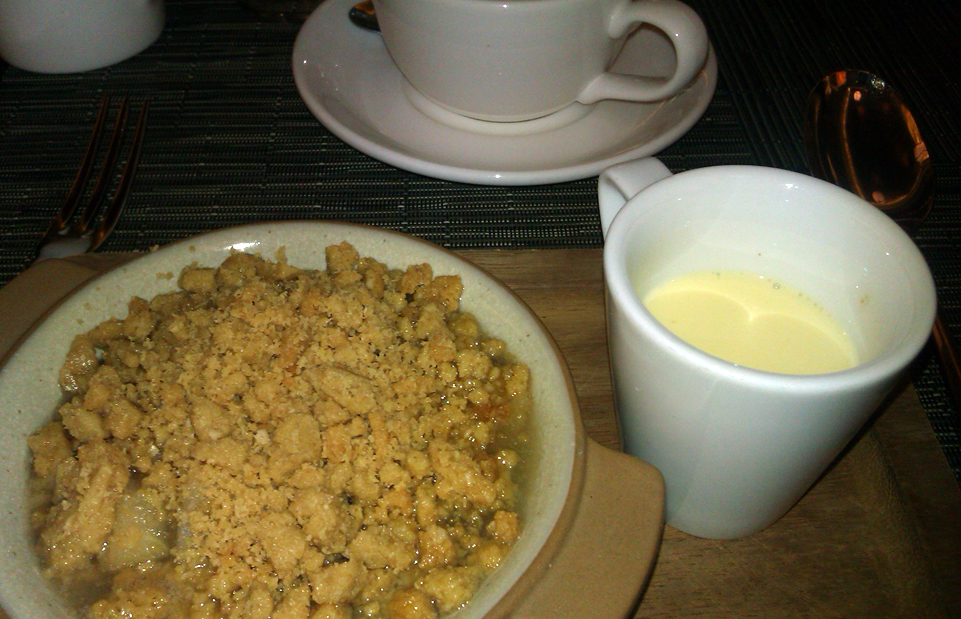 Apple and pear crumble with cinnamon custard was a perfectly pleasant apple crumble with a crunchy moreish topping, good balance between sweet and savoury (something many dining establishments get wrong) and a subtle, very much crème anglaise style cinnamon custard that made a beautiful accompaniment to the crumble. I have never found a British crumble to be a spectacular dessert in terms of visuals or content, but it's comforting and fabulous on a cold winter lunch or evening. 15/20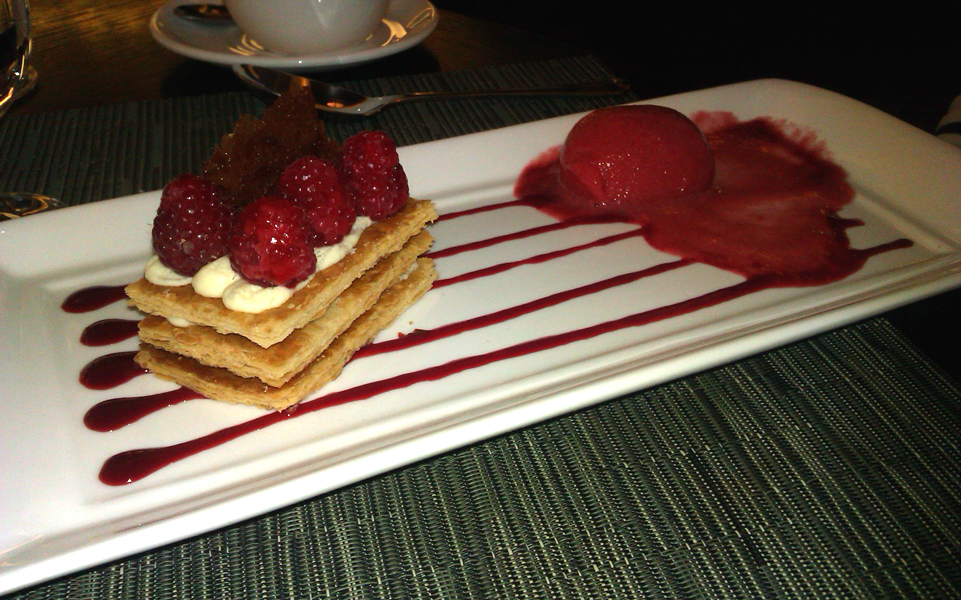 Raspberry, lemon and white chocolate mille feuille was refreshing and zingy but with a careful balancing of sweet and bitter flavours. The pastry was crisp but light and the sorbet wasn't overly saccharin or synthetic tasting as so many are. It was a much more refreshing option than the crumble but both my colleague and I enjoyed both desserts for both their simplicity and adequate execution. 15/20
---
Overall
I wouldn't go out of my way to travel to Searcy's, it's a stopping off point for those travelling from Kings Cross Pancras, or Kings Cross station but the venue is chic and relaxed, away from the busy hub of both stations. It can initially appear a tad aloof as an experience, but diners are soon put at ease and it's definitely worth a visit if you happen to be travelling from either station.
Rating: 14/20
Cost: A la Carte starters are around £5-£10.50, mains £8-£19.50 and desserts £5-£7. The set menu offers two courses for £20 or three for £25.
Telephone: 020 7870 9900
Address: Upper Concourse, Euston Road, London, N1C 4QL.
Opening Hours: Meals served 7am-10.30pm Mon-Sat; 8am-10.30pm Sun.
For more information see www.searcys.co.uk.