Sixty One Restaurant: Michelin level cuisine at a snip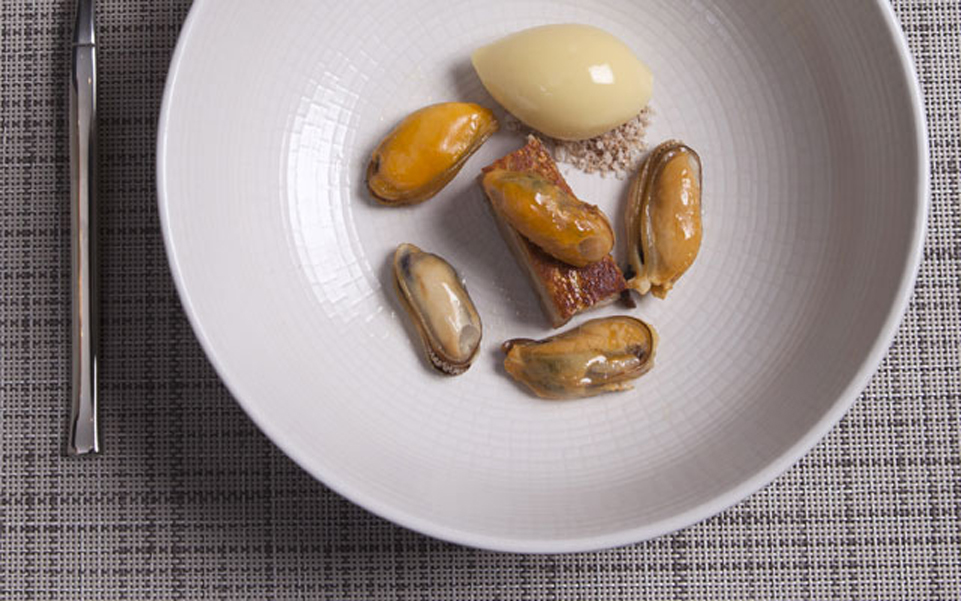 Occupying a discreet brown and cream dining room Sixty One Restaurant is housed in the boutique Montcalm Hotel close to Marble Arch and offers a polished menu of Modern British food including braised beef cheeks, mussels with bread soup and suckling pork belly, fillet of venison with salsify and squab pigeon. The restaurant has 61 covers and was opened in November 2013 as part of a continuing partnership with upmarket restaurant operator Searcys. The decor is muted but distinctly upmarket and contemporary with plenty of space between tables, lots of neutral colours and a few other minimalist features such as rock artifacts on crisp linened tables.
There's little I can say about this recent venture other than bravo, the setting is refined but understated and unpretentious, staff are exceptionally helpful without being obtrusive and the food is quite simply fantastic. Indeed, I prefer it to many Michelin starred venues I've dined at in terms of flavour and presentation. It's more full bodied, doesn't substitute style for substance, or sacrifice the former.
The restaurant is headed by Chef Arnaud Stevens, previously executive chef at 30 St Mary Axe (The Gherkin). Stevens has also graced the kitchens at Maze Grill, Le Jardin des Sens in Montpellier, La Tante Claire and City Rhodes with Gary Rhodes. General manager Artan Mesekrani formerly of Gordon Ramsay at Claridge's has been drafted in.
Prices are extremely reasonable on the set and A la Carte menus with starters ranging from £6-11 and mains from £15-£24.50. The set is £22 for three courses and £18 for two.
It's quite simply bloody great and I'd dine here again in an instant. Even the vegetarian options, which most fine dining and vegetarian establishments seem to struggle with were gratifying and didn't lack the richness of the carnivorous dishes as veggie options so often do. In other words, I didn't feel the need to go out for a steak after consuming a plate of mushrooms, even though these were a key component in the dish. Stevens has many Indian diners who consume a largely vegetarian and vegan diet and has worked hard to create options that don't disappoint on a flavour level.
The only thing I would have liked is a slightly less sweet dessert, but others with a sweeter tooth would be highly delighted and the homemade marmite bread was a revelation. I've loved the stuff since I could crawl and woven into a dense, sourdough bread accompanied by the airiest salted butter I've ever sampled, I knew from the start that the meal was going to be a resounding success. Keep up the good work Sixty One. From start to finish the meal was thoroughly satisfying and will most definitely be prompting repeat visits.
---
Bread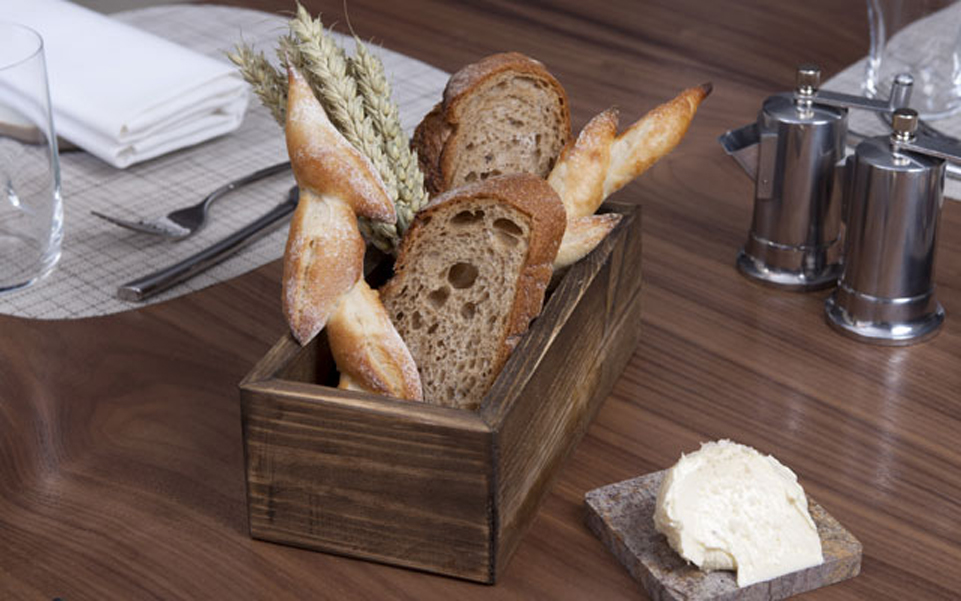 A box of sourdough and white baguettes from Boulangerie De Paris is presented along with homemade Marmite sourdough, which is one of the most addictive breads I've ever consumed. The texture is spongy without being doughy, tough or too crusty. Sourdough is also very good and the baguettes are pleasant. The whipped salted butter has a very soft mousse like consistency and is the finest tasting butter I've consumed in any restaurant, bar a couple, including Toasted's fabulous homemade raw unpasteurised butter. 18/20
---
Starter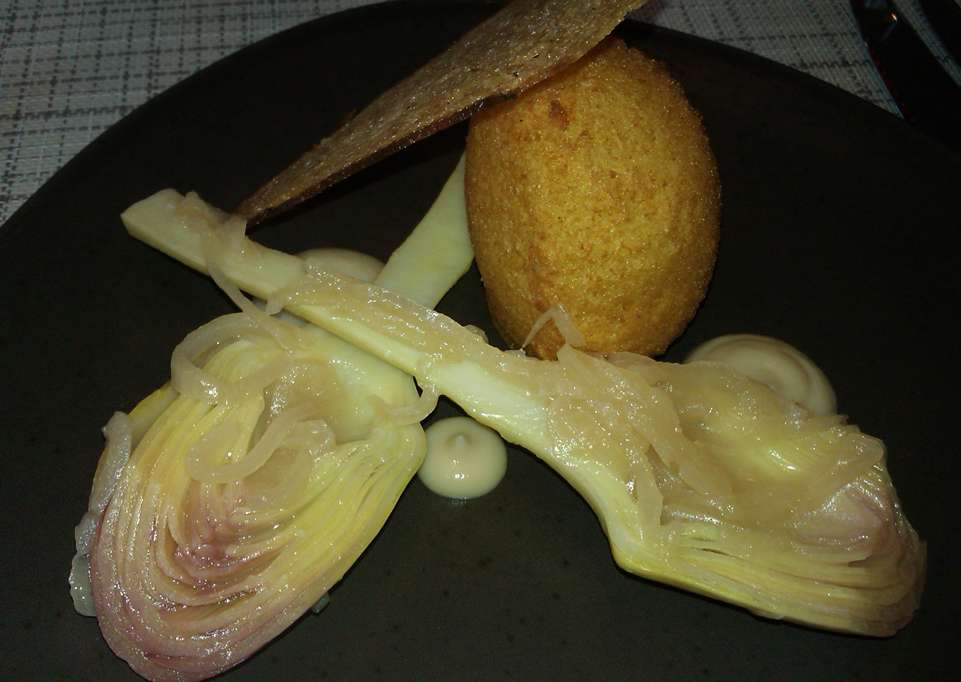 Crispy hen's egg with artichoke is one of the most satisfying vegetarian starters I've had in a fine dining establishment. The egg was perfectly cooked with a delicate, light crisp exterior and beautifully prepared artichokes with the acidity adding a depth of flavour to the egg. I do feel the artichokes could have been a touch less vinegary. The puree had a good texture and worked extremely well with the other elements on the plate. 18/20
---
Main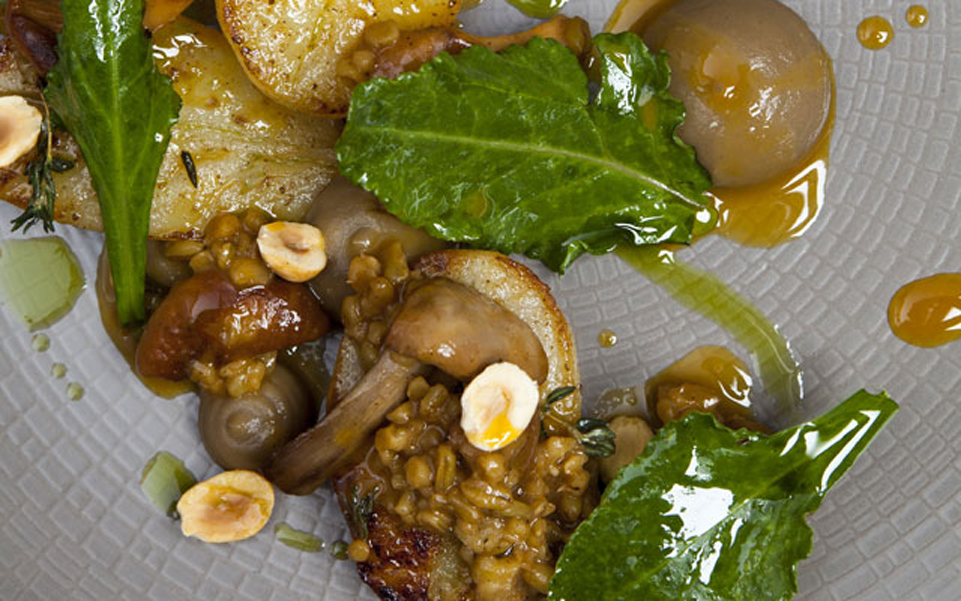 Jerusalem artichokes, Scottish girolles and hazelnut was again a very agreeable vegetarian main. There wasn't a dearth of flavour as is so often the case in fine dining veggie options. Of course, it lacked the richness of the meat main, but it still had a strong depth of flavour and variety of textures and tones that made it very classically French in essence. I do wish that restaurants would use more beans and legumes in vegetarian dishes still for extra protein, but this was still a very laudable dish and one I'd consume again. 17/20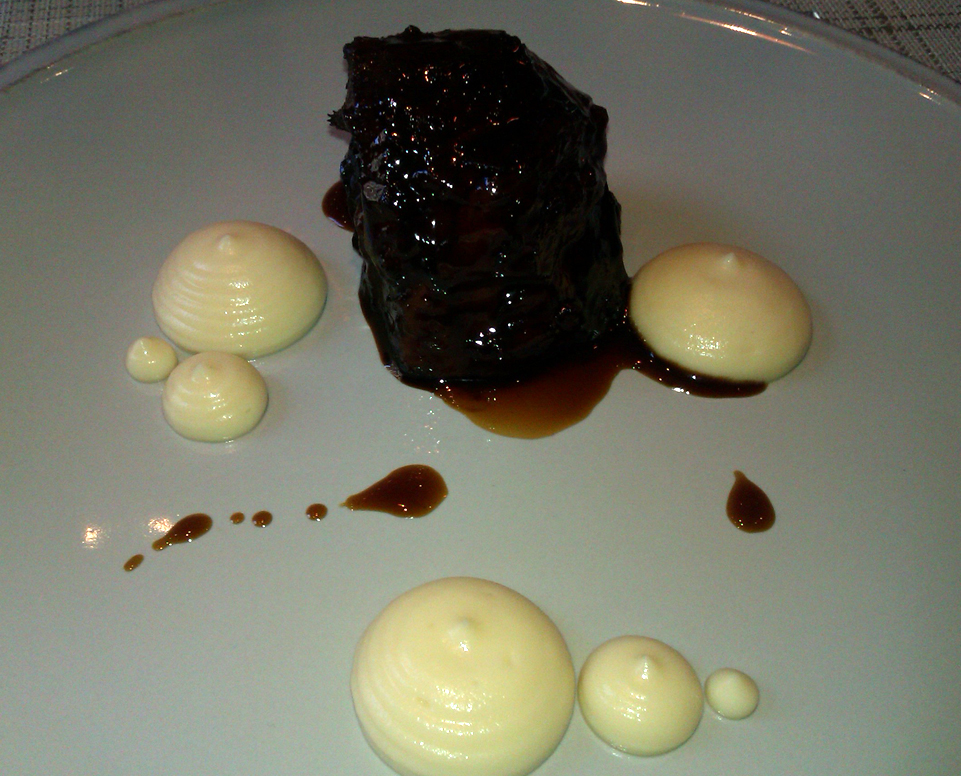 Braised beef cheek, Swiss chard gratin and pancetta (I skipped the black pudding) was a resounding success. Please excuse the photo, I asked for a half portion so it would have had a more refined presentation has I not opted for an additional veggie main. The cheeks were meltingly tender with an unctuous, thick sauce and creamy puree that begged to be mopped up with tender beef and earthy marmite sourdough. The gratin was superb with just the right degree of cheese and bacon, adding extra intensity to the flavours of the beef. 18/20
---
Dessert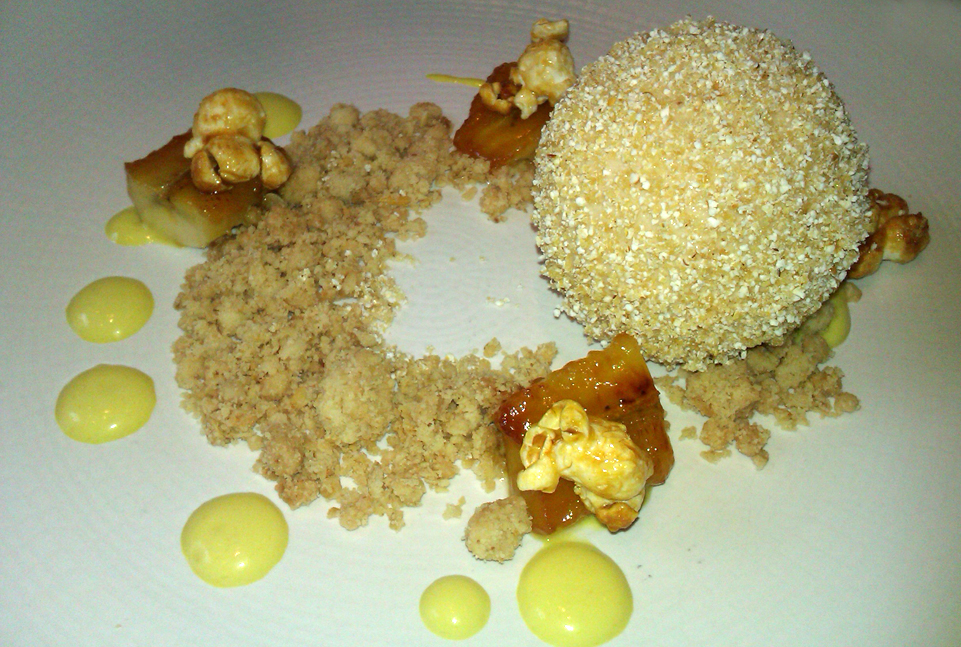 Banoffee parfait is a very saccharine dessert featuring a ball of intensely banana flavoured ice-cream rather than parfait, toffee popcorn, crumble, caramelised bananas and a subtle essenced dressing. It's reminiscent of a very upmarket and sophisticated banoffee pie come sundae. It's a must for lovers of sweet things and the flavours are very well matched and delectable, but it was far too sweet for me personally. 17/20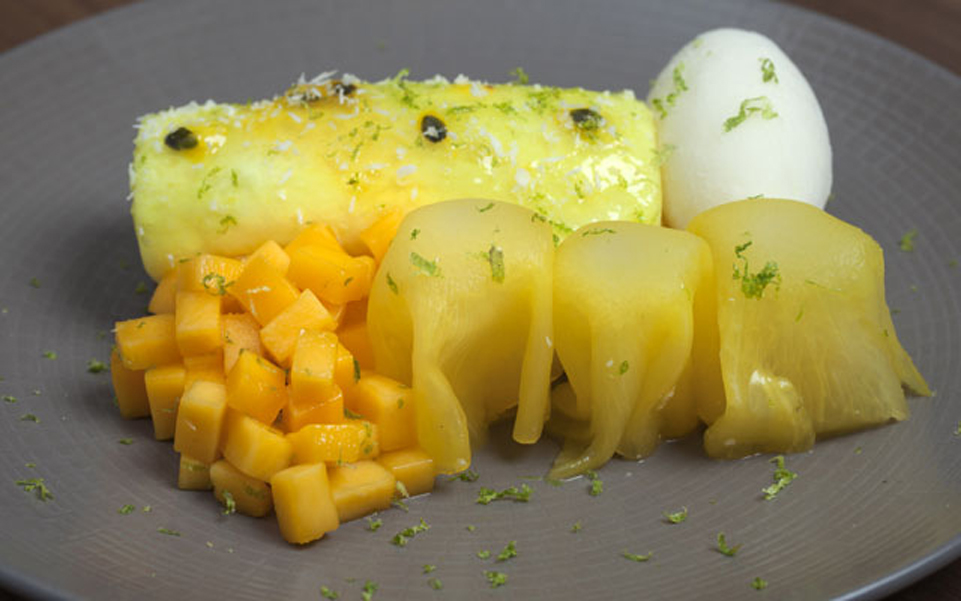 Mango, coconut and pineapple was far from being these elements in the sense that far more Michelin style mastery was on display. A more parfait style dessert was perched upon a crisp but delicate biscuit base, with refreshing coconut sorbet, shavings of pineapple and slightly sweet mango. The effect was a more invigorating, zesty dessert that again didn't feature mismatched flavours or textures. 18/20
---
Petits Fours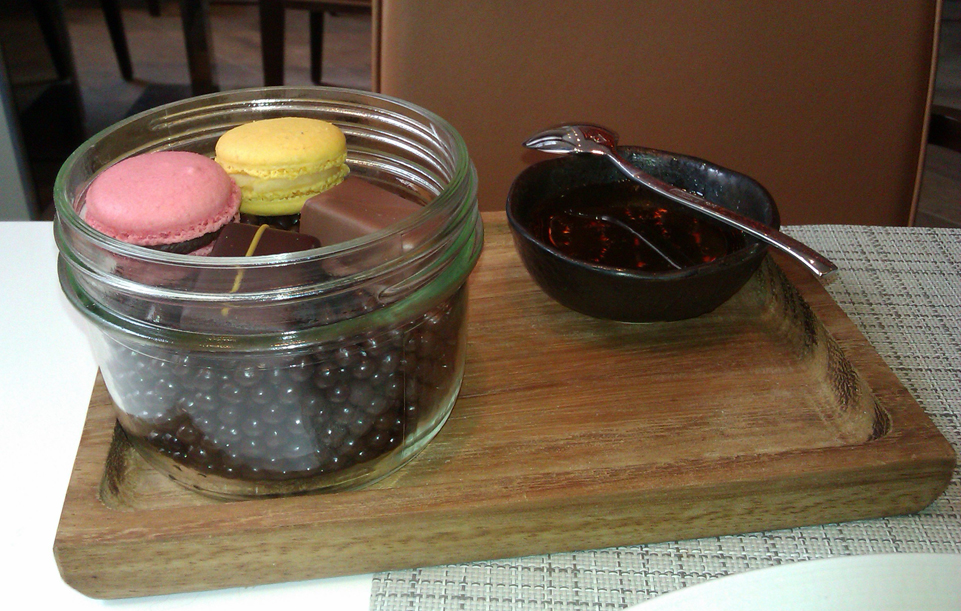 Macarons were decent but perhaps a tad unusual in taste and the chocolates were of a fairly typical, good quality as you would expect of a fine dining establishment. 15/20
---
Overall
Simply sensational carnivorous and vegetarian food at a classy, slick venue with extremely attentive but not overbearing staff and crowd-pleasing prices. It's a new venture that thoroughly deserves to succeed. I congratulate chef Arnaud Stevens, but hope that the food continues to be of a consistently high standard. Worth frequenting and a must-try for anyone who's passionate about good cuisine.
Rating: 18/20
Cost: Main courses £15-£24.50. Set menu (lunch, 5.30-7pm Mon-Sat) £18 2 courses, £22 3 courses.
Telephone: 020 7958 3222.
Address: 61 Upper Berkeley Street, London, W1H 7PP.
Opening Hours: Lunch served noon-2.30pm, dinner served 5.30-10.30pm Mon-Sat. Meals served noon-5pm Sun.
For more information see www.sixtyonerestaurant.co.uk.