The Breakfast Club: Breakfast takes centre stage but fails to wow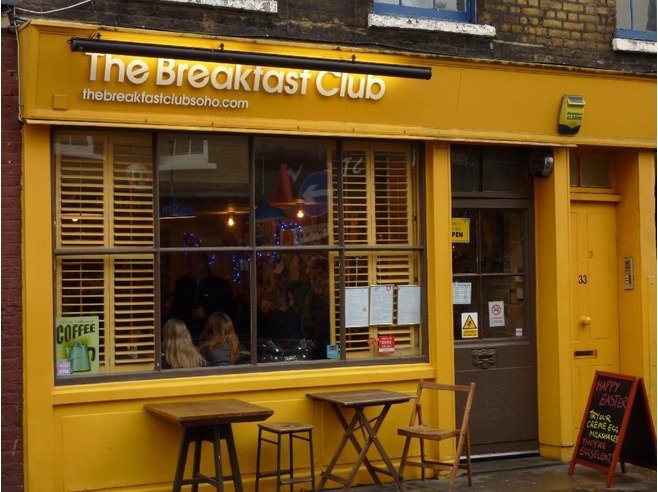 Cluttered with 80s nostalgia The Breakfast Club cafes are a shrine to shabby chic and littered in several London locations with garish yellow characterising the exterior decor and an extensive breakfast menu that provokes salivation as any good breakfast should do. After all, who doesn't want breakfast at 3pm in the afternoon every day of the week. I want to be angry, because the floor looks dirty and I want breakfast under chandeliers with attentive, well-dressed staff catering to my every whim, but I am queuing outside in the rain to be served chorizo and hollandaise on a toasted English muffin in a souped up shabby cafe in Islington with media types, pontificating about the brand of bicycles chained to a pole across the street. Whether you want a full English, doughy American style pancakes, a breakfast burrito, pulled pork with barbeque sauce or a more virtuous fresh fruit salad, The Breakfast Club can cater. It's not particularly cheap and it's not particularly good, but other people are prepared to queue and apparently, so am I.
To be honest, on my first dining experience at The Breakfast Club I am tricked by the Huevos Rancheros – fried eggs, tortilla with melted cheddar, refried beans, chorizo (actually smoked salmon, since I subbed it), salsa, sour cream and guacamole for £9.50. 11/20. I devour it rapidly because I love cheese, egg yolk, sour cream and avocados, but I could have put these on a plate at home and achieved the same effect, because when I return for two other breakfasts I am sorely disappointed and realise the apparent 'yumminess' of my meal is nothing to do with any inherent talent in The Breakfast Club kitchen and everything to do with the simple ingredients placed on a plate. I should have known, the All American Breakfast is all American and that's why it's atrocious. Heavy, doughy pancakes, with cubes of dry potatoes, extensively overcooked bacon, sickly maple syrup (that isn't in the least bit complementary to the dish but none-the-less necessary to make the pancakes palatable) and a passable sausage make this one of the worst breakfasts I've consumed. 7/20. Still, I eat it anyway and dare to return for another bout of pointless self-torture. I cannot figure it out, but I have to give them another try in case anything tastes as good as it should. It doesn't. The Huevos al Benny – poached eggs, chorizo, roast peppers, avocado, fresh chillies and spicy hollandaise on a toasted English muffin is, as the French would say dégoûtant. The chorizo is too spicy, the avocado cannot resurrect the lacklustre performance of a bland hollandaise and unusual tasting roast peppers. I eat it rapidly because I don't want the taste to linger in my mouth for another moment longer. 7/20
Perhaps I am being unfair, I kind of want to give them another go because their are so many breakfast options and ranging from £4.50 -£10 they aren't entirely unreasonably priced for the proportions. I just wish they were better, that the retro theme wasn't a distraction from the poor cuisine offered. I mean, it is breakfast and breakfast is an indulgence rather than a gastronomic feat but it could just be so much better, if someone had a clue what they were doing. For that reason and with a touch of sadness I cannot offer any words of redemption for this cafe, but if you're super hungry, have had one two many the night previously and want something more interesting and enticing than a greasy local cafe, by all means set foot in The Breakfast Club, but perhaps tell them how you would like your eggs and bacon cooked and don't expect too much.
Overall Rating: 7/20
Cost: Breakfasts start at around £4.50 and there are a variety of lunch options including sandwiches, wraps, burgers and burritos starting from £6.70 for an appetiser.
Telephone: 020 70789636
Address:  Various London locations.
Opening Hours: Monday to Wednesday, 8am – 10pm; Thursday and Friday, 8am – 11pm; Saturday 9am – 11pm; Sunday 9am – 10pm.
For more information see www.thebreakfastclubcafes.com