The Clove Club: Talent on show but standards have slipped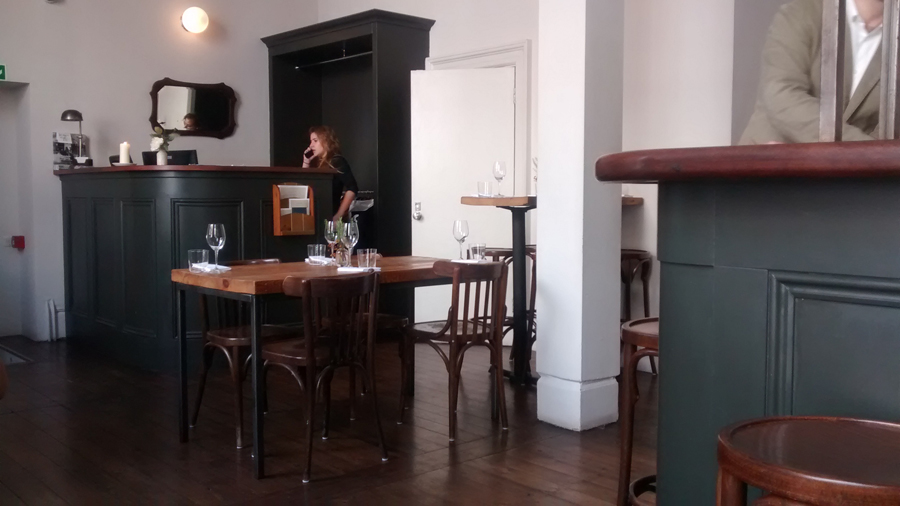 In the heart of Shoreditch, The Clove Club was established several years ago by a small group of talented chefs including Isaac McHale, formerly of the much acclaimed Michelin bearing Ledbury and Homa, Johnny Smith and Isaac McHale. Inhabiting Shoreditch Town Hall in East London, an Edwardian building no longer serving as a Town Hall it's comprised of two rather sparsely decorated rooms with a bookish vibe and offers an ambitious five course tasting menu.
It's cemented it's reputation as one of London's top dining hot spots by consistently serving up sensational and well conceived dishes and in the past critics have rarely found fault. It's noteworthy that the chef trio also earned critical aplomb during a residency entitled Upstairs at The Ten Bells in Spitalfields. The space has a stripped boarding school dining hall aesthetic going on but no matter, the food is pretty distant from school dinners, bar the fried chicken and strip of sausage presented rather artlessly as canapes.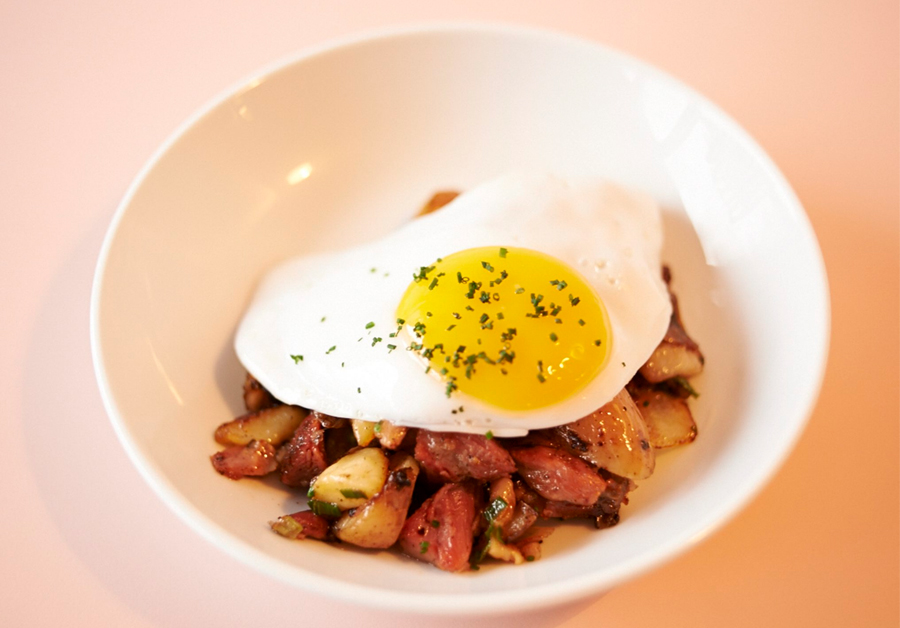 Food is inventive, British, plausibly modern and includes signature tasting plates such as buttermilk fried chicken with pine and seasonal veg-laden mains. It's previously been noted as a vegetarian haute cuisine enthusiasts dreammshowcasing the phenomenal flavours of natural ingredients that play on the palate with an array of Japanese inspired dressings and foams. The restaurant seems to have digressed from this somewhat and the meagre offerings are a lot more prosaic. It's not really avant garde anymore or a gastronomic sensation. I even feel like boarding school pupils or canteen staff with some culinary flair and aspirations might have drummed up something similar with equal panache. It sort of suits the setting but not the diners palate.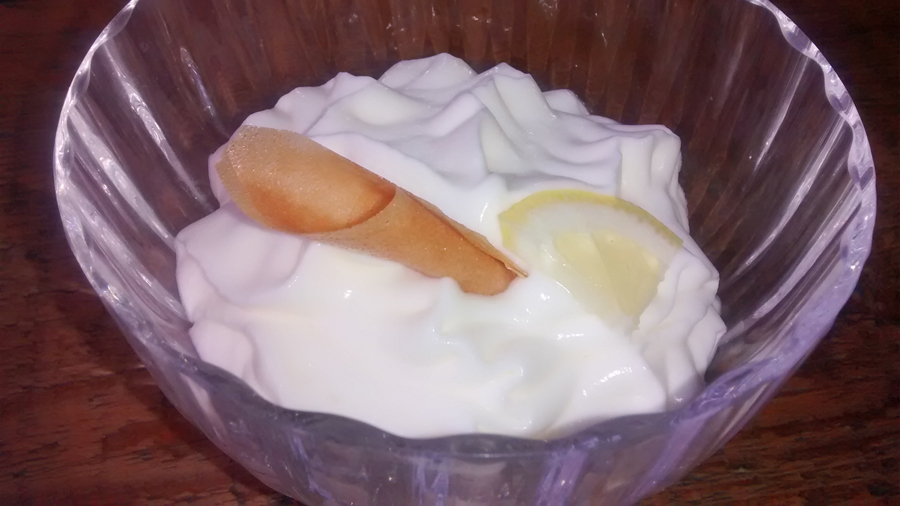 I'm rather bewildered. The amalfi lemonade ice cream with pepper dessert is rather a sensation. It's simple, zesty, refreshing, airy and has a subtle hint of pepper that indicates the making of something rather exquisite is lurking in the kitchen. (16/20)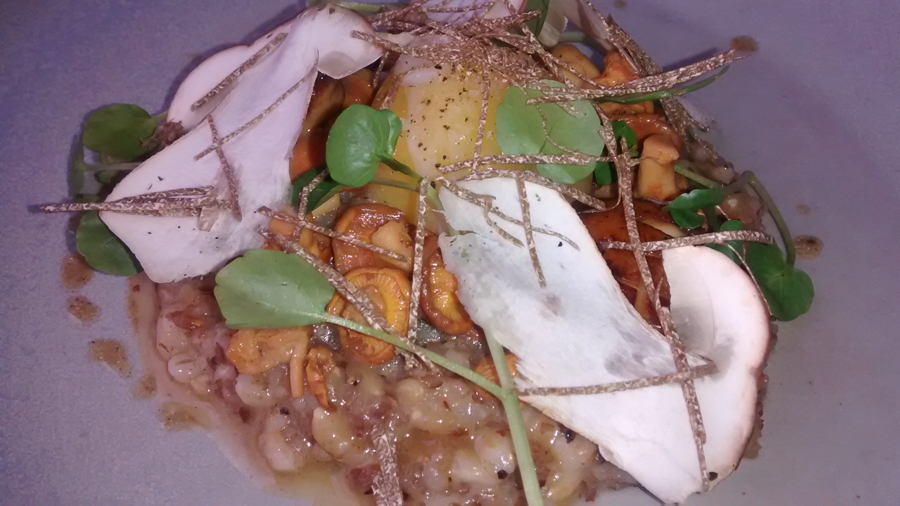 Even the vegetarian egg with girolles and grain risotto is fairly rich, hearty and relatively inspiring, with a creamy, perfectly cooked yolk resting on a bed of rather stodgy grains with rich, earthy mushrooms. It's comforting but plebeian (15/20). It provides hope at least.
Home churned butter is sublimely creamy and salty and begs to be mopped up by a spongy batch of housemade sourdough and wholemeal bread. (15/20)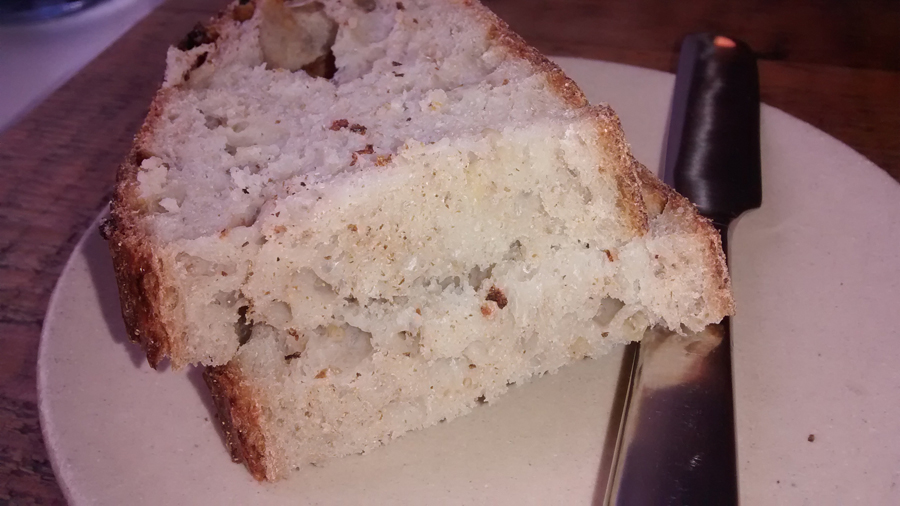 That's where everything falls down. The starter is essentially a wisp of softly cooked chard with a well seasoned foam that is remarkably unspectacular and hiding beneath and understandably so, are two of the most lifeless extremely chewy, drab pork cheeks I've ever seen. I resign myself to simply consuming the pleasant chard and perhaps should have opted for a vegetarian starter. (11/20).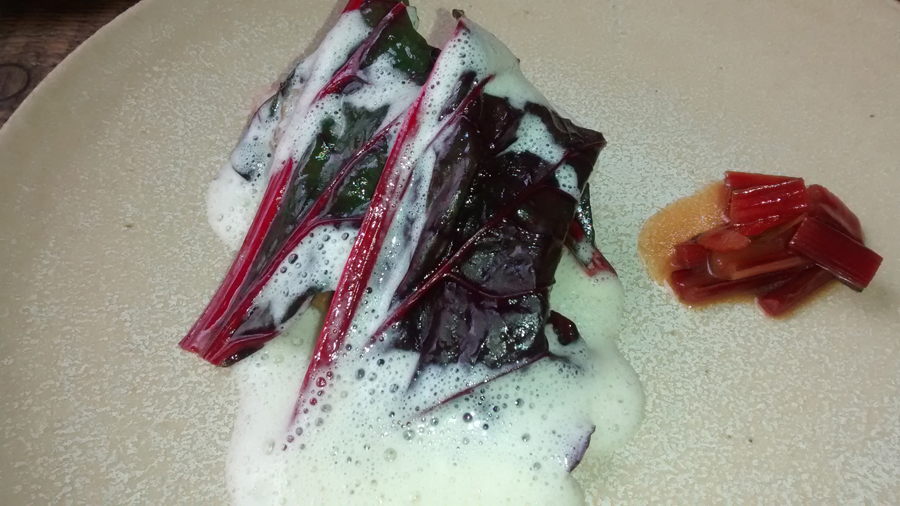 Particularly pleasant petit fours consist of a coffee and almond bar, warm, soft madeleine that's not overly sweet and two delicate bon bons containing a hit of creme de menthe accompanied by a charming note (15/20). It's delightfully quaint in many ways and marks the end of a rather confusing meal marked by potential peaks and relative troughs, like the uninteresting canapes – typified by the small piece of banal sausage. It's extraneous, I wonder why it's there (13/20).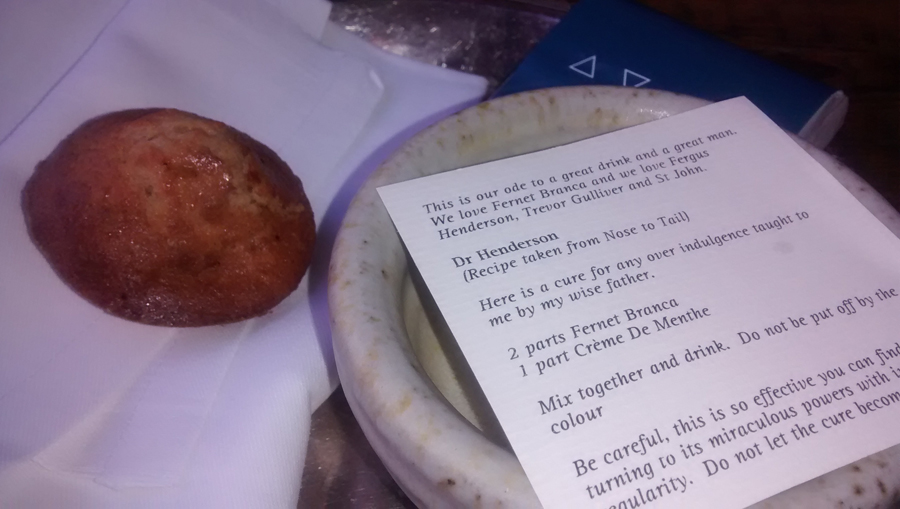 As previously highlighted the chefs were once known for their stunning miniature vegetable gardens, fluffy breads and triumph of technique, but it seems to have been replaced by a bit of kitchen apathy. I would like to return in the future and suggest a visit to potential diners only for a set lunch. At £55 for five courses for the tasting and £35 for the set, it's far too expensive really for the minimalist portions and level of technique, but there is an element of creativity worth taking a look at, for curiosity reasons if nothing else. Otherwise, for something more encouraging and titillating I'd suggest avant garde food at The Dairy Clapham, Typing Room or The Lecture Room and Library at Sketch. It's less dated and consistently good.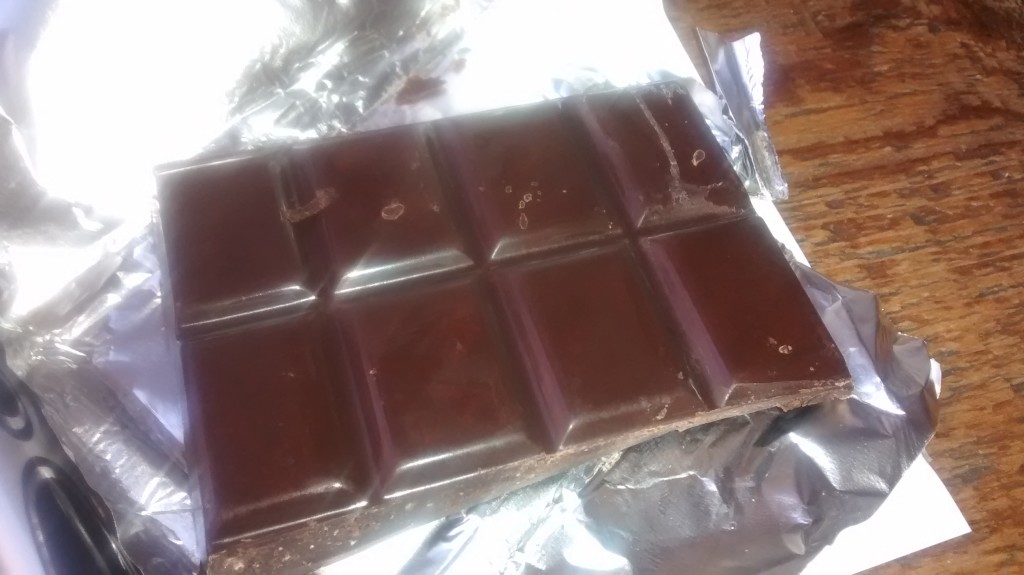 Overall rating: 14/20
Venue details
Address: Shoreditch Town Hall, 380 Old Street, London, EC1V 9LT.
Venue phone: 020 7729 6496.
Opening hours: Bar Lunch served noon-2.30pm Tue-Sat. Dinner served 6-11pm Mon-Sat. Dishes £4.50-£21 Restaurant Lunch served noon-2.30pm Tue-Sat. Dinner served 6-9.30pm Mon-Sat.
Transport: Old Street tube or Shoreditch High Street rail.
Price: Set lunch £35 3 courses. Set meal £47 tasting menu.