The Guildford Arms: Pretty good gastro food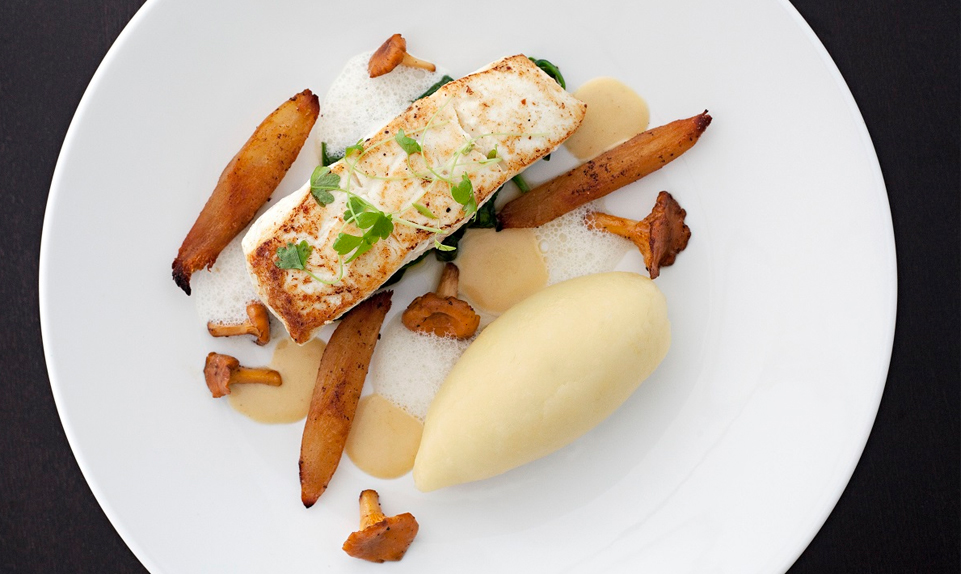 I can't really bring myself to enjoy gastropub food. For the most part it's below average and despite the proliferation of gastronomically focused pubs, the food is pretty pitiful compared to the offerings in Michelin restaurants, who very often charge similar prices.  That said, The Guildford Arms, a relative newcomer to the Greenwich area having graced the neighbourhood for four months is worth a mention. With an elegant first floor restaurant and contemporary, chic, clean decor in the pub downstairs it's an oasis from the city and actually serves some fairly good British food. Indeed I am as impressed by one of their starters as I have been in fine dining establishments.
The pub's sister restaurant around the corner boasts a mention in the Michelin guide and has graced Time Out Magazine as a runner up for best neighbourhood restaurant, so there is clearly some talent coming from the kitchen. Everything is produced from scratch and local suppliers are used as much as possible. You can expect offerings such as goats cheese panna cotta, butter roast quail, pan-fried wild halibut with roast shallot mash and slow cooked pork belly with puy lentils and Ravigote sauce. It's all rather grown up and not too expensive either. The stream-lined lunch menu offers starters for £5 and mains for £10 along with a range of bar snacks.
It's relatively deserted when I visit at lunch-time, but the bar hostess is helpful and there is a relaxed atmosphere and typical gastropub decor – subtly chic, wooden and inoffensive. There were some culinary flaws, there always are, such as slightly dry bread, over-cooked salmon and mashed potatoes that could have been passed through a sieve for a finer more palate-pleasing texture. Still, I may have become a food snob, since it's inexpensive, it's a gastropub and the chef can cook. It's definitely worth frequenting if you you're in the neighbourhood.
Evening meals are rather more costly at around £6-£9 for a starter, £11.50-£24.50 for a main and £6-£7.50 for dessert. At that price I'd head straight for a reputable Michelin and if I felt more laidback I'd opt for Pollen Street Social or somewhere less formal. Still, for a spot of lunch of happen to be hanging around Greenwich, do drop by.
---
Bread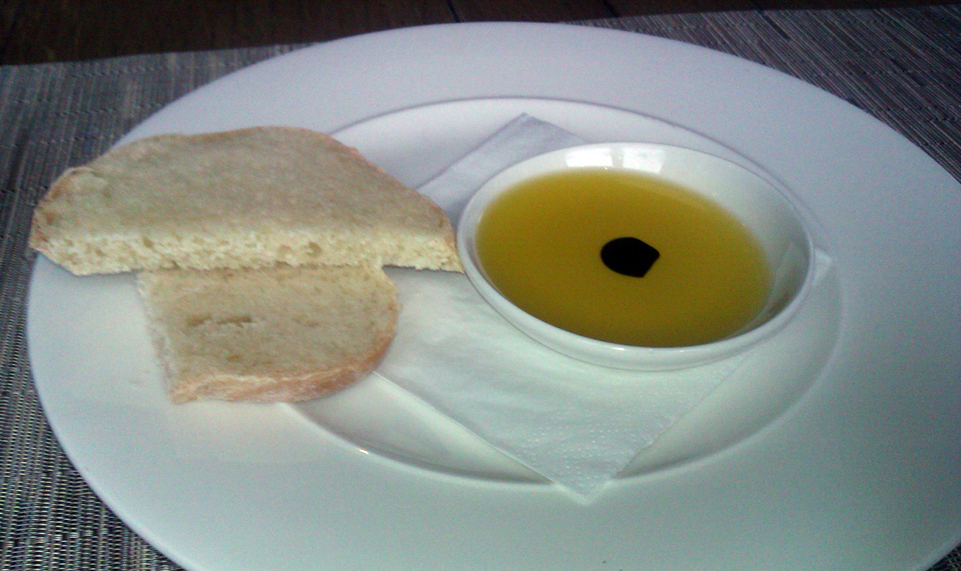 A homemade white bread is presented warm, which is a good start, but is also rather dry. It's absolutely fine but could benefit from an airier texture. 10/20
---
Starter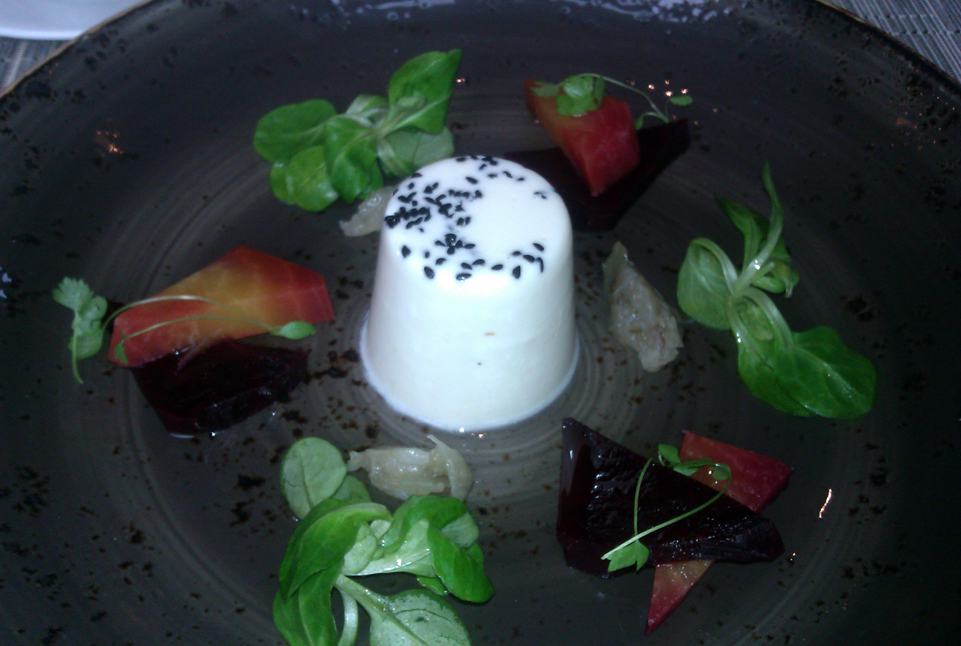 Heritage beetroot salad with soda bread croutons, goats curd and thyme panna cotta and basil is light, well-balanced with good complementary flavours and the panna cotta has a pleasant creamy texture. It's simple, attractive and tasty. My only gripe is that it was noticeably devoid of any croutons. 13/20
---
Main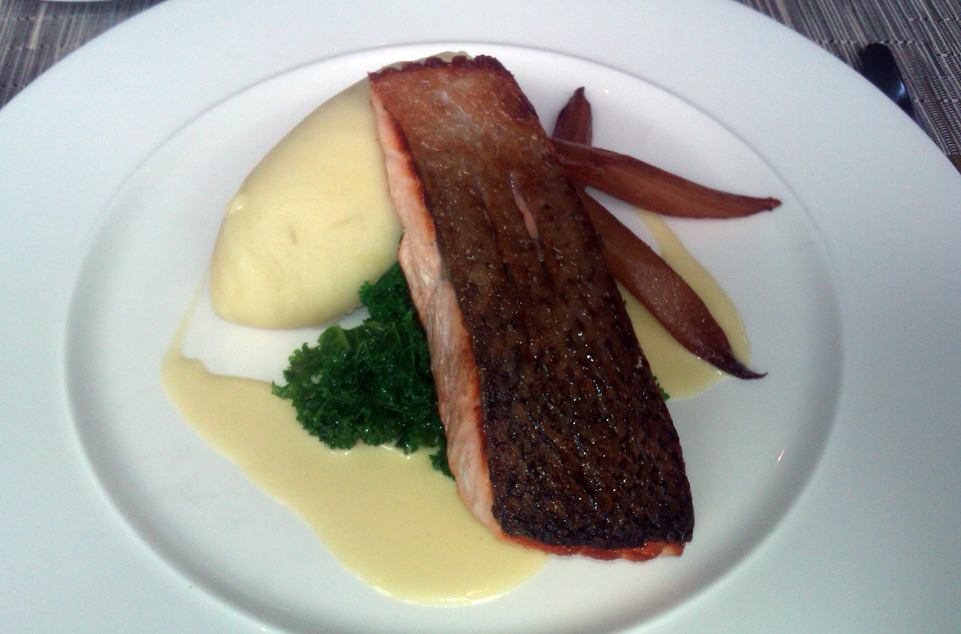 Seared Loch Duart salmon with shallot mash, black kale, salsify and rosemary veloute is a perfectly adequate main. I've given up expecting fish that's cooked properly in most dining establishments and after asking for medium rare salmon it's still served well-cooked, but it's seasoned well and the vegetables are appropriately cooked. Mashed potato could have been finer and creamier and I would have preferred a larger serving of the lovely rosemary veloute. Overall though, particularly for the price, it was a sufficient and successful main. 12/20
---
Dessert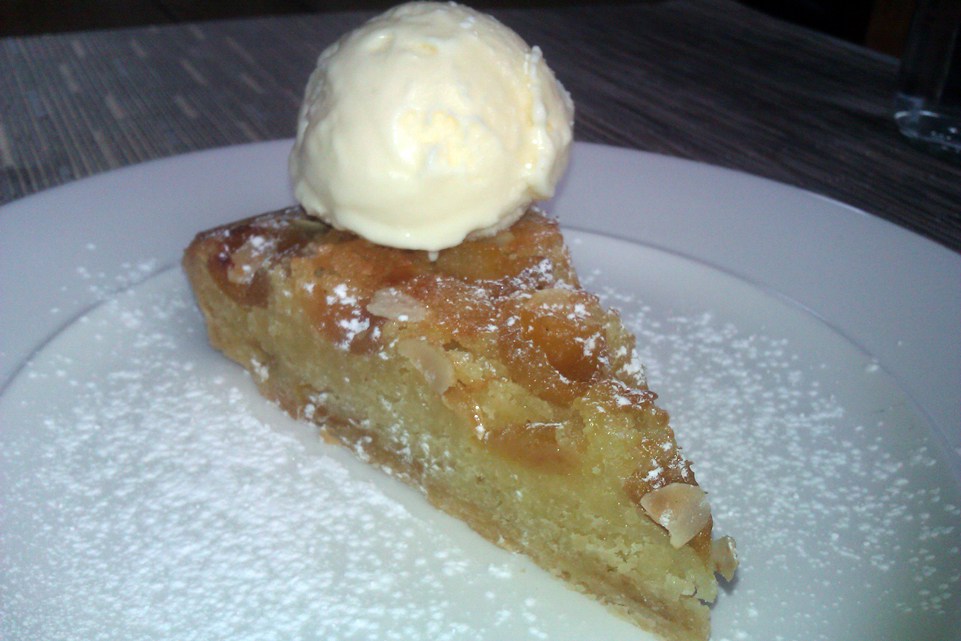 Almond and Hunza apricot tart with clotted cream ice-cream was gargantuan. It had a good texture and taste, although could have been a bit lighter. The base wasn't too heavy compared to tarts I've consumed elsewhere and it wasn't overly sweet. It could have benefitted from more apricots to add moisture to the tart. The accompanying ice-cream tasted of lemon rather than clotted cream, but had a pleasant creamy texture and didn't detract from the flavours in the tart. 11/20
---
Overall
An attractive Georgian pub just a short walk from Greenwich DLR, The Guildford Arms offers a modern British menu, with decent gastropub food for an attractive price at lunch-time. It's definitely one of London's better gastropubs and the menu still offers more traditional favourites such as fish and chips, cheese burger and fruit crumbles.
Rating: 12/20
Cost: Lunch £5 starter and £10 main. Evening A la Carte £6-9 starter, £11.50-£24.50 and £6-£7.50 for dessert.
Telephone: 020 8691 6293.
Address: 55 Guildford Grove, London, SE10 8JY.
For more information see www.theguildfordarms.co.uk