The Petrichor: Culinary Confusion at The Cavendish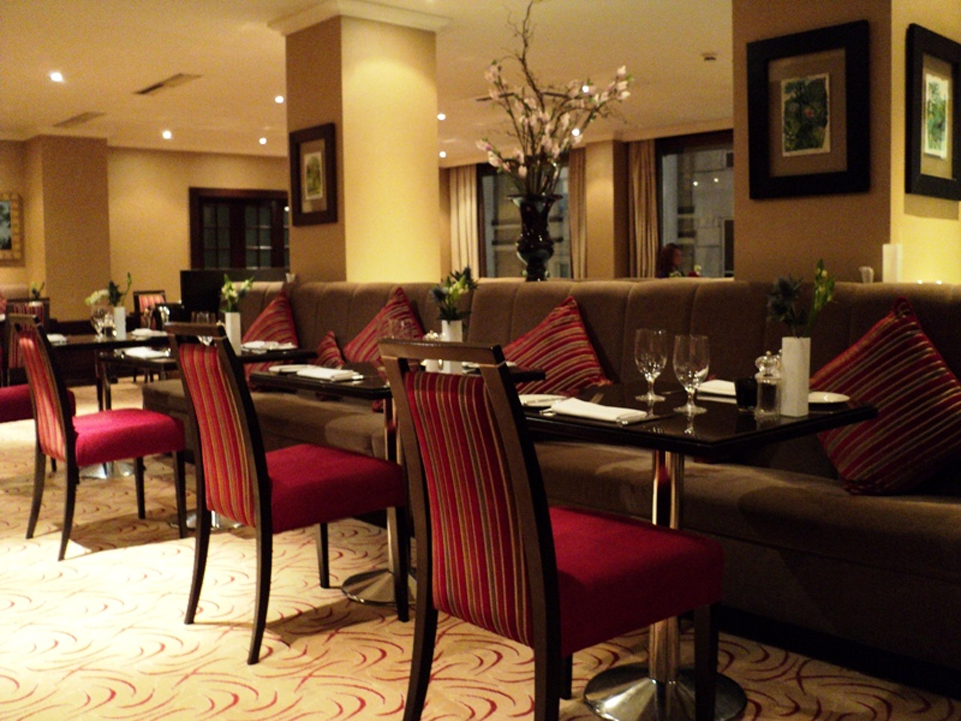 I've stepped into a 1970s airport lounge and I'm travelling first class to a two AA rosette culinary extravaganza, that might have earned a third, if the food was less confusing. The Petrichor Restaurant is located within The Cavendish, a four star boutique hotel in the heart of Mayfair. The present building was originally opened as a hotel in 1966 and was considered as one of the most modern hotels of its time. It now feels rather dated, like a travel lodge. There are too many garish patterned carpets and other references to 1960s style luxury. The space is attractive and large enough but requires some modernisation.
The Petrichor restaurant is situated on the first floor of the hotel and overlooks the exclusive boutiques of Piccadilly and it's presentable and relaxed, but a touch drab. Diners seem to be mostly be venturing in from a meeting in an adjoining event space and tucking into a rather gloomy buffet-style lunch. Elevator music is droning and the chocolate-brown interiors are forcing me to look out the window at a rather more enticing view of Fortnum & Mason. The restaurant boasts two AA rosettes, focuses on sustainability and serves contemporary British cuisine. Head Chef Nitin Padwal uses seasonal ingredients and creates monthly changing menus. You can expect steak with onion rings, pork belly, chicken roulade, baked Alaska and other British classics with a contemporary twist.
Staff are friendly and unobtrusive throughout but some rather delicious bread served with lemon and garlic oil, instead of the usual olive oil is the first culinary based sign that something is about to go awry. The chef can clearly cook because the meat and fish are supremely soft, but beyond that it all becomes rather more disjointed. I'd have to give it a miss in the future on this basis. I can take the rather outmoded interior but not the perplexing food combinations.
Starters on the A la Carte menu begin at £7.50, mains at £16.50 and desserts at £6.50. It's not particularly cheap. You can get a pre-theatre or set-lunch menu for £20.50 (two courses) or £24.50 (three courses). It could be a good offer, if the chef could find a more coherent approach and use less strange accompaniments.
---
Bread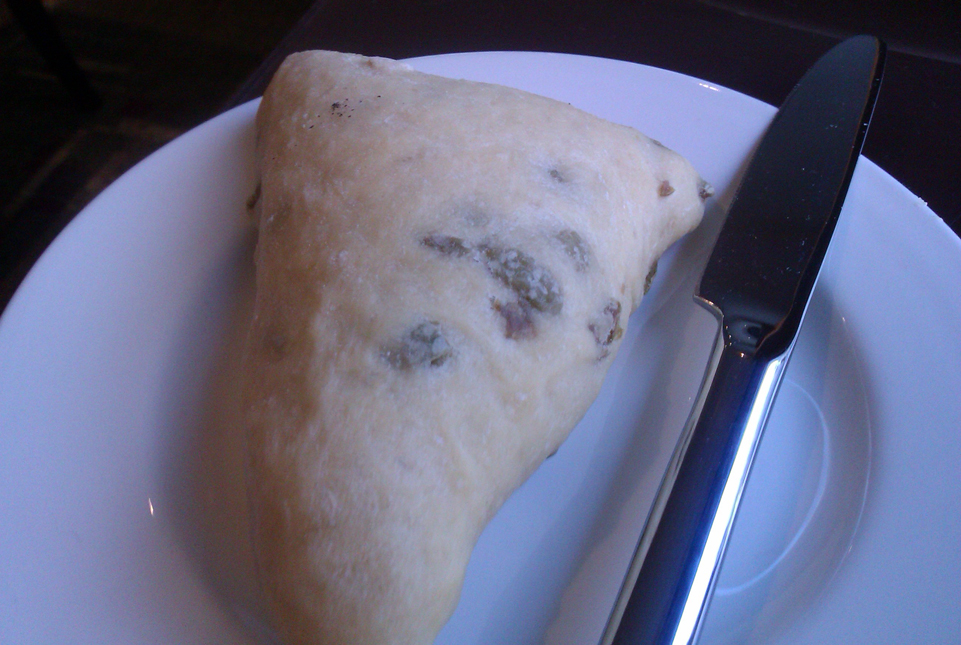 A warm olive bread with great texture and taste is presented. The butter is soft and spreads readily on the chewy and flavoursome roll. An interesting lemon and garlic oil is offered that should probably be olive oil, but it's certainly a promising start. 14/20
---
Starters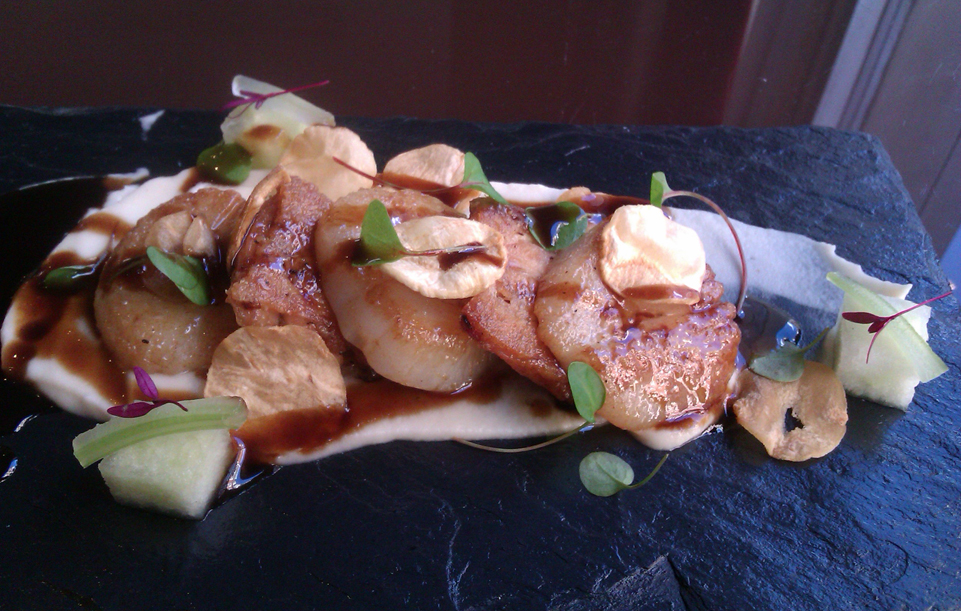 Scottish scallops with confit chicken wings, truffle celeriac puree and chicken jus are juicy, tender and well seasoned with a combination of rich flavours. The chicken wings make a solid accompaniment and there is a touch of sweetness from the apple. It's as good as most Michelin's I've frequented and worthy of the two AA Rosettes the restaurant has achieved. 14/20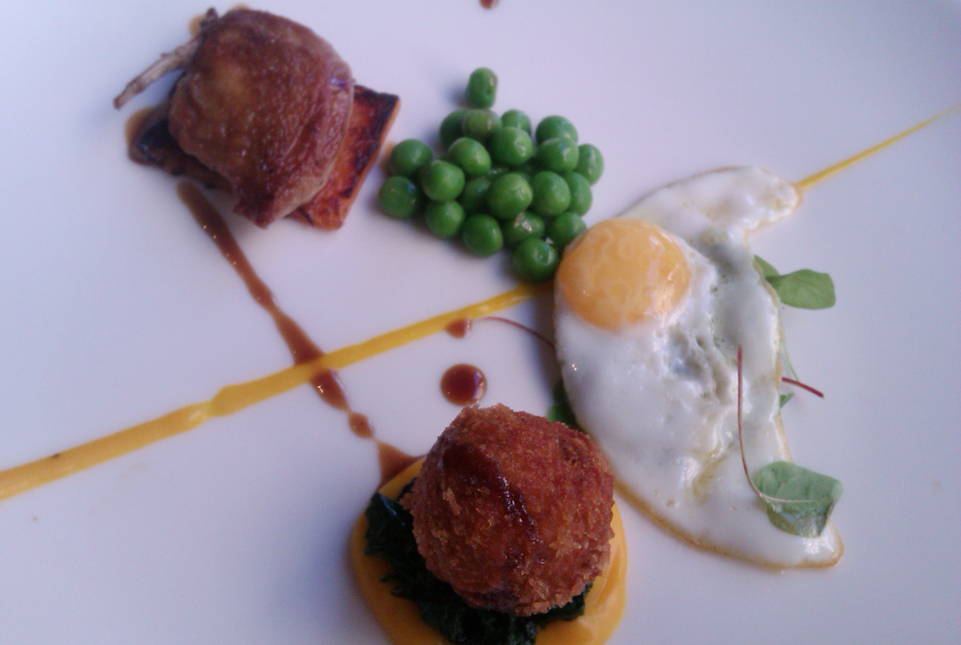 Pan fried quail breast and egg, confit leg croquette, carrot and orange puree, green peas and baby spinach is rather more confusing. It's bland. The fried quail is tasteless and the quail breast and egg though decently cooked, confer little to the dish overall. The puree is a rather vivid shade of yellow and is equally pointless. Nothing is coherent. It's a distinct departure from the Michelin level scallops. 10/20
---
Mains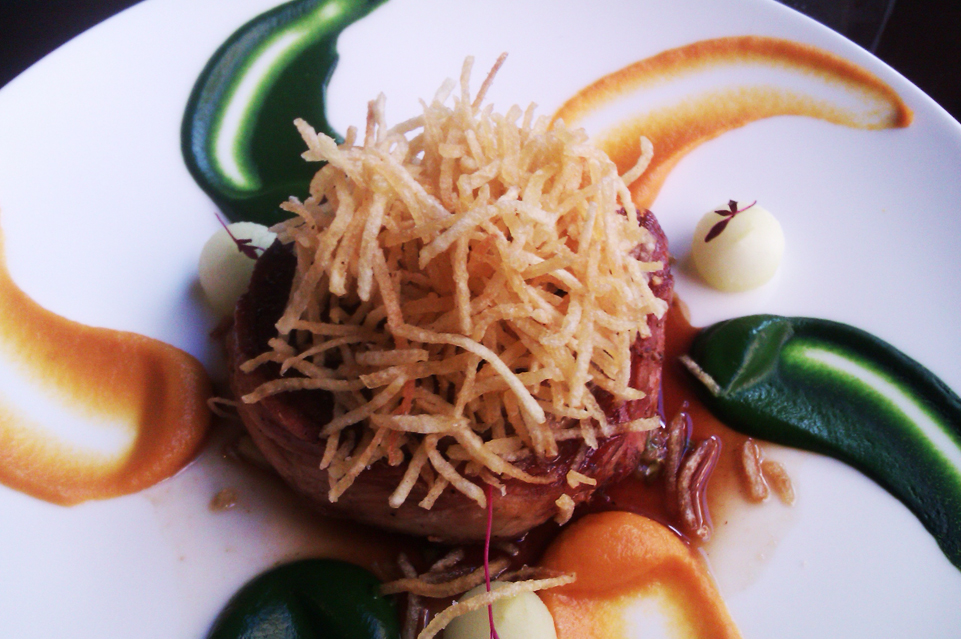 Wicks Manor pork belly with straw potatoes, sweet potato and spinach puree and smoked pineapple salsa is like a Rio carnival float has crashed on to my plate and it's baffling me. The chef at Petrichor can clearly cook because the pork is soft, yielding and delicious, indeed cooked far better than one-star Michelins I've dined at. The straw potatoes are good and add a slightly sweet crunch that complements the pork. Beyond that the dish lacks harmony. A couple of pieces of apple are bitter and don't work well with the purees. I dip a piece of pork into the puree and feel slightly cheated as they bring nothing to the dish. Neon baby food has somehow found it's way into my main and I'm not too chuffed about it. I'd happily consume the meal without the lurid green and orange goo on the side of the plate. 10/20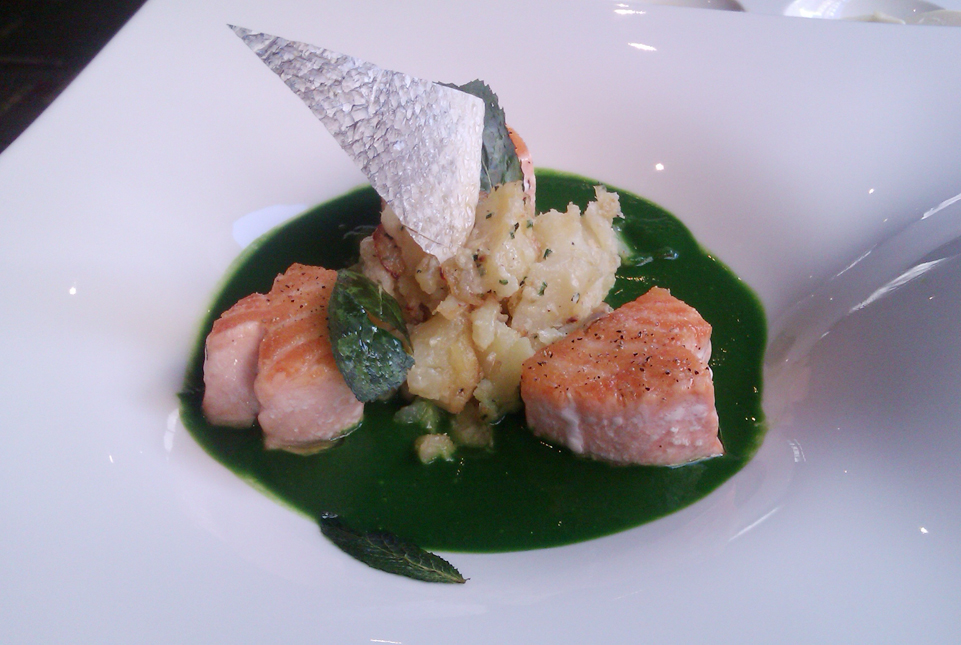 Pan friend salmon steaks with smoked haddock crush potatoes, crispy skin and spinach veloute are equally disconcerting. Again, the salmon is cooked supremely well and has the correct degree of oiliness. I don't understand why the crisp skin is sitting aloft the salmon, it's too hard and just tastes and appears extremely odd. Jaws has surfaced and these are the contents of his stomach. The potatoes need to be whole or creamed as they are just lumpy and lack the smoked haddock taste. Spinach veloute is another intensely green puree that the salmon flounders in helplessly. I pour it over the salmon but it simply sucks the life out of it. It's bland, too watery. I want to like everything because there is some clear talent on display and the scallop starter was good, but everything lacks balance and concept too much to afford any greater appreciation of the food. 10/20
---
Desserts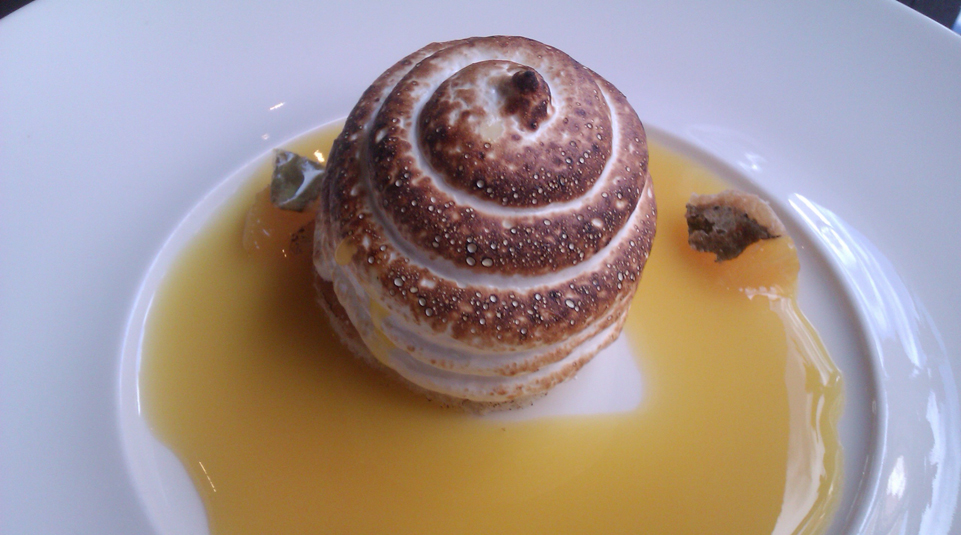 Vanilla Alaska with vanilla sponge, meringue peak, orange sauce and candied mint is extremely sweet and sickly and utterly lacks flavour coherence. The orange sauce does not combine well with candied mint. The ice-cream is home-made but it's far too sweet. The meringue is a tad sticky and dense. Nothing really worked for me. It marked the end of a disappointingly puzzling meal. 8/20
---
Overall
The Cavendish is a pleasant enough boutique hotel that undoubtedly has something to offer both visitors and diners, but it's not somewhere I'd go out of my way to frequent. Decor is too date and the food incorporates too many unworkable combinations and lurid purees that confer nothing to the cuisine. You're better off going to a Michelin for fine dining or a good cafe for a more pared down, simple form of fare, because it feels like the chef is trying to bridge the gap and it's not really working. It could be good, but more thought needs to go into flavour and texture combining and maintain aesthetic simplicity.
Rating: 10/20
Cost: Starters on the A la Carte menu begin at £7.50, mains at £16.50 and desserts at £6.50. You can get a pre-theatre or set-lunch menu for £20.50 (two courses) or £24.50 (three courses).
Telephone: 0207 930 2111.
Address: The Cavendish Hotel, 81 Jermyn Street, London, SW1Y 6JF.
Opening Hours: Breakfast: 6.30 am – 10.30 am, Weekend: 7.00 am – 12.00 pm, Lunch   12.00 pm – 2.30 pm, Dinner: Pre-Theatre Menu  Mon-Thu 5.30 – 7.00pm, Pre-Theatre Menu: Fri-Sat 5.00 – 7.00pm, A la Carte Menu Sun-Thur 5.00 – 10.30pm, A la Carte Menu Fri-Sat 5.00 – 10.30pm.
For more information see www.thecavendish-london.co.uk/restaurant.