The Real Greek: Deliciously simple Greek cuisine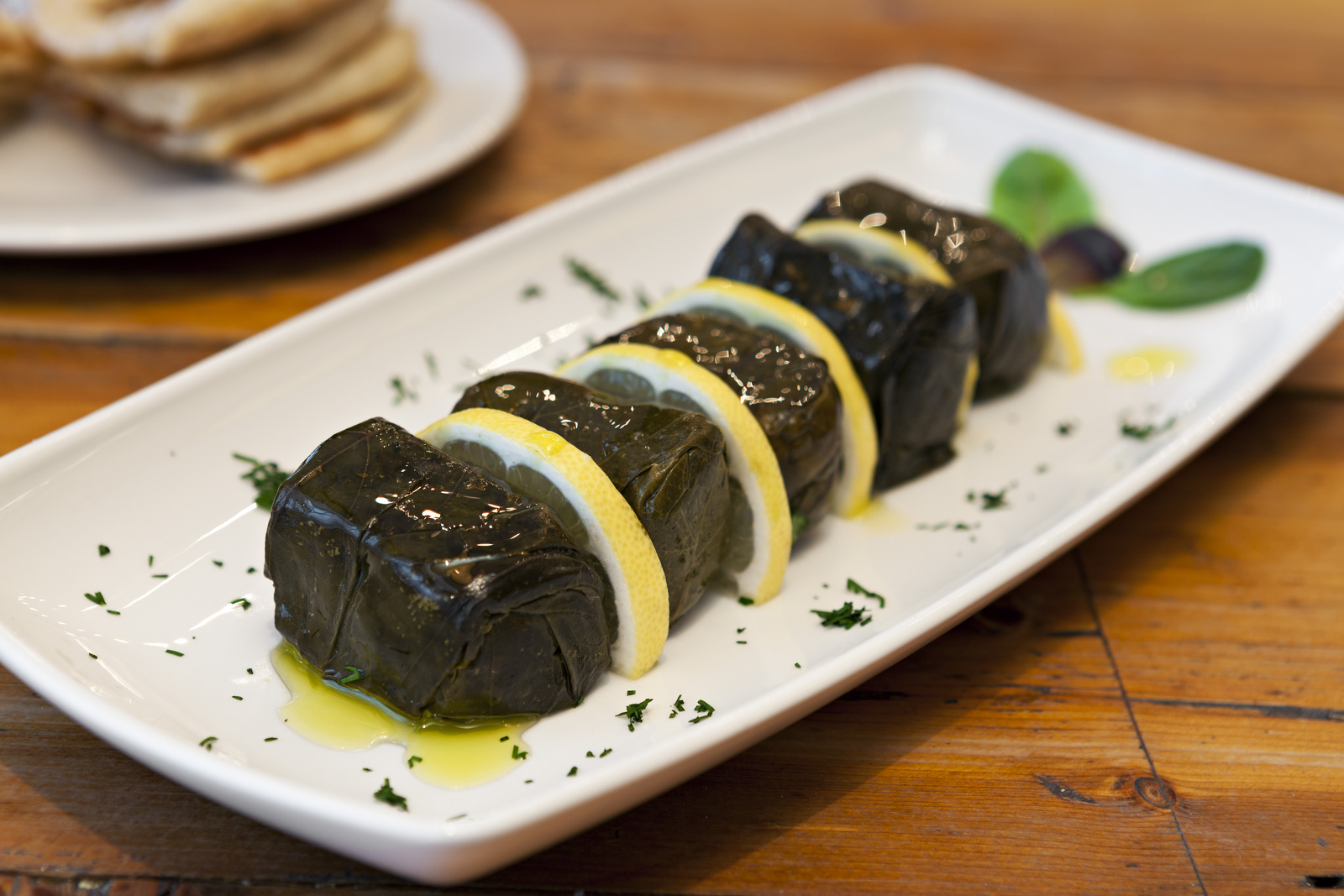 Founded in 1999 by celebrity chef and author Theodore Kyriakou, The Real Greek encompasses six restaurants across London and provides traditional, home-style Greek cooking in a largely mezze format. It's a basic chain restaurant format and the menu provides very simple and healthy Greek dishes. The restaurant chain received the plaudit of Restaurant Magazine's UK Healthy Eating Chain of the Year in 2010. Of course, Greek cuisine is inherently more virtuous.
A restaurant bearing the title 'The Real Greek' initially makes me apprehensive and I begin to wonder how authentically Greek it really is. I have a Greek-Cypriot boyfriend and adore Greek cuisine above all other nationalities. There is something about butter beans dressed with a tomato sauce and select herbs that soothes the senses. I have no issue with understated food, as long as its prepared well. Here it really is. My concerns were unfounded. As another food reviewer commented, if you want to smash some plates for an authentic experience, take them with you. I'm not really bothered.
The Real Greek could easily fall into the same trap as similar ventures by offering poor quality and badly cooked Greek themed dishes, but I was pleasantly surprised by the simplicity and good presentation.
The Spitalfields venue I visited sported attractive elevated banquettes, a reconstituted-granite bar and a scattering of rustic features. It's a relaxed inviting space that lends itself to conviviality. It's certainly more a city space than tribute to homely Greek decor, but I am not opposed to modernity as long as the food is good and here it is, perhaps rather heavenly in parts. I'd certainly come here over other food chains and numerous other fine dining establishments. It's less pretentious and tastes better.
You can expect dolmades, lamb kefte, prawns with feta, souvlaki, htipiti, falafel, meatballs, salads and other typical Greek cuisine. Sharing plates range from £2.50-£6.75 or you can grab a quick lunch for £8.95 with three dishes, or a simple Greek pita sandwich plate. Prices aren't extortionate, but the cost could add up if you go crazy on dishes. If you're less of a glutton than me you'll have no problem.
Food could easily suffer from blandness but I appreciated the subtle approach and ability to correctly salt and season the food. It's a rare find.
---
Sharing Dishes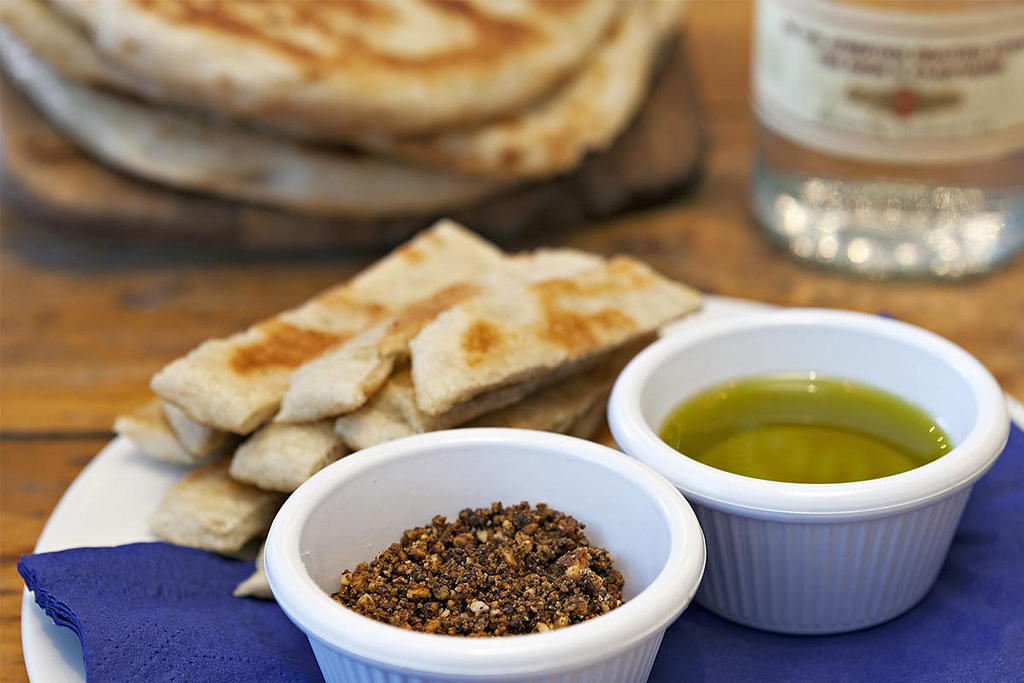 Greek flatbread with olive oil is spongy, warm and moreish. Dipped in the accompanying dukkah and mopping up hummus and tzatziki is a rather enjoyable experience. 14/20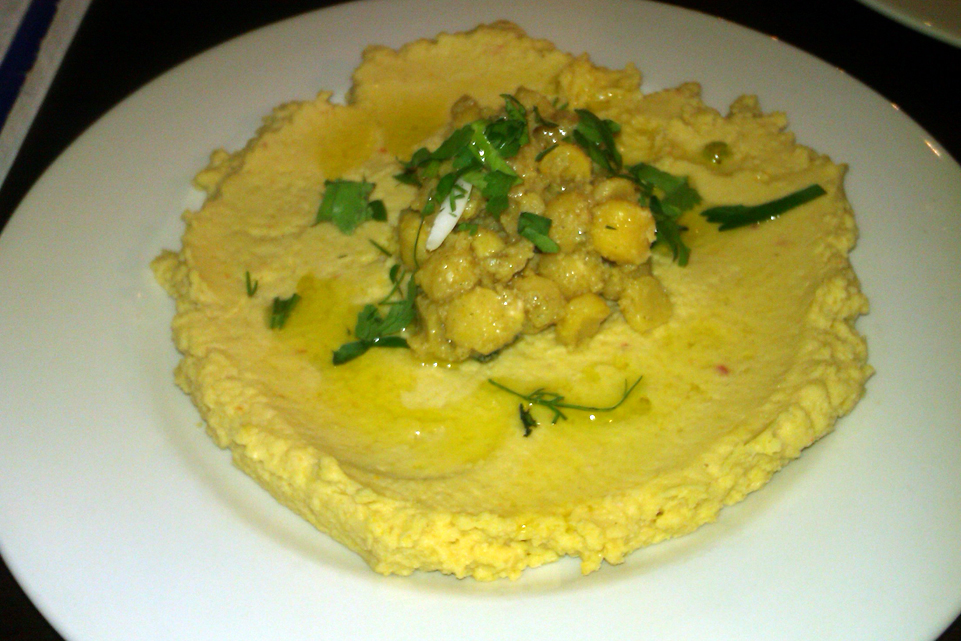 Hummus is flavoursome, grainy (which I prefer to smoother more viscous options) and creamy with a wisp of cumin and scattering of whole chick-peas. I used to be vegetarian for a number of years so such simplicity is food heaven to me. 14/20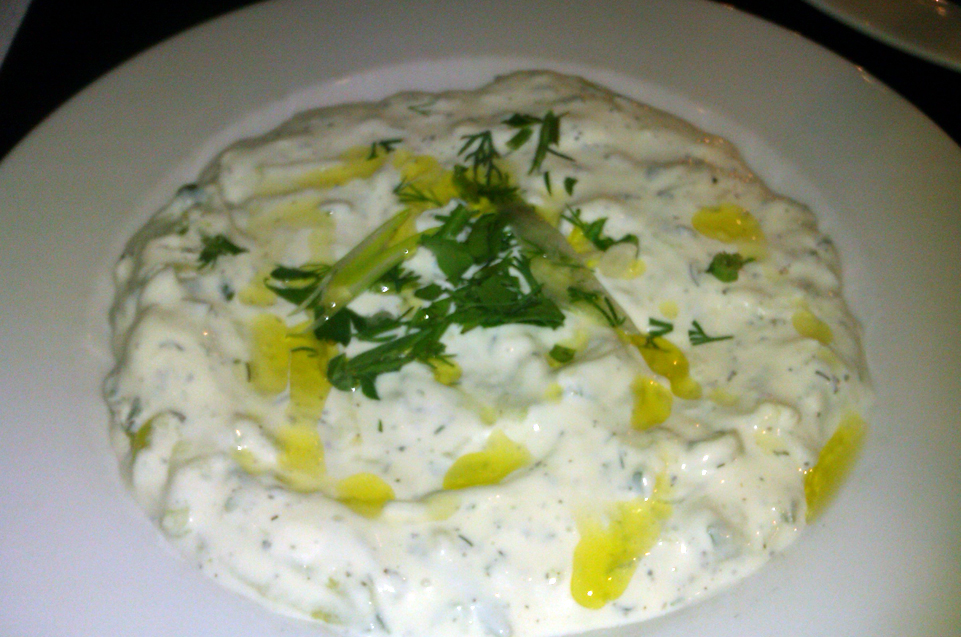 Tzatziki is creamy, refreshing and tangy. It's as addictive as the hummus and works well as an accompaniment to other tomato-based dishes. (15/20)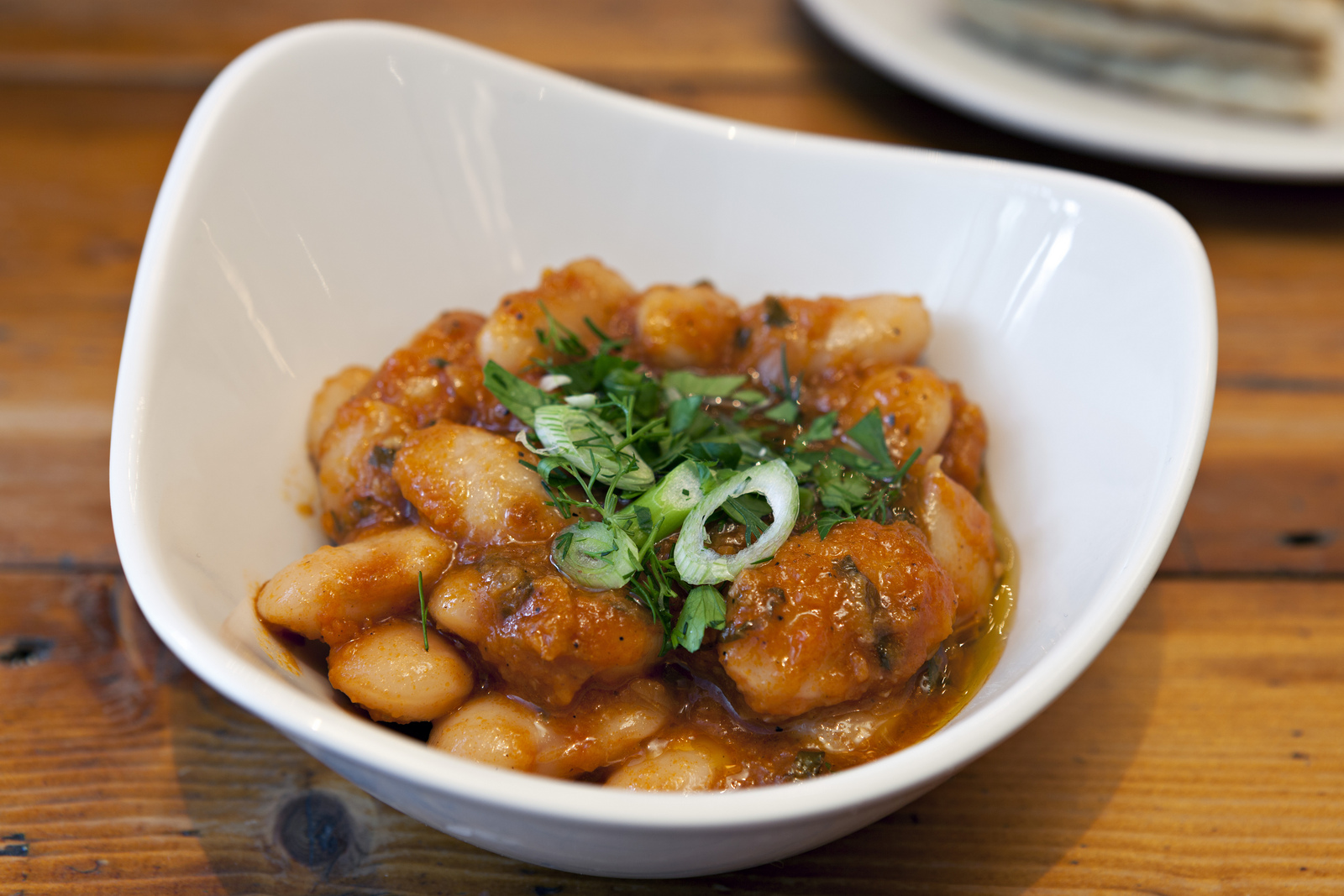 Gigandes Plaki (giant beans slow-cooked in a tomato sauce) is hearty, lightly seasoned and fresh. 15/20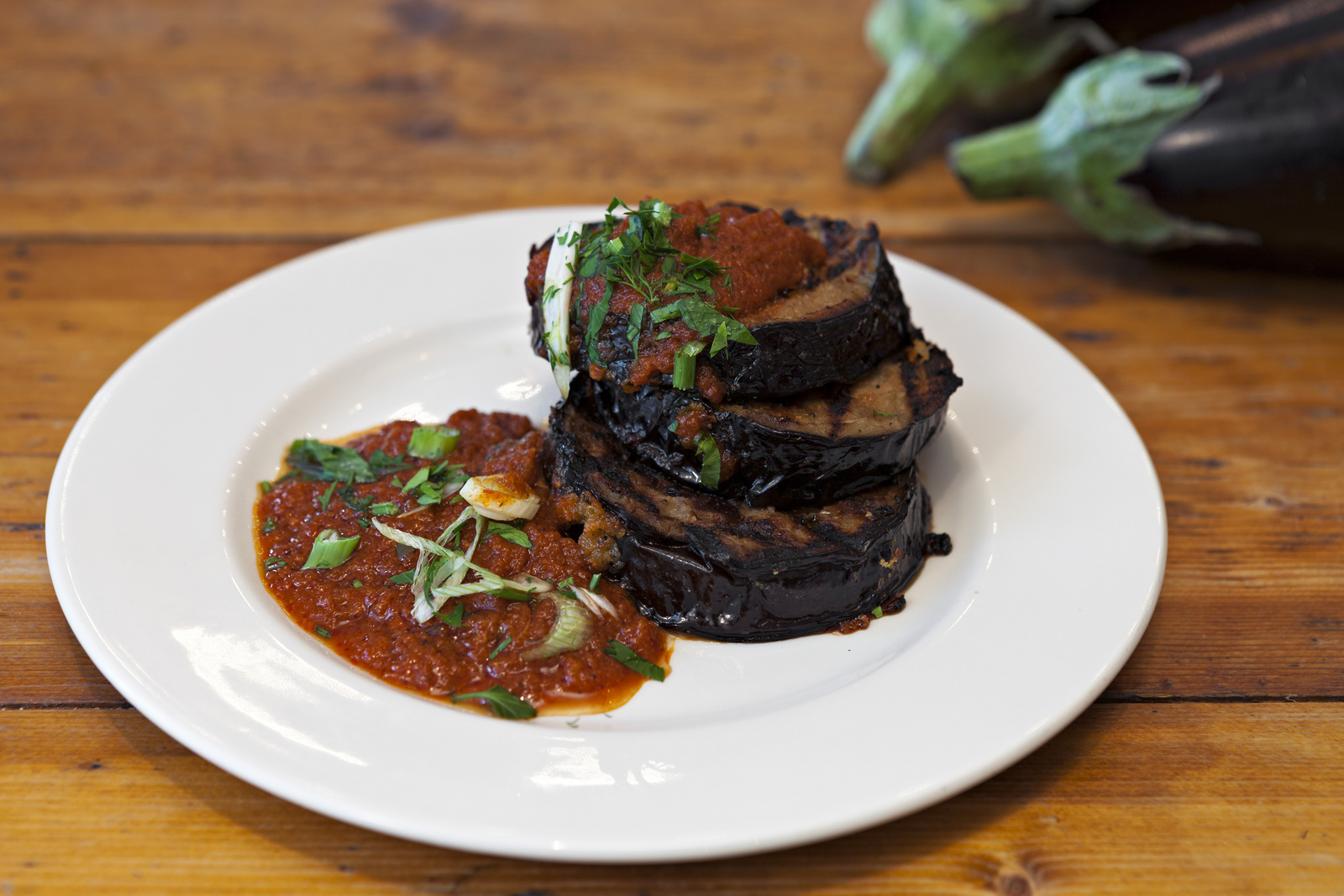 Grilled aubergine with garlic tomato sauce is absolutely delicious, with wonderfully cooked aubergines and a subtle but flavoursome sauce. 15/20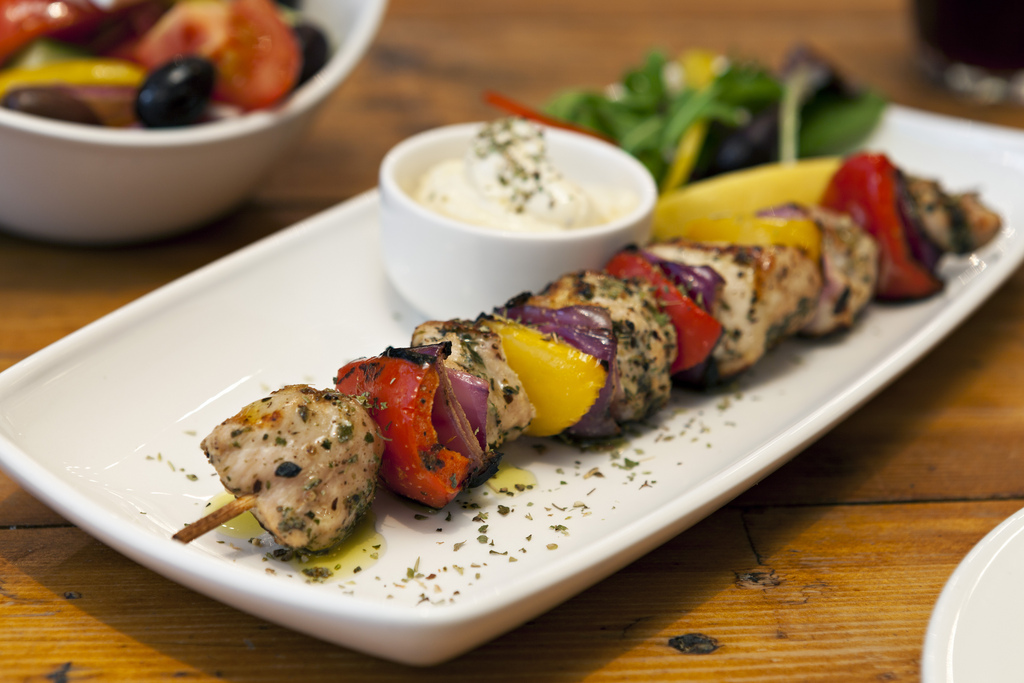 Chicken skewers on a bed of leaves with preserved mayonnaise could be a tad softer, but the flavours are pleasant and the accompanying mayo is not too heavy or acidic. 13/20
Grilled Halloumi with charred red peppers is soft, not too rubbery as some halloumi can be, or indeed overly salty. 14/20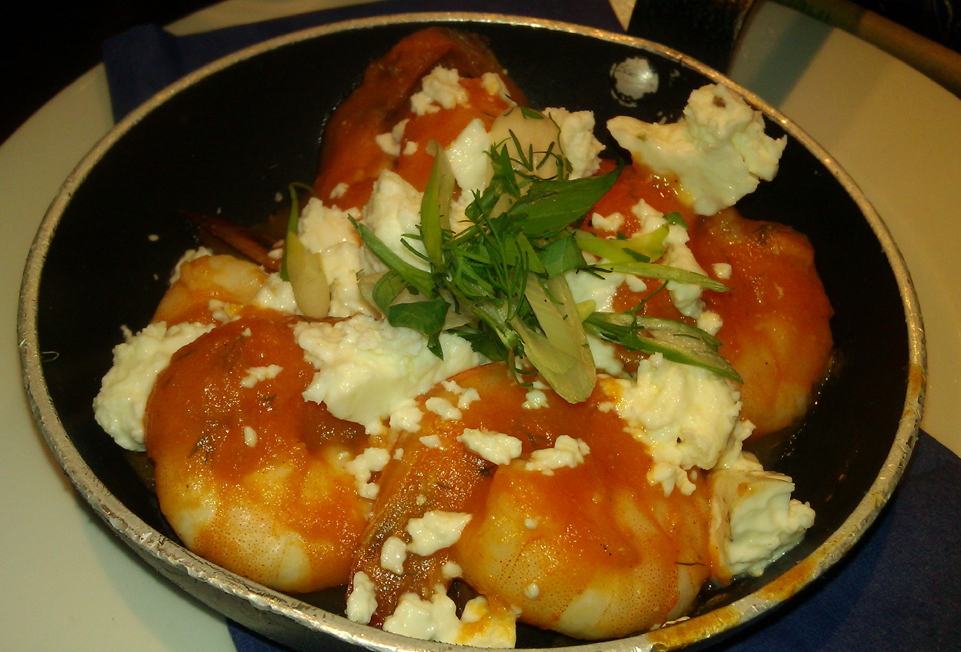 Prawns with feta and tomato sauce were again cooked well, with a good texture and light sauce that was complemented by a creamy, robustly flavoured feta. 15/20
---
Desserts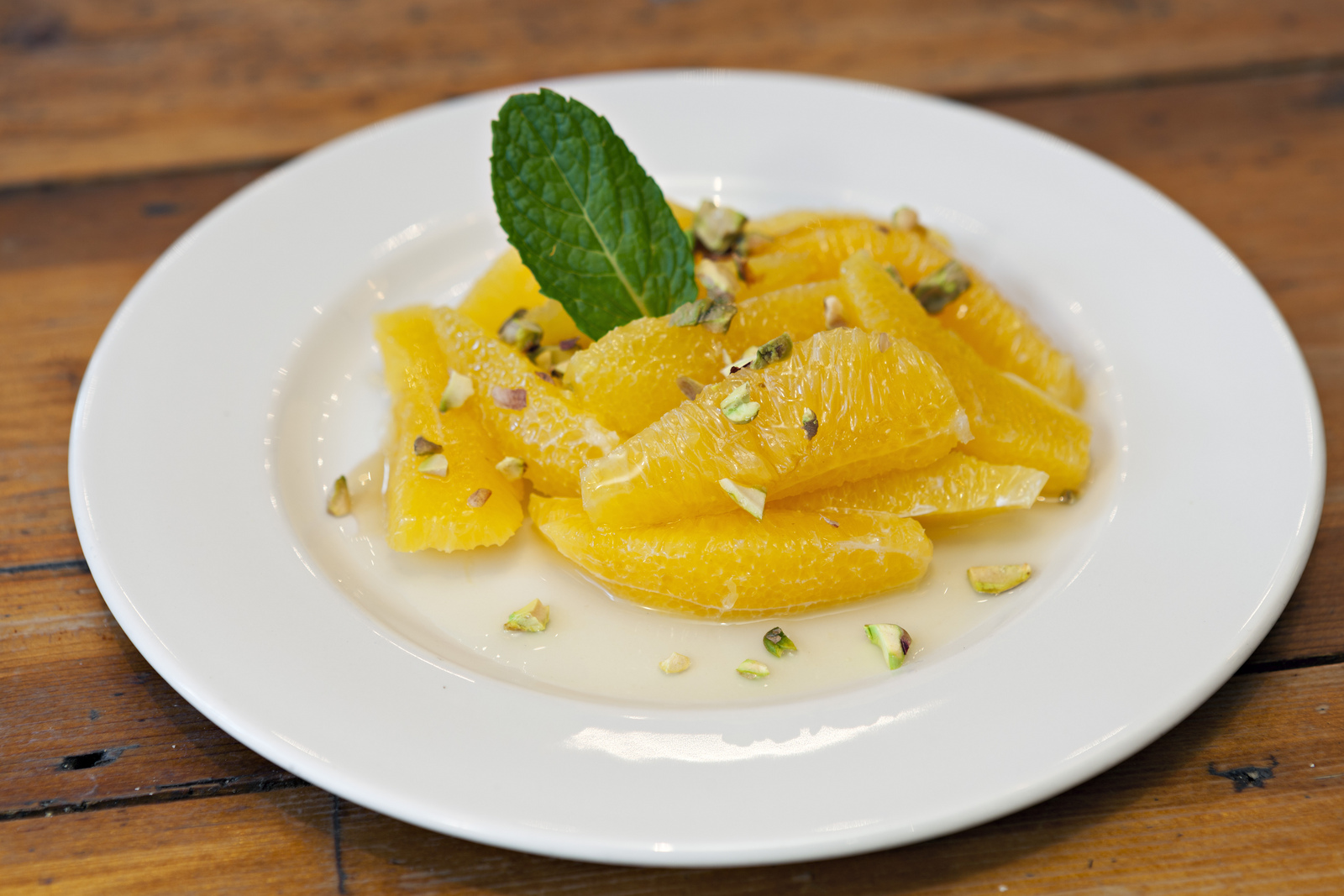 Fresh orange with pistachios and Greek yoghurt were very simple, but refreshing after consuming a number of plates. Pistachios worked well with the oranges and a light drizzle of honey was sating without being overly sweet. 13/20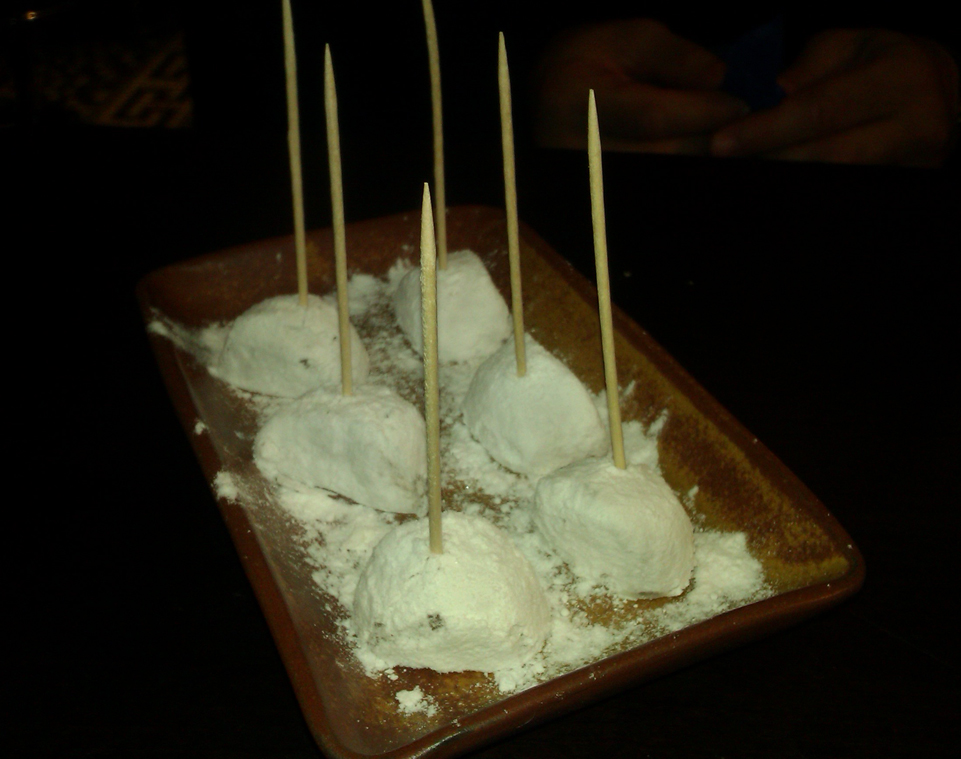 Loukoumia (Greek sweets flavoured with nuts from Syros), also known as Turkish Delight, was a bit of a disappointment to my colleague, purely for the fact that he was expecting Greek wedding biscuits bearing the same name. Still, it was a pleasant dessert after a large meal and I did point out to him that this wasn't a wedding. 13/20
---
Overall
The Real Greek is a great dining spot for social occasions, quick lunches and relaxed dinners. The sharing concept works well because there are an array of rather scrumptious dishes and it's quite frankly quite an ice-breaker. If you were being pedantic and snobbish you might comment that it lacks authentically 'Greek' decor but this is more than made up for by a variety of palate pleasing mezzes. It's certainly infinitely better than most other restaurant chains.
Rating: 15/20
Cost: Sharing plates range from £2.50-£6.75 or you can grab a quick lunch for £8.95 .
Telephone: 020 7375 1364.
Address: 6 Horner Square, London, E1 6EW.
Opening Hours: Meals served noon-11pm Mon-Sat; noon-8pm Sun.
For more information see www.therealgreek.com.