The Square: Stuffy but consistently good food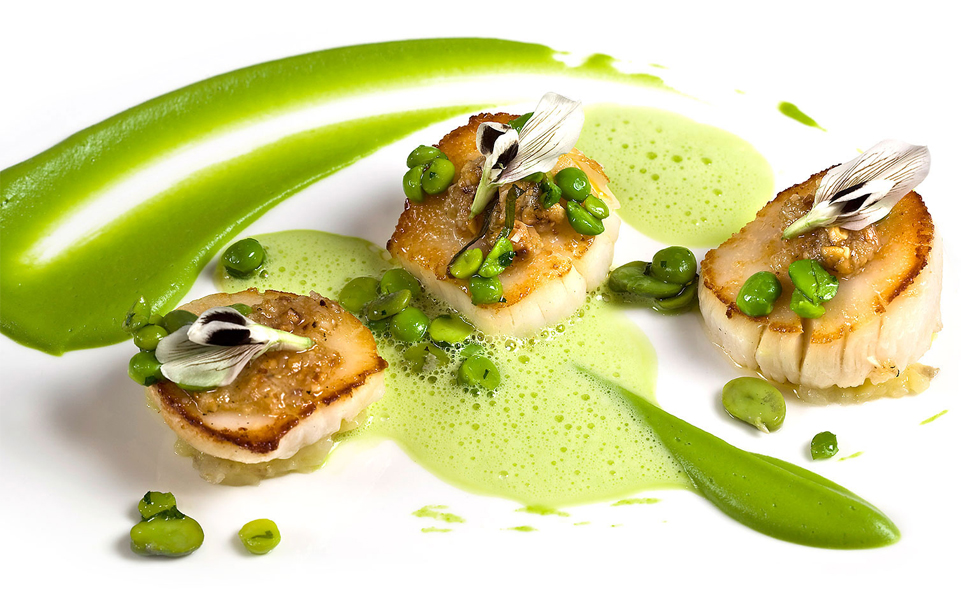 The Square headed by Phillip Howard has been serving up a fine dining experience for over 20 years in London's Bruton Street. Bearing two Michelin stars the restaurant unquestionably provides well-presented and commendable cuisine in one sense, indeed it has a barrel load of critical acclaim, but it's a trifle boring. Howard is also co-owner of The Ledbury, the critics favourite and Kitchen W8, other Michelin starred establishments. He has also worked under Albert Roux OBE at the Roux Restaurant Groups and graced the kitchen at Marco Pierre White at Harvey's. Howard is renowned for his elegant classical French cooking and has so many awards he probably doesn't know what to do with them.
Decor is rather formal, masculine and stuffy but the waiters are exceptionally friendly and accommodating. It's more of a classical, conventional dining establishment in many ways that won't necessarily suit London's fashionistas, but it is clearly capable of delighting on a culinary level. Rarely will you hear me say it's yummy and I'm bored in the same sentence, but it perhaps applies to The Square. Perhaps something is given away in the title. There is a sense of flawless technique and refinement, but I prefer Heston Blumenthal. Am I allowed to say that? I want to say I had a good meal, can I don flip-flops and go do something fun now? Maybe it's because I had the set lunch and not the A la Carte and set lunches are notoriously inferior. Either way, I'm prepared to give The Square another go because everyone else seems to love it.
Menus are altered seasonally and quality is clearly impeccable with fresh ingredients showcased. Dishes are relatively harmonious and nothing seems off-note or feels like it really doesn't belong. It's not gimmicky, or too post-modern and there is an element of deconstruction in an attempt to titillate the taste-buds but it's not earth-shatteringly spectacular. I'm not experiencing a culinary climax. Maybe they'd loosen up if they changed the name to 'The Circle,' so I could have a 'rounder' experience, whatever that means.
The A la Carte menu will set you back £90 for three courses. Set lunch is a rather expensive £35 for two courses or £40 for three. A tasting menu comes in at £115 per person. It's not overwhelmingly expensive for London, but there are a few one star Michelins offering an equally plausible cheaper set lunch. Still, I'd rather dine here than most other London eateries.
---
Pre-starter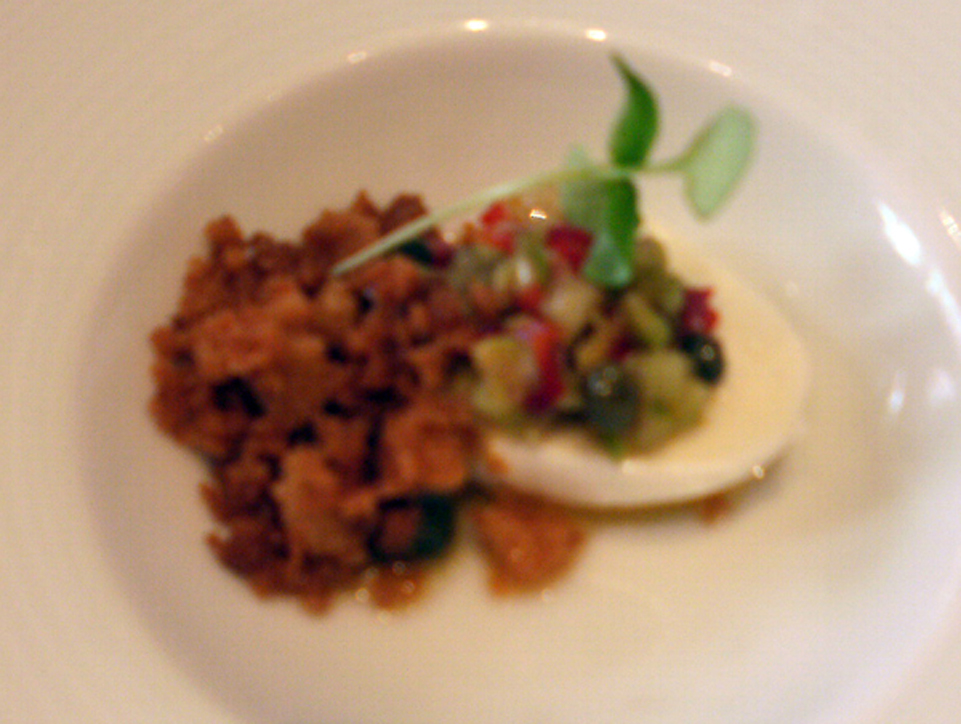 Bocconcini mozzarella with sourdough crumbs and olive oil is a light, simple pre-starter that sets the tone for some flavourful dishes that still demonstrate an air of simplicity. There are no foams or over-reaching aesthetics just a sequence of generally pleasing food. 15/20
---
Starter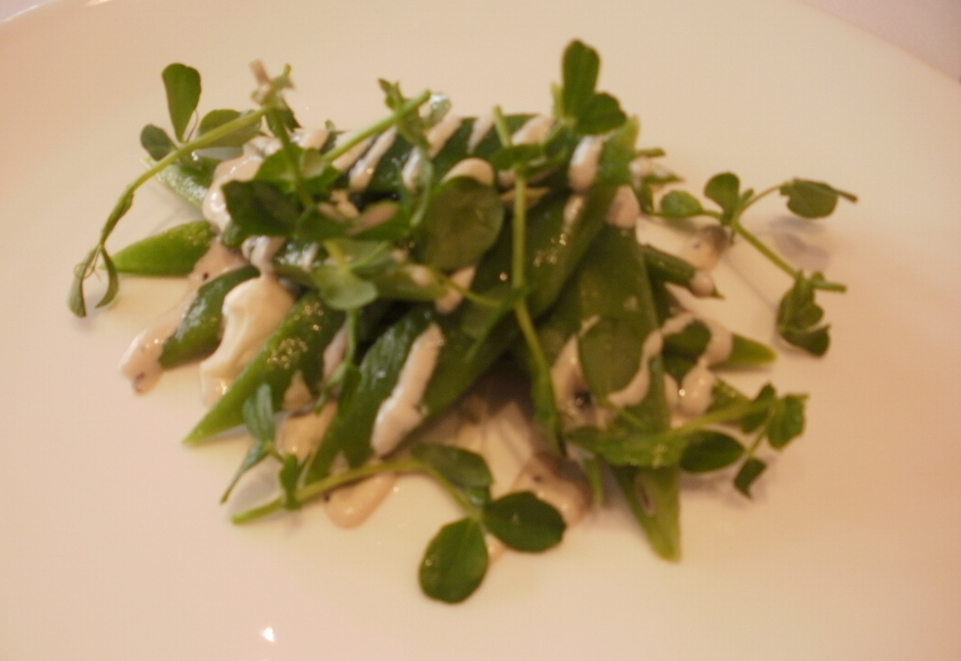 Salad of Fulham Palace runner beans with truffle cream and pea shoots looks to all intents and purposes like a few greens with a souped up dressing and it really is, but has some well-balanced flavours, with the greens being cooked well and the sauce adding some intensity to the dish. It's not a show-stopper by any means, but is a light, healthy starter. 14/20
---
Main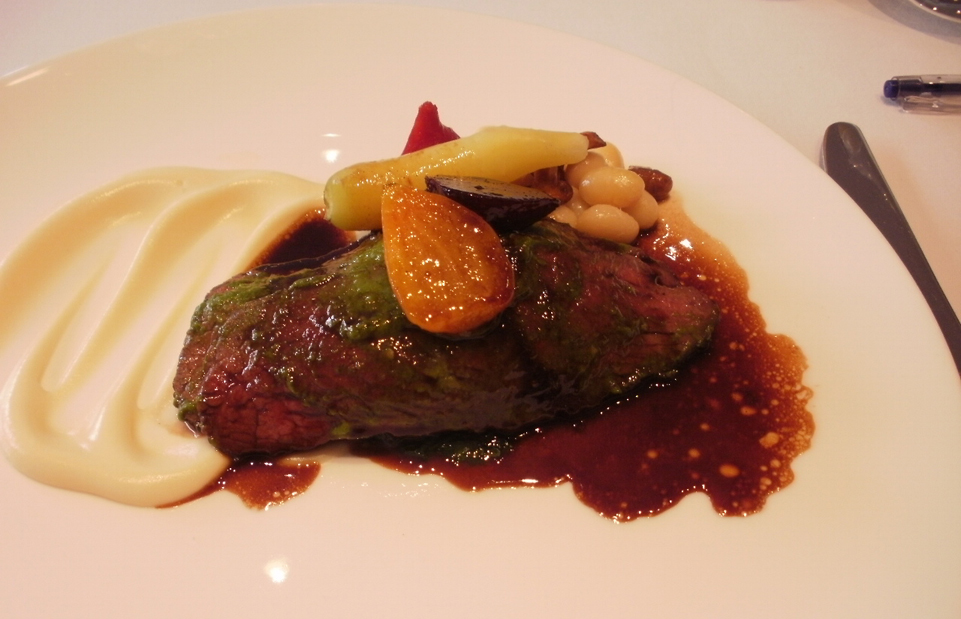 Chargrilled rump of beef with salsa verde, coco beans and heritage beetroots is a pretty plate of food with richer, more pronounced flavours, a rare cut of beef and some slightly sweet vegetables. The sauce is largely the correct consistency and it's a decent tasting dish, with fairly harmonious flavours. 15/20
Cherry Bakewell tart with cherry ripple ice cream is a slightly remodelled British classic that has a degree of lightness lacking in many mainstream offerings of the dessert. The thin crust, wonderfully soft sponge, slightly bitter cherries and creamy ice-cream all work together to make this a crowd-pleasing dessert. Nothing is sensational, but it's all worthy of at least one Michelin star. 16/20
---
Overall
A classical French dining experience with an injection of flair and creativity. The Square boasts much critical acclaim and is worthy of a visit for some well-executed and technically superior cuisine. It's a tad stuffy and perhaps this is reflected in the food. If they could loosen up a bit it might make for a much more exceptional meal.
Rating: 16/20
Cost: Set lunch £35 2 courses, £40 3 courses. Set meal £90 3 courses; £115 tasting menu (£185 incl wine).
Telephone: 020 7495 7100.
Address: 6-10 Bruton Street, London, W1J 6PU.
Opening Hours: Lunch served noon-2.45pm Mon-Sat. Dinner served 6.30-10pm Mon-Thur; 6.30-10.30pm Fri, Sat; 6.30-9.30pm Sun.
For more information see www.squarerestaurant.com.